The Cast of 'The Circle' Season 5: Your Guide
Meet the new social media mavens (and a familiar face!).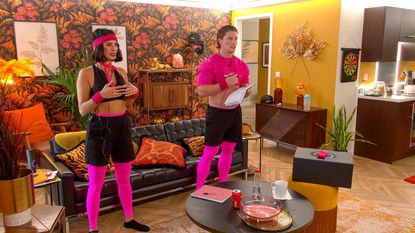 (Image credit: Courtesy of Netflix)
Marie Claire Newsletter
Celebrity news, beauty, fashion advice, and fascinating features, delivered straight to your inbox!
Thank you for signing up to Marie Claire. You will receive a verification email shortly.
There was a problem. Please refresh the page and try again.
Netflix's social media experiment has returned for a fifth season, gathering another group of social media stars and placing them in isolated apartments to compete for popularity. For this season of the reality hit, every contestant is playing as single, but the always-inventive gameplay is still throwing new Super Influencer and surprise profile twists and turns their way. As always, the cast includes the most interesting people found online, from entrepreneurs to advocates to a fan favorite from an early season. Read on to find out about all the players from The Circle season 5.
Xanthi
Xanthi Perdikomatis, 25, is a model from Massachusetts who says that the movie My Big Fat Greek Wedding is the epitome of her family. In her intro, she recognizes that models don't have the best track record on The Circle so she plans to enter the game as herself but with the career of preschool teacher. Her plans go awry when she ends up in a team with another player.
Instagram: @xanthijoanna; TikTok: @xanthijoanna
Brian, a.k.a. Brittany
Brian Clark, 47, is a supervisor of a special investigations unit who loves food, wine, and travel. In his intro, the digital creator from Portland, Oregon, says he'll use his skills as a fraud investigator to weed out all the catfish, while playing a catfish himself! He plays as his 27-year-old daughter Brittany, telling his castmates he's a single mom of a 5-year-old girl.
Instagram: @worldwidebri; TikTok: @mrstealyourwine
Brett
Brett Robinson, 28, is a content creator from Las Vegas who may be familiar to reality TV fans. He previously came in sixth on Big Brother 20, and he plays his pool party-loving, "loveable douchebag" self in the Circle.
Instagram: @brettwrobinson; TikTok: @brettwrobinson
Raven
Raven Sutton, 26, is a social worker, deaf performer, and disability advocate from Washington, D.C., who's best known for her viral ASL interpretations of pop songs (she even got a shout-out from Beyoncé). She also shares videos about her life as a deaf person, and she emphasizes in her intro that, "Deaf people can do everything, except hear." She's also joined in the show by her interpreter and BFF, Paris McTizic.
Instagram: @bluejay19xx; TikTok: @bluejay19xx
Marvin
Marvin Achi, 27, is a chemical engineer from Houston, Texas, who was born in Nigeria. In his intro, Marvin says that his abs, combined with his degrees in chemical engineering, chemistry, and mathematics, make people believe that he's a catfish. While he's playing himself on The Circle, his job will be a personal trainer, and his real-life IG is already full of workout clips to match.
Instagram: @marvinachi; TikTok: @marvinachi
Sam
Sam Carmona, 34, is a freelance makeup artist from Brooklyn, New York, who says she has a tough exterior, but on the inside she's "squishy like Jell-O." She also describes herself as "the spicest thing ever. Whatever's the hot one, I'm that." Her social media is all about fashion, her family, and her adventures in New York.
Instagram: @bkshedevil; TikTok: @bkshedevil
Chaz
Chaz Lawery, 28, is from New Jersey, where he runs a mobile car detailing business. (He says he's best known as "Shampoo Papi.") He plays in The Circle as himself with a few embellishments; he's a nurse in the game, and he's single, while in real-life he's engaged.
Instagram: @thatshampoopapi; TikTok: @imshampoopapi
Billie Jean, a.k.a. Bruno
Billie Jean Blackett, 25, is a UK-based model, influencer, and radio presenter on London's Flex FM. In her intro, she says that female models get judged on what they wear and their appearance more than men, so she's playing as male model Bruno.
Instagram: @billiejeanblackett; TikTok: @billiejeanblackett
Tom
Tom Houghton, 36, is a British stand-up comedian who used to live at the Tower of London(!) with his father, who was named Constable of the Tower by Queen Elizabeth II. In his intro, he says that his career of "going into rooms and making people like [him] instantly" gives him good odds in The Circle.
Instagram: @honourabletom; TikTok: @honourabletom
Shubham, a.k.a. Sasha
Shubby's back! The season 1 runner-up returns for his second time in the competition, with a special condition: He has to play as a Catfish and he can't see his profile until he arrives in his Circle apartment. Longtime viewers know it's hard enough for the fan-favorite to lie as it is, and unfortunately, he's thrown completely out of his element with his surprise profile.
Instagram: @shubham_goell; TikTok: @shubham_goell
Tasia, a.k.a. Tamira
Tasia, 28, is a cybersecurity professional from Las Vegas and a self-proclaimed asshole with a soft side. "Like a margarita, sweet but salt around the rim," she describes herself. Even though she's the "CEO of Comfy," she'll be playing as her fashionista catfish, Tamira. She's also playing as single, but in real life she's been dating her girlfriend for four years.
Instagram: @t_stonier; TikTok: @t_stonier
Oliver
Oliver TwiXt, 26, is a rapper and content creator from Atlanta, who has TV experience from appearing on the shows The TS Madison Experience and Chasing Atlanta. The "fierce, fun, and fabulous" creator is playing as himself, "because why the hell not?"
Instagram: @heisolivertwixt; TikTok: @heisolivertwixt
Celebrity news, beauty, fashion advice, and fascinating features, delivered straight to your inbox!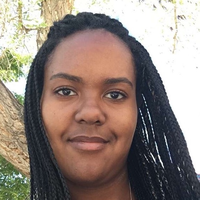 Contributing Culture Editor
Quinci LeGardye is a Contributing Culture Editor who covers TV, movies, Korean entertainment, books, and pop culture. When she isn't writing or checking Twitter, she's probably watching the latest K-drama or giving a concert performance in her car.