'The Diplomat' Cast: Your Guide to the Familiar Faces
Led by Keri Russell, 'The Diplomat' is filled with actors you'll recognize.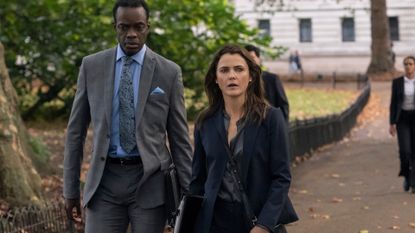 (Image credit: Netflix)
Netflix's hit political thriller The Diplomat is a must-watch show for many reasons: the complex-yet-accessible political intrigue, the nuanced marriage at its center between Ambassadors Kate and Hal Wyler, and the simultaneous will-they, won't-they flirtation between Kate and Foreign Secretary Austin Dennison. Odds are, viewers who have watched a lot of TV will also have fun identifying all of the familiar faces in the cast, including stars of classic comedy series, sci-fi hits, and prestige dramas (and no, we don't just mean Keri Russell). Read on to learn who's who among the cast of The Diplomat.
The Ambassador's Team
Keri Russell as Kate Wyler
Kate Wyler is a well-regarded U.S. diplomat who is taken by surprise when she's suddenly diverted from her planned trip to Afghanistan and appointed as the new U.S. Ambassador to the U.K.. As she adjusts to the public-facing side of her new role (an aspect she is not comfortable with), Kate also has to work with the British in order to smooth over relations between the U.S., U.K. and Iran.
Russell rose to fame with her breakthrough TV role on the ABC drama Felicity, and went on to play Elizabeth Jennings on the Emmy-winning spy thriller The Americans. She also starred in the films Waitress, August Rush, Austenland, Extraordinary Measures, Star Wars Episode IX: The Rise of Skywalker, and Cocaine Bear. She's married to her The Americans co-star Matthew Rhys and they have one daughter together, as while Russell also shares two children with her ex-husband Shane Deary.
Rufus Sewell as Hal Wyler
Kate's husband Hal is a charismatic, legendary diplomat and former ambassador himself. (He's also occasionally referred to as "Ambassador Wyler," to much confusion.) Though he's unemployed after landing on the wrong side of the Secretary of State, he has a tendency to apply his own ruthless and manipulative methods to diplomatic relations, to the dismay of his wife.
Sewell is a British(!) TV and film veteran who's known for his roles in A Knight's Tale, The Legend of Zorro, The Illusionist, The Holiday, Tristan & Isolde, Victoria, The Man in the High Castle, The Marvelous Mrs. Maisel, and Judy. He also recently starred in the Netflix series Kaleidoscope.
Instagram: @fredriksewell
Ato Essandoh as Stuart Heyford
Stuart is the Deputy Chief of Mission (DCM) at the U.S. Embassy in London, and Kate's second-in-command who helps her adjust to the new role. In addition to his duties, he's been asked to judge whether Kate is Vice President-material, due to his experience as a campaign manager in DC. He's also been in a low-key relationship with Eidra.
Essandoh is a New York native with a prolific resume, with credits in films and series including Hitch, Chicago Med, Copper, Jason Bourne, Garden State, Blood Diamond, Girls, Vinyl, Altered Carbon, The Code, Elementary and Blue Bloods.
Instagram: @atoessandoh
Ali Ahn as Eidra Park
Eidra is Chief of the CIA Station in London, who manages the very close and very complicated relationship between the CIA and MI6, and is responsible for relaying intelligence information to Kate's team. She's initially suspicious of Kate, but eventually warms up to her as the two women work together.
Ahn is best known for her roles in the series Billions, The Breaks, Black Box, The Path, Raising Dion, and The Other Two, as well as the film Liberal Arts.
Instagram: @aliahn
Pearl Mackie as Alysse
U.S. Embassy aide Alysse is played by Mackie, who's a familiar face to Doctor Who fans. The British actress played Bill Potts, companion to Peter Capaldi's Twelfth Doctor in season 10. Mackie has also appeared in the series The Crystal Maze, The Long Call, and Friday Night Dinner, as well as the films Greed, Horizon Line, and The Deal.
Instagram: @therealpearlmackie
Jess Chanliau as Ronnie
U.S. Embassy aide and Stuart's assistant Ronnie is played by Chanliau, a rising actor who has studied in both the U.S. and Paris. They previously appeared in the films The Riven and Inmate Zero, as well as the 2020 TV adaptation of Brave New World.
Instagram: @jess_chanliau
Penny Downie as Frances Munning
Frances is the resident manager of Winfield House, the historic London manor where Kate and Hal live during their time in the U.K.. She's portrayed by Downie, an Australian actress who played the Duchess of Gloucester in seasons 3 and 4 of The Crown. She also appeared in several acclaimed films and series including Downton Abbey, Jackie, Invictus, Breathe, Crime and Punishment, and The House of Mirth.
Georgie Henley as Pensy
Winfield House assistant Pensy (above, right) is a familiar face for '00s kids, as she first rose to fame as a child actor playing Lucy in The Chronicles of Narnia films The Lion, the Witch, and the Wardrobe, Prince Caspian, and The Voyage of the Dawn Treader. She has since starred in the films Perfect Sisters and The Sisterhood of the Night, as well as the STARZ series The Spanish Princess.
Instagram: @georgiehenley
The British
David Gyasi as Austin Dennison
Dennison is the British Foreign Secretary, overseeing U.K. foreign relations on behalf of Prime Minister Nicol Trowbridge. Weighed down by his struggle to rein in his brash (and potentially dangerous) head of government, he and Kate come to rely on each other as unexpected allies.
Gyasi is a prolific actor best known for his roles in Interstellar, Carnival Row, Cloud Atlas, Annihilation, The Bastard Son & The Devil Himself, Maleficent: Mistress of Evil, Containment, and Troy: Fall of a City. He also voiced the Grey Cat in the special episode of Netflix's The Sandman.
Instagram: @thedavidgyasi
Rory Kinnear as Nicol Trowbridge
U.K. Prime Minister Nicol Trowbridge is a bombastic and volatile leader who never questions his pro-war mentality (hence Dennison needing to keep him in line).
Kinnear is a British actor and playwright who's best known for playing Bill Tanner in the James Bond films Quantum of Solace, Skyfall, Spectre and No Time to Die. He also appeared in Lucan, Bank of Dave, Our Flag Means Death, Years and Years, Penny Dreadful: City of Angels, and The Imitation Game. He notably played another prime minister in the first-ever Black Mirror episode, "The National Anthem."
Celia Imrie as Margaret Roylin
Meg Roylin is a well-known, shrewd Tory (Britain's conservative party) operative. She's the prime minister's former — and unofficially current — adviser whose competence is impressive, though she can be dangerous if you land on the wrong side.
Recently, Imrie played Sam Fox's mother Phyllis in the acclaimed FX series Better Things. The prolific actor is also known for appearing in The Bridget Jones films, Keeping Faith, Nanny McPhee, Mamma Mia! Here We Go Again, Victoria Wood: As Seen on TV, The Best Exotic Marigold Hotel and The Second Best Exotic Marigold Hotel, Love & Marriage, Kingdom and After You've Gone.
Instagram: @celia.imrie
T'Nia Miller as Cecilia
Austin's sister Cecilia Dennison views politics as her brother's domain, though she has her own history when it comes to his aspirations for higher office. We meet her partway through season 1, as she's residing with her devoted brother.
Miller is most familiar to Netflix fans for her roles in Sex Education and The Haunting of Bly Manor, though she's also appeared in The Peripheral, Free Rein, Years and Years, Witless, Guilt, Marcella, and The Feed. The actress is set to reunite with Mike Flanagan for his upcoming series The Fall of the House of Usher.
Instagram: @tniamiller
The White House
Michael McKean as William Rayburn
U.S. President Rayburn is an aging but competent leader who's trying to look to the future and restore America's position on the world stage.
McKean is a prolific actor best known for his roles in *deep breath* Laverne & Shirley, This Is Spinal Tap, Better Call Saul, Grace and Frankie, Rugrats, Saturday Night Live, Best in Show, Clue, Breeders, Primetime Glick, Tracey Takes On…, 101 Dalmatians: The Series, Jungle Cubs, Dream On, Sessions and Grand.
Nana Mensah as Billie Appiah
White House Chief of Staff Billie Appiah is an ambitious public servant and skilled fixer. She and Stuart used to run campaigns together, and she relies on his judgment for many things, including Kate's political future.
Mensah previously starred in the series The Chair, Bonding, 13 Reasons Why, New Amsterdam, An African City and Orange Is the New Black, as well as the films After Yang, The King of Staten Island. She also directed and starred in 2021's Queen of Glory.
Instagram: @itsnanamensah
Miguel Sandoval as Miguel Ganon
Miguel Ganon is the U.S. Secretary of State, who's notable ambitious about his own political career. He disapproves when Kate goes rogue to get the job done, and he is not at all a fan of Hal.
Washington, D.C. native Sandoval has a decades-long career in TV and film, and has appeared in several acclaimed films including Clear and Present Danger, Jurassic Park, Do the Right Thing, and Jungle Fever. He's also known for his roles in the series Medium, Station 19, Bad Judge, Sharp Objects, and Barry.
Celebrity news, beauty, fashion advice, and fascinating features, delivered straight to your inbox!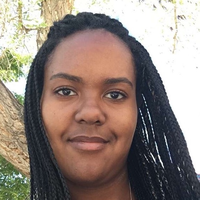 Contributing Culture Editor
Quinci LeGardye is a Contributing Culture Editor who covers TV, movies, Korean entertainment, books, and pop culture. When she isn't writing or checking Twitter, she's probably watching the latest K-drama or giving a concert performance in her car.