The 52 Best Psychological Thriller Movies Ever
Not stressed enough already? Then watch these movies.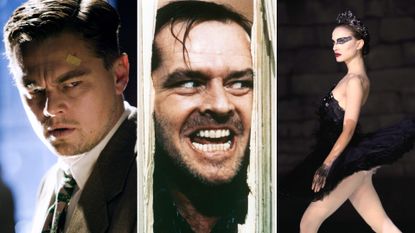 (Image credit: Alamy Stock Photo)
The best movies have the ability to thrill us to our cores, and what better genre of film to do that than the psychological thriller? These films belong to the tradition of truly unhinged cinema. Even the genre's definition refuses coherence; somehow these movies can be horror (opens in new tab), murder mystery (opens in new tab), or even action films, but they are all united under the same organizing principle: There are always characters who are mentally tortured or situations that are disturbingly removed from reality. Think: characters who are losing their grip on their sanity and stories filled with paranoia and delusion. A revenge fantasy or a political drama that raises your heart rate and fills you with a suspense-ridden dread is probably a psychological thriller.
Luckily for us, we live in the age of overstuffed streaming services. So, if you're down to be stressed for anywhere between 90 minutes to three hours, this list of movies is guaranteed to give you enough anxiety and creeping thrills that you may even forget the worries of the world for a moment. That said, one of the best parts about psychological thrillers is their ability to reveal systemic issues in our society or function as elaborate thought experiments. Totally fun, chill stuff!
The exact qualifications of a psychological thriller are hard to nail down, so we rounded up the movies we believe are A) incredibly thrilling and B) tied to psychological anxieties. This list (arranged in no particular order, mind you!) would be nothing without classics like Psycho and The Shining, but you can also expect to see modern masterpieces like Get Out and Parasite. While these movies aren't as escapist as they seem on their face, they are—in our humble opinion—the best psychological thrillers of all time.
'Psycho'
This list wouldn't be complete without a little bit of Alfred Hitchcock, who may be one of the pioneers of this genre. If you haven't already seen Psycho, it's not a spoiler to say that the famous bathroom stabbing sequence is a nail biter.
watch on amazon prime (opens in new tab)
'Perfect Blue'
This anime from director Satoshi Kon about a pop-star-turned-actress still manages to give me chills. After Mima Kirigoe leaves her Japanese idol group for a bit part in a TV show, she discovers an obsessive fan who continues to stalk her. The movie is about fame and feminism, while being weirdly prophetic about the future ubiquity of internet blogs and social media impersonation/catfishing.
watch on amazon prime (opens in new tab)
'Get Out'
The jury is out on what genre Get Out belongs to, but I do know this—there has never been a better psychological examination of the racism that white liberals employ in the name of their upholding their supremacy. And that reality is genuinely unsettling.
watch on hulu (opens in new tab)
'Burning'
There's luscious cinematography, a slow-burn of a plot, and ill-fated trips to the countryside in Lee Chang-dong's film Burning. Also, Steven Yeun is kinda hot in it.
watch on netflix (opens in new tab)
'Mulholland Drive'
Unreliable narrators (read: Naomi Watt's character) lead us astray for over two hours in this movie, the most Lynchian David Lynch work to ever emerge. He gave us Twin Peaks, Blue Velvet, and Eraserhead, so it's no surprise that Mulholland Dr.'s tale of an aspiring actress who befriends an amnesiac goes off the rails, fast. There's no way to distinguish what's a dream and what's reality.
watch on hbo max (opens in new tab)
'Parasite'
Bong Joon-ho's Oscar-winning masterpiece–his Academy Award sweep is also known as the only good thing that happened in 2020–tells the story of a desperately cash-strapped and destitute family who all gain employment at the home of insanely rich people. But the circle cannot hold because poor people can simply never catch a break in the world as we know it.
watch on hulu (opens in new tab)
'The Conformist'
Okay, okay, this may or may not be more of a political thriller, but the movie delves into the psychology of fascism, so I'm giving myself a free pass to include it. Marcello Clerici is an agent working in Mussolini's Italy, charged with assassinating his old college professor. Clerici craves the stability of conformism and ultimately sacrifices everything for acceptance in the order that fascism affords, all to the backdrop of pristine architecture and decadent set design.
watch on amazon prime (opens in new tab)
'The Shining'
A guy loses his mind while stuck at home with his family. Sound familiar?
watch on hbo max (opens in new tab)
'Rosemary's Baby'
Perhaps one of the most terrifying movies on this list, Rosemary's Baby follows Rosemary (Mia Farrow) as she comes to believe that her child may not be a normal human baby. Both her weird elderly neighbors and husband are acting especially suspicious–can they be launching a satanic-slash-cultish plot involving the child?
watch on amazon prime (opens in new tab)
'The Conversation'
Francis Ford Coppola didn't miss in the seventies (um, have you seen The Godfather or Apocalypse Now?), and this film proved just how original his vision can get. The Conversation tells the story of a paranoid surveillance expert who is hired to tail a mysterious couple. Haunted by a previous job that went wrong, the guy grows more and more crippled by the case as the movie chugs along. Nothing is as it seems.
watch on amazon prime (opens in new tab)
'The Handmaiden'
Part psychological thriller, part romance, The Handmaiden tells the story of an elaborate deception from the perspective of the conwoman and the noble woman being conned. The two also fall in love in this story set in Japanese-occupied Korea. It's also a genuinely fun watch.
watch on amazon prime (opens in new tab)
'Ma'
Ma is on its way to becoming a canonical cult classic. Just watch it.
watch on hulu (opens in new tab)
'Persona'
This movie is mostly just vibes, but it's also a series of quiet mind games. Directed by Ingmar Bergman, Persona is the story of an actress who becomes mute after she experiences a blackout during a performance. After a recommendation to go recover at the beach with her nurse, she begins to lose track of where she ends and the nurse begins.
watch on amazon prime (opens in new tab)
'Blow Up'
Who doesn't want to watch a movie about a 60s-era fashion photographer with a messy sex life who accidentally stumbles upon criminal activity?
watch on amazon prime (opens in new tab)
'Blue Velvet'
Just writing "Laura Dern" would suffice, but I'm feeling slightly overachieving. David Lynch's movie is about a pair of young adults who team up to investigate the case of a loose ear that they find abandoned in a field. Throughout their detective cosplay, they encounter an underground world populated by a lounge singer and a weird, sexually depraved Dennis Hopper.
watch on hulu (opens in new tab)
'Diabolique'
Two women, united by their mutual hatred, successfully plot to murder the abusive boarding school headmaster, only to misplace his corpse.
watch on amazon prime (opens in new tab)
'The Lighthouse'
Set in 19th century America, Robert Pattinson and Willem Defoe lose their minds at a lighthouse in the middle of the sea. Unsurprisingly, Pattinson's character somehow hooks up with a mermaid...?
watch on amazon prime (opens in new tab)
'Repulsion'
If you want to be on the edge of your seat and seriously worry about the well-being of a young woman, then this is the movie for you. Manicurist Carole has been abandoned by her sister for an Italian holiday, so she must fend for herself, dealing with her suitors and repetitive job. But what if she becomes too stressed to work and all men suddenly give her the ick (plus terrifying hallucinations)? So, she goes a little mad.
watch on amazon prime (opens in new tab)
'Shutter Island'
One of Marty's more underrated films (that's Martin Scorsese for you locals), Shutter Island stars Leonardo DiCaprio as a U.S. Marshal charged with investigating the escape of a murderer at a remote island asylum. But can the marshal escape with his own sanity intact?
watch on netflix (opens in new tab)
'Stranger by the Lake'
This movie tells the story of Franck, who cruises at a nude beach in France. He eventually meets Michel, who may or may not be murderous.
watch on amazon prime (opens in new tab)
'No Country for Old Men'
Don't stumble on a hitman while out hunting. It won't end well.
watch on hbo max (opens in new tab)
'Uncut Gems'
I have never felt such massive and continuous pangs of anxiety over an extended period of time until I watched the Safdie Brothers' Uncut Gems. But, is it a psychological thriller? Quite frankly, all I know is that Adam Sandler's portrayal of gambling addict Howie is spot on, the electronic score took years off my life, and there is no winning for anyone in the post-recession global neoliberal economy of 2012 (except for maybe the mob and, like, other rich people IDK).
watch on netflix (opens in new tab)
'Memento'
After his wife's brutal rape and murder, Leonard resolves to track down the perpetrator. The only problem–his lapses in memory make for a difficult manhunt as he cannot remember anything from fifteen minutes in the past.
watch on amazon prime (opens in new tab)
'Fight Club'
Brad Pitt plays Tyler Durden, a traveling soap salesman who befriends a lonely and depressed man (Edward Norton). Together, the two men form a secret underground club in David Fincher's mind-bending movie.
watch on amazon prime (opens in new tab)
'Black Swan'
Natalie Portman plays a ballerina who slowly loses it while she battles for the prima ballerina spot for a production of Swan Lake.
watch on amazon prime (opens in new tab)
'Dirty Pretty Things'
Two immigrants in London contend with squalid conditions and the illegal organ trade in Stephen Frears' topical film. The dark underbelly of the city, and reality of exploitation, make for a disturbing ride.
watch on hulu (opens in new tab)
'American Psycho'
Businessman by day, serial killer by night, Patrick Bateman (Christian Bale) keeps himself busy.
watch on amazon prime (opens in new tab)
'Silence of the Lambs'
Jodie Foster plays Clarice Starling, an FBI agent who is studying the psychology of Anthony Hopkins' Hannibal Lector for insight into an open case. But could Clarice be the key for Hannibal's prison break? The film took home five Oscars in the top categories–including Best Picture, Best Director, and acting honors.
watch on hulu (opens in new tab)
'Gone Girl'
After Amy (Rosamund Pike) goes missing, her husband Nick (Ben Affleck) becomes a suspect in her disappearance. As secrets begin to surface, we see who the couple truly are behind their facade.
watch on hulu (opens in new tab)
'Purple Noon'
Before The Talented Mr. Ripley, there was Purple Noon. Tom Ripley is an opportunistic social climber who gets paid to go to Italy and persuade his happy-go-lucky friend to return home. But why send your friend back to his father if you can comfortably live off his money indefinitely? Or even steal an identity?
watch on amazon prime (opens in new tab)
'Ex Machina'
Alicia Vikander plays a robot who slowly betrays her sentience. Domhnall Gleeson stars as the programmer who must participate in a Turing test to determine the robot's capabilities. It gets a little Westworld-y.
watch on amazon prime (opens in new tab)
'Eyes Wide Shut'
Tom Cruise plays a bitter doctor who grows upset after his wife (Nicole Kidman) admits to fantasizing about other men. In a huff, he wanders around a gritty New York City, where he eventually stumbles upon an underground sex club. Obviously, he can't hang.
watch on hulu (opens in new tab)
'Taxi Driver'
Martin Scorsese's classic movie about a veteran who obsesses over New York City's criminal activity dives into the psychology of vigilante's and our cultural fascination with them.
watch on netflix (opens in new tab)
'We Need to Talk About Kevin'
This movie about a disturbed child who eventually commits unforgivable sins features Tilda Swinton as a bohemian-woman-turned-housewife Eva. After she becomes a stay-at-home mom to take care of her son, she watches him grow into a troubled teen, forcing her to deal with the consequences of his actions.
watch on hulu (opens in new tab)
'Misery'
This Stephen King adaptation follows a famous author as he's taken in by his biggest fan after an injury, which is made all the more claustrophobic by Kathy Bates' epically creepy performance.
watch on hbo max (opens in new tab)
'Forgotten'
In this twisted South Korean thriller, a young man's brother returns home after a 19-day abduction with no memory of what happened. Soon after, the man's whole family starts acting strange, setting off a plot where every twist and turn is a surprise.
watch on netflix (opens in new tab)
'The Invisible Man'
After learning that her abusive ex is dead, a domestic violence survivor starts experiencing supernatural events. Is she losing it, or has her ex learned how to become invisible?
watch on amazon (opens in new tab)
'Gerald's Game'
A married woman has to battle her own psyche after her husband dies from a heart attack during sex, leaving her handcuffed to a bed in a secluded cabin.
watch on netflix (opens in new tab)
'The Killing of a Sacred Deer'
A respected heart surgeon's life turns upside down after he starts mentoring a young boy whose his father died during an operation.
watch on netflix (opens in new tab)
'Prisoners'
When two young girls go missing, a father takes matters into his own hands to find his daughter, no matter the costs. Featuring a stacked cast with Hugh Jackman, Jake Gyllenhaal, Viola Davis, and Terrance Howard, this crime thriller is equally emotional as it is suspenseful. Fair warning, some parts are disturbing but this movie will have you guessing up until the end credits roll.
watch now on netflix (opens in new tab)
'The Menu'
The Menu, starring Anya Taylor-Joy and Ralph Fiennes, was one sleeper-hit of 2022, and boy is it good. Basically, a bunch of rich people travel to a remote island to eat a lavish menu prepared by a world-class chef (Fiennes), but things take a turn fast. Not only is this film a social commentary on the wealthy, but it's a surprisingly hilarious dark comedy with so many outlandish events, you'll never be prepared for what happens next.
watch now on hbo max (opens in new tab)
'Se7en'
You can't call yourself a thriller fan if you haven't seen David Fincher's Se7en. The film stars Morgan Freeman and Brad Pitt as two detectives on the case of a serial killer who choses victims based on the seven deadly sins. It's dark and full and suspense, with a final act that will leave you in shock.
watch now on hbo max (opens in new tab)
'Midsommar'
In what would be her breakout role, Florence Pugh delivers a masterclass on emotional acting in this creepy film director by Hereditary's Ari Aster. This thriller follows a group of young people as they travel to a festival in Northern Europe, but little do they know the festivities involve some terrifying traditions. Don't be duped by the film's light and bright setting—this movie will have you constantly thinking, "What the f*ck just happened?"
watch now on paramount+ (opens in new tab)
'Gaslight'
What you can glean from this film's title is exactly what you can expect to see. Ingrid Bergman plays a young singer who meets the love of her life (Charles Boyer), but almost immediately after getting married and moving in together, he turns out to be manipulative and emotionally abusive. You may be second-guessing yourself on who is in the wrong here, which is one of the reasons this film is great.
watch now on amazon prime (opens in new tab)
'Fatal Attraction'
After watching this movie, you'll see why you should never get on Glenn Close's bad side. She stars as a book editor named Alex who get's into a casual fling with lawyer Dan, (Michael Douglas), who happens to be happily married with a daughter. When Dan suddenly cuts off the relationship, Alex goes off the deep end, eventually getting violent with her obsessive stalking of Dan and his family.
watch now on paramount+ (opens in new tab)
'The Platform'
This Spanish-language film follows the unfortunate prisoners housed in vertical cells in which they must feed from a giant "platform" of food that goes from top to bottom. If those on the upper levels only grabbed what they needed, those on the lower levels could survive too, but unfortunately, that's not how this film plays out. If you can stomach the graphic imagery on this one, it's an inventive commentary on wealth, race, and class.
watch now on netflix (opens in new tab)
'Nightcrawler'
Yet another creepy standout in Jake Gyllenhaal's filmography is the crime thriller Nightcrawler. Gyllenhaal stars as Louis Bloom, an L.A. con man who discovers crime journalism as a means of a big paycheck. Eventually, Bloom takes increasingly drastic measures to get the perfect "money shot."
watch now on hbo max (opens in new tab)
'Fresh'
Like the rest of us, Noa (Daisy Edgar-Jones) is tired of the online dating scene, so when she stumbles across the charming and super-hot Steve (Sebastian Stan) IRL, she thinks she hits the jackpot. However, things take a dark turn during a romantic getaway.
watch now on hulu (opens in new tab)
'Cape Fear'
Martin Scorsese and Robert De Niro are a match made in film heaven. Scorsese's remake of the classic 1962 thriller sees De Niro star as tough guy, Max Cady, who is wrongfully convicted in prison for 14 years. After his release, he goes after the lawyer who withheld the evidence that proved Cady's innocence.
watch now on peacock (opens in new tab)
'Joker'
While we'll always hold a soft spot for Heath Ledger's take on the notorious Batman villain, Joaquin Phoenix's Joker takes a close second. 2019's Joker serves as the villain's origin story as we see failed comedian Arthur Fleck slowly descend into madness until he dons the infamous clown face paint. Phoenix took home his first Academy Award for his bone-chilling performance as Fleck.
watch now on hbo max (opens in new tab)
'Whatever Happened to Baby Jane?'
This campy thriller classic is led by Bette Davis and Joan Crawford, an excellent casting for the creepy, co-dependent Hudson sisters. Davis stars as the titular "Baby Jane," an ex-child star now forced to care for her wheelchair-bound older sister, Blanche (Crawford). On one hand, Blanche wants revenge for the accident that left her crippled, and on the other, Jane is desperate to get rid of her sister so she can pursue a new rise to fame. What results is one dark, suspenseful ride of a film.
watch now on hbo max (opens in new tab)
'Nocturnal Animals'
In case you didn't know, Tom Ford is also a stellar director in addition to being a world-renowned fashion designer. In his second feature film, Amy Adams plays a woman named Susan whose idyllic life is shaken up by the arrival of a manuscript written by her ex-husband. The manuscript follows the story of a man whose family vacation eventually turns deadly, which forces Susan to confront her own demons while reading it. Nocturnal Animals is a story within a story and one that will undoubtedly leave you shaken up.
watch now on netflix (opens in new tab)
Zoe Guy is the digital fellow at Marie Claire, where she covers pop culture, hot celebrity gossip, movies and TV. She's obsessed with Martin Scorsese's adaptation of The Age of Innocence, anything written by Jesmyn Ward and stan Twitter.