The Usher Family Tree in 'The Fall of the House of Usher,' Explained
The sprawling, often-evil Usher family spans four generations.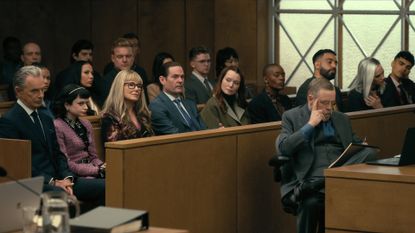 (Image credit: Courtesy of Netflix)
Raise your hand if you also got a bit confused keeping track of all the Ushers popping up in the first episode of Netflix's new horror series The Fall of the House of Usher. Mike Flanagan's latest terrifying series, which was inspired by the works of Edgar Allan Poe, centers on the sprawling Usher family, led by twins Madeline (Mary McDonnell) and Roderick Usher. The series takes place across multiple timelines as it uncovers the spans of the twins' lives and how they built Fortunata Pharmaceuticals into a billion-dollar corporation, paving the way for Roderick's six children (and one grandchild) to enjoy lives of luxury and financial support in their own efforts to amass more wealth—I mean, change the world.
Between the diversity of the mixed family (only two of Roderick's kids have the same mother) and their inventive names (all taken from Poe's works), it can be a bit hard to keep track of all the Ushers as the chilling series unfolds. For anyone who needs a primer, here's a guide to the family tree of the House of Usher. (To learn more about the actors and where else you can find them in the Flanaverse, see our breakdown of the The Fall of the House of Usher cast.)
The 50s
Eliza Usher (Annabeth Gish)
Name Reference: Poe's own mother
Roderick and Madeline's mother Eliza worked as the personal secretary to the CEO Longfellow of Fortunato Pharmaceuticals for over 20 years, and she gave birth to the twins following an illicit affair with her boss. The fervently religious mother of two dies when the children are teenagers, succumbing to a years-long illness after refusing to get treated by doctors.
William Longfellow (Robert Longstreet)
Name Reference: possibly Poe's one-sided rival Henry Wadsworth Longfellow
Longfellow is presented as a cruel men, who compares children to beefsteaks in an argument for corporal punishment as discipline. As children, Roderick and Madeline are forbidden from going anywhere near his house. When Eliza falls ill, they break the rule to ask him for assistance, and he turns them away. However, he soon meets his demise, via a brutal attack from Eliza herself. Later in life, Roderick is inspired by Longfellow to claim all of his children, no matter who their mothers are.
The Late 70s
Young Roderick Usher (Zach Gilford)
Name Reference: the show's main inspiration, Poe's 1839 story "The Fall of the House of Usher"
As a young man, Roderick works in the mail room of Fortunato, and lives with his stay-at-home wife Annabel Lee (Katie Parker) and their children Frederick and Tamerlane. One day Roderick meets with Longfellow's successor Rufus Griswold (Michael Trucco) and pitches Ligadone, a delayed-release opioid (which was possibly inspired by OxyContin). He believes that he's destined to change the world, and he climbs his way up the ladder at Fortunato while the company's being investigated for medical fraud. At the beginning of 1980 (after an eventful New Year's Eve), he's named CEO of Fortunato and begins his journey of building the company into a billion-dollar behemoth.
Young Madeline Usher (Willa Fitzgerald)
Name Reference: also "The Fall of the House of Usher"
Madeline is ambitious and calculating woman who is undermined by the boys' club of the tech world besides her skill in algorithmic computing. She wants to accomplish all of her wildest dreams without having to serve any man, either as their wife or their subordinate. She remains close with Roderick throughout their lives, and is always there to push her twin brother down the more ambitious path when he falters. She's also instrumental in the events of New Year's Eve.
Annabel Lee (Katie Parker)
Name Reference: Poe's 1849 love poem of the same name
Roderick's wife Annabel is a kind-hearted, moral, nurturing soul who sees the best in the world, including her husband, who recites poetry to her. (Mostly the Poe poem which shares her name.) She believes that money isn't that important and that the love and safety of family is all a person needs, but when she learns more about Fortunato's (and eventually her husband's) misdeeds, she argues for doing what's right over what would bring power and fortune.
Present Day
Roderick Usher (Bruce Greenwood)
Name Reference: the show's main inspiration, Poe's 1839 story "The Fall of the House of Usher"
After over 40 years as CEO, Roderick has built immeasurable wealth for his family and Fortunata, all off of Ligadone. Though the super-addictive drug has spurred an opioid epidemic, Roderick has evaded police prosecution all these years. He's also unrepentant about the pain and suffering his drug has brought to millions, even in the face of a federal trial brought by Asst. U.S. Attorney Auguste Dupin (Carl Lumbly). However, as his six children begin perishing in fatal accidents, it becomes clear that the Usher empire is built on a pile of secrets, and that Roderick must now face the ghosts of his past.
Madeline Usher (Mary McDonnell)
Name Reference: also "The Fall of the House of Usher"
Madeline is now the COO of Fortunata and the brains behind her and Roderick's partnership. The twins run both the Usher family and the pharmaceutical giant with an iron fist, thanks partly to their unflinchingly loyal lawyer and enforcer Arthur Pym (Mark Hamill). In addition to her work, Mad also works on several passion projects, including her research on algorithms and artificial intelligence as a form of immortality. Though she and Roderick have built Fortunata together, her vow to never to let a man have power over her extends to her twin brother, and she wouldn't hesitate to push him under the bus if the need ever arises.
Frederick Usher (Henry Thomas)
Name Reference: Poe's 1832 story "Metzengerstein: A Tale in Imitation of the German"
Episode: "The Pit and the Pendulum"
Frederick (often called Frauderick, Dickwad, and Sweaty Freddie by his siblings) is the eldest son of Roderick and Annabel Lee. As the eldest (and eldest legitimate) child, he's the heir apparent to the CEO role, but his anxious demeanor means he's less suited for the job as some of his other siblings. Still, he's an exec at the company and is set to take the throne, as long as his charmed life doesn't fall down around him. He's is married to former model Morella "Morrie" Usher (Crystal Balint), who Roderick enjoys both for her charm and her impressive illusion cakes. (Just a quirk, or some Is It Cake? stealth marketing?) He and Morrie also share their daughter, Lenore (see below).
Tamerlane Usher (Samantha Sloyan)
Name Reference: Poe's first book Tamerlane and Other Stories (1827), as well as the titular poen "Tamerlane"
Episode: "Goldbug"
Tamerlane, Roderick and Annabel Lee's second child, is the Shiv of the Usher family, who has eschewed Fortunato to make her own way after seemingly being passed over for heir in favor of Frederick (despite her being much more cutthroat than her elder brother). Instead, she plans to build her own Goop-equivalent luxury lifestyle brand, Goldbug, into a new empire. To help, she's found the perfect strategic partnership, via her fitness influencer husband Bill T. Wilson (Matt Biedel), a.k.a. BillT, and his many subscribers. To take the edge off, she and Bill have an... unconventional sex life.
Victorine LaFourcade (T'Nia Miller)
Name Reference: Poe's 1844 story "The Premature Burial"
Episode: The Tell-Tale Heart
Victorine is the oldest of Roderick's four children outside of his marriage to Annabel Lee, and Frederick and Tamerlane have dubbed them the "bastards." (Roderick never remarried until Juno Usher, who we'll meet below.) The Brit deeply values her father's approval both emotionally and monetarily, as he's funding her cutting-edge medical research. She and her girlfriend, Dr. Allessandra Ruiz (Paola Núñez), are conducting animal testing on a heart mesh with the potential to change modern medicine, and Victorine is determined to get the device approved, medical procedure (or ethics) be damned.
Napoleon "Leo" Usher (Rahul Kohli)
Name Reference: Poe's 1844 story "The Spectacles" (The Poe character's full name is Napoleon Bonaparte Simpson.)
Episode: "The Black Cat"
Leo is the closest Usher sibling to a full socialite, as he's famous for his British charm, his hard-partying antics, and his impressive career in the video game industry. (His sister Camille dubs him Xbox Gatsby, which, yes.) He shuts out any negative emotions in his life with drugs and sex, but the drugs are starting to concern his live-in partner Julius (Daniel Chae Jun).
Camille L'Espanaye (Kate Siegel)
Name Reference: Poe's 1841 story "The Murders in the Rue Morgue" (This story also includes the first appearance of Poe, and later TFHU's, detective C. Auguste Dupin.)
Episode: "Murder at the Rue Morgue"
Camille is Fortunato and the Usher family's PR maven, who spins the empire's bad behavior into more favorable (or at least palatable) press coverage. She's extremely skilled at her job and believes that information is everything, which means she also keeps faithful records of any dirt she can dig up on everyone closest to her. At the start of the series, her efforts are focused on Lumbly's latest case against Fortunato, which she monitors with the help of her full-service assistants Toby (Igby Rigney) and Tina (Aya Furukawa).
Prospero "Perry" Usher (Sauriyan Sapkota)
Name Reference: "The Masque of the Red Death" (Also Poe enlisted in the U.S. Army under the name Edgar A. Perry in 1827.)
Episode: "The Masque of the Red Death"
While most of the Usher "bastards" learned of their parentage when they were in their late teens (Leo was 18, Camille 20), Perry was only 16 when he joined the world of unthinkable luxury and abundance. His playboy lifestyle takes after Leo—the sibling he's also closest to—and he plans to turn his life into the ultimate party. Each of Roderick's children gets funding for their own business venture once they come of age, and Perry plans to build a network of ultra-decadent nightclubs. However, it takes a lot to please Roderick, and Perry's quest for the ultimate rager may go a bit haywire.
Morella "Morrie" Usher (Crystal Balint)
Name Reference: Poe's 1835 story of the same name
Morrie used to be a model and actor, but she has settled into her life as Frederick's devoted wife and Lenore's loving mother. At the start of the series, she spends her days bonding with Lenore and making a cake shaped like a pharmaceutical case law book to cheer Roderick up amid the trial. However, a part of her longs to feel the thrills of her old life, and a secret night out ends in tragedy. In the aftermath, she has to deal with her husband's true nature, as it reveals itself.
Lenore Usher (Kyleigh Curran)
Name Reference: The lost love of the protagonist of Poe's 1845 poem "The Raven"
Roderick often refers to his sole grandchild Lenore as the "best" of the family, and she's definitely the least corrupted Usher. The teenage daughter of Frederick and Morella is kind-hearted and morally strong, and even though she's the youngest, she understands and disagrees with Fortunato's wrongdoings. If every Usher is destined to follow Roderick's mandate to "change the world," Lenore's the show's best chance for a better one.
Juno Usher (Ruth Codd)
After Annabel Lee left Roderick sometime during Frederick and Tamerlane's childhoods, the patriarch remained unmarried for all those years... until Juno. He met the former heroin addict in the hospital following a severe accident which led to the loss of her leg, as well as her dependency on Ligodone. Roderick's motive for marrying her is never explicitly laid out, but he mentions several times that Ligodone must be safe if his own wife takes a dose much higher than the average patient. Due to the significant age difference and the freshness of the marriage, all of the Usher children shun her (except for Frederick, who she says is likely "kissing ass").
Marie Claire email subscribers get intel on fashion and beauty trends, hot-off-the-press celebrity news, and more. Sign up here.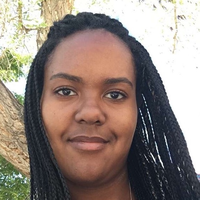 Contributing Culture Editor
Quinci LeGardye is a Contributing Culture Editor who covers TV, movies, Korean entertainment, books, and pop culture. When she isn't writing or checking Twitter, she's probably watching the latest K-drama or giving a concert performance in her car.