The Cast of 'You' Season 4 Part 2: Your Guide
Meet the new cast of London aristocrats.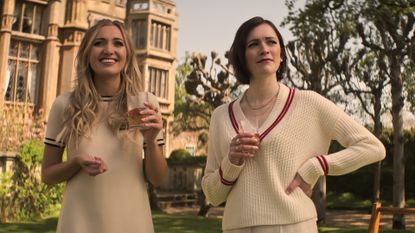 (Image credit: Courtesy of Netflix)
It's time to check in with Joe Goldberg, and this time, he's across the pond. Netflix's hit drama You has returned for its fourth season, with everyone's problematic fave assuming a new identity after escaping Madre Linda newly single (R.I.P. Love). Now, as literature professor Jonathan Moore, Joe has fallen in with a group of rude, ultra-wealthy socialites who are being plagued by a serial killer. Joe's at the center of a murder mystery, and like any great one, everyone is a suspect.
While season 4 of You isn't officially over until next month, there are a ton of new actors to meet to welcome to the series. Read on to meet the faces behind You's latest adventure.
Penn Badgley as Joe Goldberg
Goodbye Joe/Will/Nick, hello Jonathan Moore. After making the trip across the pond to find Marienne, the serial stalker and murderer has taken on the alias of a literature professor teaching undergrads at a college in London. He soon finds himself in the middle of a new murder mystery as members of his new group of friends begin dying.
Before You, Badgley was best known for playing Dan Humphrey in the CW's original Gossip Girl series. He also starred in the movies John Tucker Must Die, Easy A, The Stepfather, Margin Call, and Greetings from Tim Buckley, as well as the 2021 film Here Today.
Tati Gabrielle as Marienne
Artist and former librarian Marienne ran all the way from Madre Linda to Paris to get herself and her daughter Juliette to safety away from Joe. Unfortunately, she underestimated how determined he is, and she eventually finds herself in his view yet again.
Gabrielle grew up in the Bay Area, California, and has previously starred in Disney's KC Undercover, CW's The 100, and Netflix's Chilling Adventures of Sabrina, where she played the scene-stealing queen bee Prudence. She also recently starred in the 2022 adventure film Uncharted, as well as Netflix's nonlinear heist series Kaleidoscope.
Stephen Hagan as Malcolm
Malcolm, Joe's fellow literature professor at the university, is his entry into the world of London's richest clique. He's a wealthy partier whose friendliness can tip over into bullying, and he's been known to cheat on his girlfriend Kate.
Hagan is an Irish actor who made his screen debut in the British film Clapham Junction in 2007. He's since appeared in the BBC series The Cut, the Sky series Lucky Man, and the Netflix series Medici, in which he played Leonardo da Vinci.
Charlotte Ritchie as Kate
Kate is an art gallery director who is smart, independent, naturally suspicious, and immensely loyal to her friends, especially her BFF Lady Phoebe. When her boyfriend Malcolm invites Jonathan Moore around, she immediately suspects that the newcomer is hiding something.
Ritchie is an actor and singer who also currently plays Alison Cooper on the CBS sitcom Ghosts. She previously starred in the Netflix dramedy Feel Good and the British series Grantchester and Call the Midwife, as well as the 2019 New Year's Day episode of Doctor Who.
Amy-Leigh Hickman as Nadia Farran
Literature major Nadia is the brightest of Joe's students, an aspiring writer who doesn't take the wealthier students' BS. She's also very discerning, which may get Professor Moore into some trouble.
Hickman is a British actress who previously appeared in several British soaps, including Doctors, Casualty, and EastEnders. She also starred in several shows, including Cinemax's Strike Back, BBC's Our Girl, Netflix's Safe, and the British drama Ackley Bridge.
Tilly Keeper as Lady Phoebe
Lady Phoebe is a classic socialite, whose every move has been captured by the paparazzi since was fifteen. She's super sweet and kind, and she's a loyal cheerleader for her friends, including her boyfriend Adam and her unlikely new pal Jonathan.
Keeper rose to fame on the legendary British soap EastEnders, appearing in the series for 392 episodes (!). She recently starred in the movies Marooned Awakening, R.I.P.D. 2: Rise of the Damned, and Make Me Famous.
Lukas Gage as Adam
Adam, the youngest child of an American tycoon, is a fun-loving guy and easy friend who seems devoted to his girlfriend Phoebe. He's currently running a London social club, but he has a ton of secrets hiding under that charming face, including whether he's with Phoebe for love or money.
Gage is an actor and writer who has had several breakout roles in the past few years, including Tyler in Euphoria; Derek in Love, Victor; and bellhop Dillon in The White Lotus Season 1. You also may know him from his viral audition video in late 2020. Next he's set to star on FX's Fargo, HBO Max's Dead Boy Detectives and the film How to Blow Up a Pipeline.
Ed Speleers as Rhys
Rhys is a famous memoirist with a literal rags-to-riches story, who went to Oxford with the rest of the crew and is now fielding requests to run for Mayor of London. He seems like the only decent one in this lot, but everyone has skeletons in their closet somewhere.
Speelers made his screen debut in 2006, playing the titular role in the live-action adaptation of Eragon. He's since starred in several beloved shows, including Downton Abbey, Wolf Hall, Outlander, and Star Trek: Picard, as well as the Disney film Alice Through the Looking Glass.
Eve Austin as Gemma
Gemma is the comedian of the posh group, a pampered socialite who never had to learn real-world skills like tact or empathy. She's great for a party, though.
Austin previously starred in the British tween drama The Athena, and the 2019 teen film Our Ladies. She's also experienced with murder mysteries, from appearing in the BBC's Agatha Christie adaptation The ABC Murders.
Aidan Cheng as Simon Soo
Simon is the son of a Chinese tech magnate who went to Oxford with his sister Sophie and the rest of Malcolm and Kate's crew. After school, he became an acclaimed artist, but he hates small talk and most people.
Cheng made his TV debut in 2019 on the Hulu series Harlots. He's since starred in shows including Sky's Devils, BBC's Silent Witness, and Starz's The Girlfriend Experience, as well as two recorded stage productions produced by Shakespeare's Globe Theatre.
Niccy Lin as Sophie Soo
Sophie is an influencer and entrepreneur whose social media is full of high-end sponsorship deals (basically Joe's least favorite type of person). She's also very protective of her introverted brother Simon.
Lin previously appeared in series including Hulu's The Great and USA Network's Treadstone, as well as the 2019 film Official Secrets.
Ozioma Whenu as Blessing
Blessing is a cryptocurrency investor and literal Nigerian princess with several post-graduate degrees. She's spoiled and carefree when it comes to her businesses and her personal life, mostly because believes we're all living in a simulation, so we might as well do whatever we want.
Whenu is a recent graduate of the London Academy of Music and Dramatic Art, who booked her first-ever television credit on Netflix's The Witcher: Blood Origin. You is her second TV role.
Ben Wiggins as Roald
Roald is the stylish, well-mannered son of an aristocratic family whose names are on many important buildings around Europe. Despite his glamour, there are rumors about his hidden dark side, and he isn't a fan of newcomer Jonathan.
Wiggins is a familiar face to Netflix fans, as he has played The Adonis in The Witcher and Carl in The Sandman. He has also appeared in HBO Max's Pennyworth, Masterpiece's Grantchester, Starz's The Girlfriend Experience, and Sky's A Discovery of Witches, as well as the 2018 film Mary Queen of Scots.
Dario Coates as Connie
Connie, another posh member of Kate and Phoebe's friend group, loves betting, horses, drinking, and cocaine. Like the others, he's never faced a negative consequence in his life.
Coates made his TV debut on the famous UK soap Coronation Street and has since appeared on series including The Girlfriend Experience, Rules of the Game, and Tell Me Everything. He has also done voice acting for several video games including Cyberpunk 2077 and Total War: Warhammer III.
Brad Alexander as Edward
Edward is one of Joe's students, the confident son of a publishing magnate who takes a romantic interest in Nadia. He's played by Brad Alexander in the actor's first major role.
Greg Kinnear as Tom Lockwood
Kate's mysterious tycoon father is played by Kinnear, an Oscar and Emmy-nominated actor best known for starring in the films As Good As It Gets, Little Miss Sunshine, You've Got Mail, Stuck In Love, and The Last Song. He recently also starred in series including Apple TV+'s Black Bird, Paramount+'s The Stand, and Starz's Shining Vale.
Celebrity news, beauty, fashion advice, and fascinating features, delivered straight to your inbox!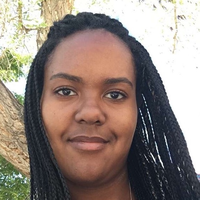 Contributing Culture Editor
Quinci LeGardye is a Contributing Culture Editor who covers TV, movies, Korean entertainment, books, and pop culture. When she isn't writing or checking Twitter, she's probably watching the latest K-drama or giving a concert performance in her car.