My Mid-Afternoon Makeup Refresher
You may hit a slump around 4 p.m., but thanks to Lindsay Leff's selection of cosmetics, your makeup doesn't have lag behind with you.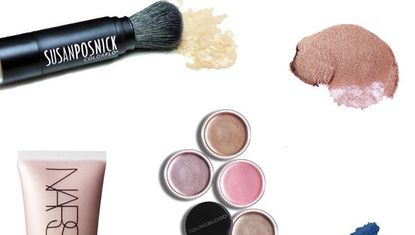 (Image credit: Archives)
I'm not embarrassed to admit that I won't leave the house until I deem my face perfect. But, around 4 p.m., the time when most people are lunging for a second cup of coffee, I'm more concerned with the state of my makeup. My blush has dulled. Eyeliner smears and creates dark circles. Surely, my skin is not looking like I slept eight hours last night.
So, I turn to my fail-proof arsenal of products that are sure to get me out of my mid-day makeup slump.
Instead of reapplying a full face of heavy foundation, I substitute Susan Posnick Cosmetics' COLORFLO (opens in new tab), an ultra-light and super smooth all-natural powder foundation that goes on with a self-dispensing, refillable brush.
Highlighter's many purposes don't go unnoticed (or unused), so when I want major perk, I swipe NARS Illuminator (opens in new tab), a pearlized highlighter, on five spots of my face: the inner corners of my eyes, my brow bones, my cheek bones, the bridge of my nose and my cupid's bow.
To finish off my newly refreshed look, I apply Youngblood Luminous Crème Blush in Tropical Glow (opens in new tab) to the apples of my cheeks for a natural-looking pop of peachy color.
And if I want just a little more pizzazz, I line the inner rims of my eyes with a creamy cobalt pencil. The navy shade (opens in new tab) isn't as heavy as black, and adds a fun pop of color that's still appropriate for the office.
Lindsay Leff is a beauty industry veteran who created Kiss and Wear (opens in new tab) to showcase her favorite products, dissect celebrity beauty looks, and teach others how to live with style.