Trend I Love: Clear Nails and Colored Tips
Dara Adeeyo of Dark Berry Beauty loves clear nails with colored tips. She tries them out in St. Patty's Day colors.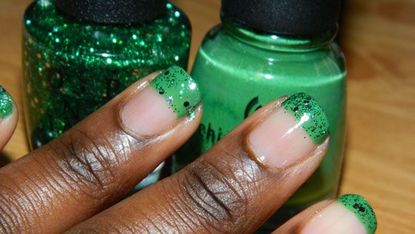 (Image credit: Archives)
I am currently obsessed with pairing colored tips with clear nails, and with St. Patrick's Day around the corner, I decided to don green tips. You too can paint on the perfect set of colored tips:
1. Start with basecoat. After ripping off my fake stiletto nails (opens in new tab), my nail beds looked as though they'd been run through a shredder. I began using Julep's Nail Therapy (opens in new tab) as a basecoat and after a week, my nail beds look healthy again. Let the basecoat dry for five minutes.
2. Apply the color of choice to your tips — I went with China Glaze Starboard (opens in new tab) — and let dry for five minutes.
3. Add some sparkle! I topped off the first polish with OPI's Fresh Frog of Bel Air (opens in new tab). Let this dry for another five minutes.
4. Apply a fast-drying topcoat.
The key to a great-looking tip is not arcing the polish to mimic the curve of the nail. Just paint straight across, and clean up any unevenness with a second coat of polish.
I love this look a lot. In fact, this is my third time wearing it within a week. It looks clean and is a quick nail look to do. What do you think?
Dara Adeeyo is a nail polish junkie who blogs her beauty diary on Dark Berry Beauty (opens in new tab).