Top 5 Pastel Nail Polishes
Beauty blogger Siobahn Bentley loves pastel nail polish for spring. She shares her five favorites.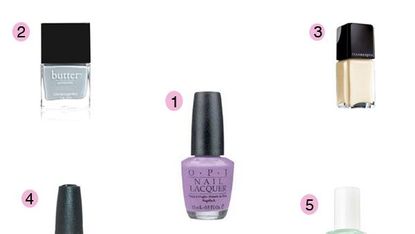 (Image credit: Archive)
Pastels are a focus-trend this season, and these gorgeous, soft colors are all over the catwalk and the high street. Easy to wear and fun to incorporate into an everyday wardrobe, girly pinks, purples, blues, greens, and yellows are trickling down to my manicure. These five varnishes are my favorite ways to keep nails pretty in pastels.
1. OPI's Do You Lilac It? (opens in new tab) ($6) is a stunning pale purple that gives a great pop of color.
2. Want to try a periwinkle? Butter London's Lady Muck (opens in new tab) ($14) is a powdery blue-grey infused with pearl pigment to give nails a subtle shimmer.
3. That's a show-stopper! Illamasqua's Nail Varnish in Load (opens in new tab) ($14) will have your nails ice-cream-ready.
4. For fruity perfection, try China Glaze's Peachy Keen (opens in new tab) ($2.50). This bold, almost-orange color creates statement nails.
5. My ultimate favorite and go-to nail polish is Essie's Mint Candy Apple (opens in new tab) ($8). This stunning light green looks divine on everyone.
Any of the above pastel lovelies will help make your nails part of your outfit, and keep you looking super-trendy!
Siobahn Bentley is a 24-year-old Londoner, self-proclaimed beauty addict, and the voice behind A Girl and a Beauty Blog (opens in new tab).