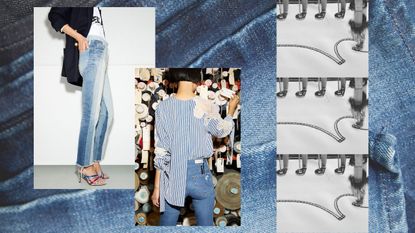 (Image credit: Cheyenne Ellis)
Finding the perfect pair of jeans can be a lifelong struggle. But when you do, it's like magic. For AG, that magic is created at a can't-believe-it-all-happens-here warehouse in Los Angeles. Hundreds of people and dozens of weird-looking machines work on creating denim that not only fits you just right, but is also made to last.
It takes 19 machines, 2 rounds of design sketches, 5 wash treatments, 8,441 stitches, and 80 different people to make ONE pair of jeans.
There are 15 unique steps to creating a pair of AG jeans, and experts carry each one out meticulously. Basically, the AG factory is like Willy Wonka's chocolate factory IRL. Massive washing machines that could fit football teams fill one room, while another has pant mannequins with inflatable booties. Upstairs, hundreds of sewing machines fill a giant airy space. "There are a lot of moving parts and a lot of people that help make it happen," says AG's senior designer Sandy Oh (below, wearing the white lacy top and cool jeans). "AG's president hand-selects fabrics and blends, and then the company imports them from Japan and Italy." The cloth is cut into jigsaw-like pieces that'll eventually become jeans, and then left to sit overnight so the fabric can shrink to the right size.
"Once the pattern pieces are cut, they're bundled onto carts by style and size and begin moving around the factory to be assembled," Oh says. "The sewing department pieces the jeans together one at a time, with each person tending to a specific task to create expertise and efficiency."
Then it's time to give each pair a signature look. "For vintage washes, sanding and distressing is done freehand for an authentic look," she says. "We also have 13 laser machines that burn in specific patterns created in-house, specific to each style." Imagine a massive machine that burns each jeans with a laser beam—very futuristic. Next comes the wash process, the result of tons of testing with specific formulas to get the shade and rinse juuust right. "We also use a filtration system that recycles a portion of water back into the washer," she adds.
Last up? The finishing touches: Buttons, rivets, leather patches, and labels are added, and then the jeans are done.
How to Wear Them (Especially at Work)
Oh wears a piece of AG every day, and for her denim is life. She never gets bored of it."My first job out of fashion school was with a denim company, and for the last 12 years I've worked as a designer for a handful of different denim brands," she says. "Denim is a staple in my closet. My go-to uniform is jeans and a white t-shirt/tank, a blazer or a structured jacket, and either a great white sneaker or if I'm feeling dressy than a great pair of heels—and I'm not afraid to wear heels at work. You can never get bored of denim. There are so many ways to style it, from classic to street to feminine to edgy."
A white t-shirt in unexpected fabrications (like oversized lace), or proportions, can also be more exciting than a simple white t-shirt. A feminine top like this one dresses up distressed denim that might seem too weekend-y. "The Phoebe (worn above) is an editorial favorite," says Oh. "It's high-waisted, has a tapered leg, and offers a super flattering, old-school inspired silhouette."
Styling is Key
If you're wearing jeans with fraying and different colors, keep your top business-like. A blazer and t-shirt is always polished, says Oh, and a go-to look for her. Her trick to balancing denim with a sharp jacket? Look for a fashion forward jean (like the Isabelle), that combines a genius crossed over waistband and individually washed panels on the legs. "The high-rise straight crop is very much influenced by a great pair of vintage jeans," she says. "It's a great one for our cool, sophisticated modern girl." Oh's also a fan of combining different colors, prints, and textures. "I love mixing and matching trends and looks, high to low. Right now I am very much into athletic influences with a touch of unexpected femininity."
How To Find the Perfect Fit + Wash
There are a few key things to keep in mind when looking for jeans, says Oh: "Make sure the wash is top-quality. The jeans should look like they've been lived-in. The fading, whiskering, and distressing all need to look authentic—like they happened over time from natural wear and tear. Then, make sure they feel good! The fabric should be well made but soft, and the fit should be impeccable."
Look for a pair that fits well—proper fit always looks more work-worthy—and top them with a businesslike blouse in crisp cotton or soft silk. "The Farrah Skinny Ankle is a great fix for a lot of women," Oh says. "It complements so many body types and suits any style. It's a skinny with a higher rise, and the fabric blends it's offered in all have really great stretch and recovery for all-day comfort."
Photography by Cheyenne Ellis, Styling by Tara Lamont-Djite, Hair and Makeup by Lauren Lancaster
Marie Claire email subscribers get intel on fashion and beauty trends, hot-off-the-press celebrity news, and more. Sign up here.