How to Look Great at Work, According to 3 Women with Fashion Dream Jobs
What corporate chic looks like at the Nordstrom headquarters in Seattle.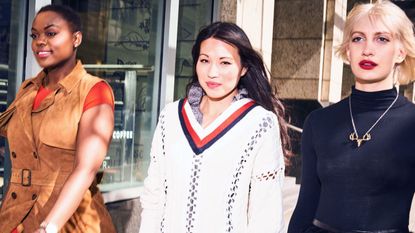 (Image credit: Eric Ray Davidson)
The first things Seattle brings to mind for you are overcast weather, coffee, and the birthplace of grunge. But the city's fashion scene isn't all flannels and band tees. Meet three of the stylish staffers working it at Nordstrom's main corporate office in the center of downtown Seattle. They talked to us about their careers and their unique approaches to dressing for the job. Clearly, they're putting that employee discount to good use! 😉
HER JOB: "I trek across the globe tracking street style. From fashion weeks to festivals, I photograph style stars and cool local girls alike—so if you see me, say hi! Then I turn all this information into detailed trend reports, and help with broader forecasting projects."
HER STYLE: "When I give a big presentation, I like to illustrate one of the trends I'm speaking about—like the bold metallic of this flouncy dress and the updated varsity sweater. It has a bit of edge and unexpected playfulness and feels 100 percent me. But when I'm photographing the streets, I need to be comfy so I'll wear jeans, a Salvador Dali tank top, and Comme des Garçons sneakers, and save my skirts and heels for the office. "
HER DESK-TO-DINNER SWITCH: "I rely on the right accessories to bring me from day to evening. A versatile shoulder bag, sleek heeled boots and a red lip usually do the trick."
HER LOOK HERE: Alexander Wang 'Cricket' Lace-Up Cable Knit Cotton Sweater, $995, nordstrom.com; Vetements Metallic Ruffle Midi Dress, $2,150, nordstrom.com; socks and shoes, Yamada's own
HER JOB: "I help bring a brand campaign to life by acting as the liason and support between the marketing, strategy, website, merchandising, and buying teams. When I go into a store and feel the energy, hear the buzz in the beauty department, or see a campaign launching, I think, I worked on that. Then I go buy everything!"
HER STYLE: "I embrace color and use style to project my strong, confident personality. I love the classic silhouettes and mix of textures here—a heavy suede trench paired with the light and airy dress. At any event, I'm a power player dressed in serious pumps."
HER FAVORITE DESIGNER: "Diane von Furstenberg is my fashion godmother. She gets business women entirely, and understands flattering shapes—especially for tall women like me who need longer inseams."
HER LOOK HERE: Olivia Palermo + Chelsea28 Sleeveless Suede Trench Dress, $269, nordstrom.com; Armani Collezioni Cap Sleeve Crepe Fit & Flare Dress, $638, nordstrom.com; jewelry, Washington-Sookram's own
HER JOB: "I use words to problem solve and improve customers' online shopping experience. Writing headlines, emails, campaigns, and videos—these are the spaces in which I tell stories. I want the time they spend on our site to be informative, impactful, and worth it because shopping should be fun, right?"
HER STYLE: "I either walk or bike to work, so the clothes I wear have to feel good and move well. Bodysuits are my favorite; I mix them up with unexpected pieces like this tulle skirt. I'll often wear the same thing from work to happy hour to fancy events to eating pizza on the couch. To me, dressing 'up' or 'down' seem like hallmarks of used-to-be fashion. Now? We just get dressed."
HER CITY: "Seattle is a trifecta of talent, collaborative creativity and progressive thinking. The Northwest in general strives to put people and the environment first. That affects how we relate to fashion and how we buy, wear, and make clothes. The city's fashion scene is still small enough for it to really feel like a group effort."
HER LOOK HERE: Topshop Ribbed Funnel Neck Bodysuit, $22, nordstrom.com; Ashley Williams 'Flock Fly' Sheer Tulle Skirt, $378, nordstrom.com; MM6 Maison Martin Margiela Strappy Platform Sandal, $330, nordstrom.com
*Katie Joy Blanksma is no longer a Nordstrom employee at the time of publication
Stylist: Milka Prica; Hair/Makeup Artist: Heidi Nymark
Follow Marie Claire on Facebook for the latest celeb news, beauty tips, fascinating reads, livestream video, and more.