Meghan Markle's Madewell Panama Hat Is a Longtime Favorite of Hers
It even made it into her royal wardrobe.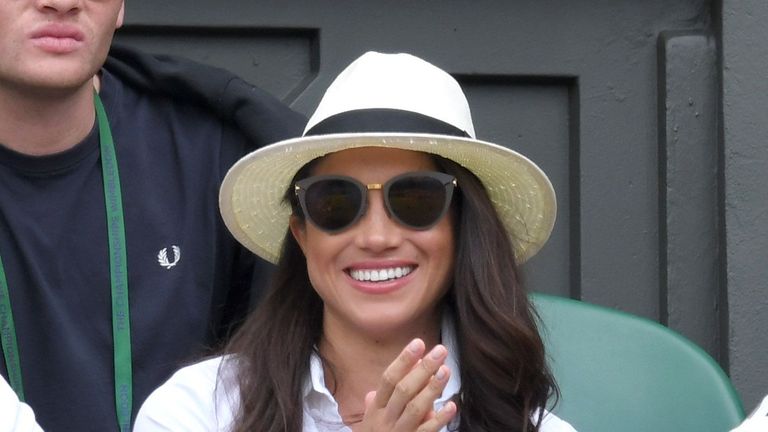 (Image credit: Getty Images)
Since she married Prince Harry, Meghan Markle's style has done a complete one-eighty. That's to be expected: The royals have a history of established rules when it comes to what to wear. As Meghan makes more public appearances with the family, her outfits have gotten quite sophisticated and tailored.
She's traded in her jeans for trousers, red-carpet gowns for skirt suits, and crossbody bags for clutches. All these little fashion tweaks have helped the Duchess of Sussex craft a signature royal look that's approved by the Queen and Prince Harry (who reportedly gives styling advice to his wife).
Though Meghan has almost completely rid her wardrobe of super casual or overtly sexy pieces (you won't ever see her in this Deal or No Deal dress again), there is one thing, or rather, accessory, she has held on to from her pre-duchess days.
It's her woven panama hat from Madewell! Meghan's taken countless photos with it on her (now deleted) Instagram and was last spotted wearing the hat in 2017 when she attended the ATX Television Festival with her Suits costars. We thought Meghan had banished the hat from her royal wardrobe forever when it, surprisingly, popped up over the weekend.
On Saturday, she attended Prince Harry's polo match and wore a gingham print dress by Shoshanna Gruss, Sarah Flint sandals, and her trusty Madewell panama hat. The piece made another appearance on Sunday, when Meghan re-wore it for day two of the match. This time, she was spotted in an outfit that seemed more "Meghan" than "Duchess of Sussex." She wore black pants and a white J.Crew button-down shirt. We even saw the return of her crossbody bag.
It's nice to know Meghan didn't discard one of her go-to summertime pieces because, well, the Madewell hat is completely sold out now. We found similar styles to shop, however, should you feel inspired by Meghan's.
J.Crew, $35 SHOP IT
Cuyana, $85 SHOP IT
Rag & Bone, $230 SHOP IT