Comparing Meghan Markle's Two Very Different Summer Wedding Looks
Meghan Markle has now attended two weddings as the guest of Prince Harry since her own wedding in May. Here's a comparison of the looks she wore to each wedding this summer.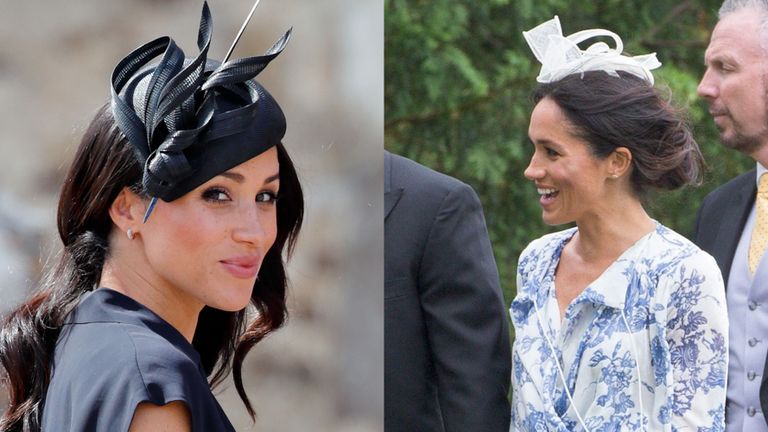 (Image credit: Splash)
It's wedding season and Meghan Markle's royal calendar has been full since her own highly-anticipated, internationally-televised wedding in May. Since walking down the aisle herself, Meghan has attended not just one, but two royal-adjacent weddings as Prince Harry's plus one.
In June, Harry and Meghan attended his cousin, Celia McCorquodale's, wedding. Celia is the niece of Harry's mother, the late Princess Diana. This weekend, Meghan spent her 37th birthday at the wedding of Harry's childhood best friend, Charlie van Straubenzee and Daisy Jenks.
Both were summer weddings. Both were the weddings of people close to Harry. Both were sure-to-be-photographed affairs—but Meghan's looks for the two weddings couldn't have been much more different. Let's compare.
For Celia's wedding, Meghan splashed out big (or Prince Charles did, anyway) on a flowy, blue and white Oscar de la Renta dress that cost $5,490.
Meghan paired the light, airy dress with a white, $49 fascinator from Marks & Spencer.
Buzzwords for Meghan's June wedding look: Dainty. Delicate. Effervescent.
For van Straubenzee's wedding this weekend, Meghan went in a totally different direction in just about every imaginable way. Here's what the looks have in common: They are both dresses and they were both worn by Meghan Markle.
Instead of light and bright, Meghan went with a darker, bolder dress from Club Monaco. At $328, the Shoanah Dress is also considerably more affordable than the Oscar de la Renta Meghan wore to Celia's big day.
While the top of the dress was pure navy, the real star of the look was the dress' pleated, multi-colored skirt, which commanded attention in diagonal splashes of blue, green, and pale pink.
Meghan also went darker with her fascinator, sporting a black piece from her favorite milliner, Philip Treacy.
Buzzwords for Meghan's August wedding look: Bold. Fun. Playful.

Now we just have to wait and see what Meghan wears to Princess Eugenie's wedding in October.