Why Meghan Markle and Kate Middleton Don't Wear Orange in Public
But the Queen has been spotted in it before.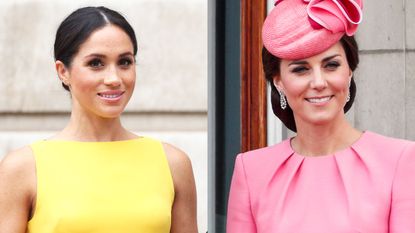 (Image credit: Getty Images)
The Duchess of Sussex and the Duchess of Cambridge always deliver when it comes to wearing sleek, sophisticated fashion. Meghan Markle and Kate Middleton (opens in new tab) never let us down with their ability to dress in a suitably sophisticated manner that's fit for royalty, but they're also not afraid to keep things fun and fresh with an injection of bright color every now and again. Remember Kate's sunshine yellow Dolce and Gabbana dress (opens in new tab) at Wimbledon this summer? Or how about Meghan's blush pink sleeveless trench (opens in new tab) at the Nelson Mandela Centenary Exhibition?
But, while the two Duchesses are more than happy to step out in a selection of vibrant shades for public appearances, there is apparently one color in particular that you'll most likely NEVER see either of them wear while out representing the royal family. Harpers Bazaar Australia (opens in new tab) made the interesting observation that neither Kate nor Meghan have ever opted for wearing orange.
There's not any kind of obscure, 300-year-old royal tradition dictating that orange is strictly off the cards for the royal family, however. It's actually just more of an unspoken, celebrity-based decision as. According to The Express (opens in new tab), it's widely known amongst famous fashionistas that a bright orange look will never photographs well, and is usually avoided at all costs.
Now that you're thinking about it, when was the last time you saw any celebrity wear a shade of tangerine? Exactly.
Orange might be off the table for Kate and Meghan, but it's an entirely different matter for Queen Elizabeth II. She's not like a regular queen, she's a cool queen—so you really think she's going to worry about unofficial dress codes like the rest of us? Here she is, looking like a total um… queen, in head to toe Orange with a capital O on just one of a handful of occasions. Eat your heart out, Orange Is The New Black, her Majesty did it first.
RELATED STORY
Lucy Wood spends most of her time writing about celebrity news, reading books, and waiting for the glorious day that she have enough millions for a pet sloth. She also has a YouTube channel on the go where she pretends to know things about fashion and life advice.