Chrissy Teigen Wants You to Look Chic Without Even Having to Try
This year, Chrissy Teigen gave birth to Miles, published Cravings: Hungry for More, launched Cravings by Chrissy Teigen, co-hosted Lip Sync Battle with LL Cool J, and is dropping her second Chrissy x Revolve collection. I jumped at the chance to chat with Chrissy about her latest drop with Revolve.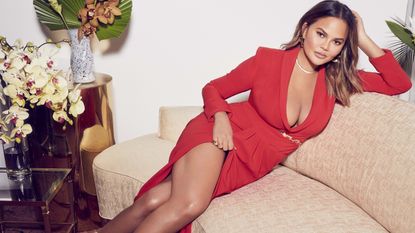 (Image credit: Chrissy Teigen x Revolve )
If you are on the internet, you know who Chrissy Teigen is. You know how to pronounce her name properly, you loved her headband of the day saga, and you're obsessed with her posts of Luna and Miles. So, of course, I jumped at the chance to chat with Chrissy about her latest drop with Revolve.
When we start our conversation, her home has been turned upside down by a tiny mouse. Yes, ladies and gentleman: John Legend and Chrissy Teigen, along with their friends, spent their afternoon trying to save a little rodent from drowning in their pool. "That's what we love here," she says, laughing, before we jump into our interview. (I fervently hope that I, too, will one day spend my afternoons saving mice from our pool with my EGOT winner husband.)
Let's face it, Chrissy has had a major year. Like, major. For a start, she gave birth to Miles, but she also published Cravings: Hungry for More, launched Cravings by Chrissy Teigen—her cookware line with Target—co-hosts Lip Sync Battle with LL Cool J, and is dropping her second Chrissy x Revolve collection. Plus, on top of also being the Queen of Social Media, mom to Luna, and wife to John, Chrissy is the internet best friend we all need.
With the mouse situation taken care of, we began to chat.
Tell me about your new Chrissy x Revolve collection.
The new drop is so exciting. It really feels like my closet. Like, every single piece is something that I would wear. Something that I would really keep and be able to wear throughout the year.
And, for me, it was all about wanting to look chic at the preschool. Like, that's basically when I'm getting out of the house—when I'm driving with Luna to school. I wanted to be able to pop out of the car and go in and hang out with the other moms and still look like I had my shit going on. Like I still knew what I was doing, even though I'd have zero makeup on and just big sunglasses.
I wanted everything to look effortlessly cool and chic. I don't plan my outfits, really, I look up and I'm like, "This is the vibe I want. I just want to be comfy-cozy today." I have other shit going on. So I want it to be easy. Effortless. Chic.
Did you have one favorite piece that you have in the collection?
That one's hard. I think the one I'm going to wear the most is the black tea duster. It did so well for the first drop, we brought it back for the second one. It's just so easy. It's nice and sheer. It's really light. I don't feel that it's ever gonna go out of style. There's never going to be a time where I can't wear it. There's never a time where I can't wear, like, giant earrings with it, or a pair of boyfriend jeans.
For more of like a daytime duster, I love the green tea duster. I feel like that's a perfect year-round piece, and I love the idea of like a cigarette, high-waisted pair of jeans and, like, a plain simple white bodysuit.
I did a lot of men's shirts and shirt dresses that you wear with a pair of thigh-high boots and not belt it. You can not belt the waist, or you can pick, like, the dopest, chic belt and also wear it with like a pair of gladiator sandals. Everything can be done in really different ways, and I love that about the collection.
What would you say is your go-to style tip?
A boyfriend jean, low on the waist. I find them two, three sizes up. I don't know if it's just my changing body, but boyfriend jeans—they're making them slimmer and slimmer. They're not what they used to be. They're supposed to look like you found a pair of your man's jeans and just threw 'em on. Like, holes in the knees. So I buy them extra big, and wear them with like a pair of Chloe sandals that I throw on with everything.
That's my absolute go-to. I love hats with them, and just a pair big of sunglasses and zero makeup. Like...a silk cami or bodysuit, boyfriend jeans, duster, sandals. That is my absolute every day go-to.
Which of the pieces would you say you love the most for a lazy outfit?
I will tell you, 90 percent of my day is so lazy. I think anyone that sees me just happens to see me basically at 2 percent because the other 8 percent would be just me naked. But I love the Elijah cardigan. It's super cozy. If you want to dress it up you can, but I will just wrap it around my body—I bought it extra big. That's how I do most of my work during the day.
What's one piece of clothing or jewelry that you would like to leave for Luna?
Oh, man. Well, my wedding ring, obviously. I hope she's a bag person, because I have so many incredible bags that I really don't even wear. I'm the type of person that will get something, and then I'm like, "No, I don't want to scratch it." So then I don't wear it. I don't really enjoy it. So I hope that she'll get some use out of them one day.
Pending we have the same shoe size, I have the first pair of shoes that was ever actually gifted to me for an event. It's a pair of like Christian Louboutins, completely and totally rhinestoned out. I forget where I wore them, but I had worn this incredible Marchesa dress and it was the first time somebody had dressed me, ever. It was so long ago, and they had these shoes sent to me. And I will just never forget it. I have so many little pieces like that. And that's why I keep them. Because I love throwing things out and donating things. My heart isn't attached to too many items, but things like that I only keep because I could see her in them and her appreciating them one day.
How do you deal with the trolls and negativity online?
Depends how I'm feeling. You know, things hit you in a different way depending on when you read them. But I feel very fulfilled and very, very happy right now, so it's almost like you can brush it off a little bit easier. You know, sometimes a lot of the digs are an insecurity I have, so sometimes it hurts a little bit more than it would any other person on any other day. I think, for me, if I keep myself happy, if I keep myself busy, it's a lot easier for me to deal with stuff like that. And I have people say things to me now that I would have sobbed over.
Things that they'll say to me now, if they would have said it to me five years ago I don't think I would have been able to bounce back. Now, I can see the same thing and it's just...We just have other things to worry about. And we as a country have bigger things to worry about. We have more important things to think about.
We do. To close on a foodie note: What are your thoughts on pumpkin spice mania? Are you for or against it?
I'm down for it year-round. I actually did just get pumpkin spice bagels from Dave's Killer Bread, and in my mind I'm like, "That sounds healthy, because it's Dave's Killer Bread." But it's still pumpkin spice. I'm over the drinking of it, though. If there's, like, chewable pumpkin spice things, I'm into it.
RELATED STORY
Celebrity news, beauty, fashion advice, and fascinating features, delivered straight to your inbox!
Krystyna was the former Social Media Editor of Marie Claire where she oversaw all things social media and connected with MarieClaire.com readers. She came to Marie Claire from Racked.com, where she was the Community Manager. Before that, Krystyna was at Latina Mag and Cosmo for Latinas. She graduated with a Marketing major from Fordham University.