Show You "Give a Damn" With This New Bag Benefitting She Should Run
MZ Wallace and Lingua Franca announce a new collab.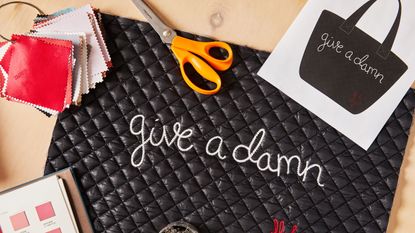 (Image credit: Courtesy MZ Wallace)
In an era of heightened social consciousness, simply making "stuff" isn't enough. Today's shoppers want their purchases to have meaning, to stand for something. The women behind MZ Wallace and Lingua Franca—two fashion labels helmed by female founders with entrepreneurial spirits and a desire to give back to their communities, or as I like to call them, power women—know as much, and are giving the people what they want. Not just because it's smart professionally, but because it matters to the women personally. In a genius collaboration, the two companies yesterday released a limited-edition tote bag that calls out the need for more women in political roles. Here, they give MarieClaire.com an exclusive behind-the-scenes look at how the project came together.
An Idea Emerges
Monica Zwirner and Lucy Wallace Eustice launched their handbag brand, MZ Wallace, in 2000 with a mission to provide high-quality accessories for women. Not only do they make stylish, sturdy bags, but—through their MZ Wallace Gives Back program—often bags with a higher meaning. (In the past the company has collaborated with artists or industry insiders to create specialized totes whose sales benefit educational or creative arts programs.)
Meanwhile, Rachelle Hruska MacPherson turned her hobby of embroidering cashmere sweaters into a business focused on fair trade and ethical labor practices in 2016. The trademark of Lingua Franca sweaters were embroidered hip hop lyrics in a whimsical cursive font—that is, until Donald Trump became president. Since then, the sweaters have flashed resistance phrases. Nashville star Connie Britton wore a custom-made "poverty is sexist" Lingua Franca sweater to the 2018 Golden Globe Awards. Simultaneously, Reese Witherspoon commissioned the brand to make a batch of sweaters that read "Time's Up" and gave them out to Hollywood A-listers, including Meryl Streep.
It didn't take long for Zwirner, Wallace Eustice, and Hruska MacPherson to realize they should join forces (the trio of businesswomen are friends, after all) and dream up an impactful project in the lead-up to the midterms.

"We knew the elections were coming up. Lucy and I are passionate about politics and women. I bumped into Rachelle one day and we both said, 'Let's do something. Let's use the power of the two brands to raise political awareness,'" explains Zwirner.
"It's the first time Lingua Franca did something outside of womenswear. It never made sense until Monica came to us," Hruska MacPherson adds.
Together, they created a medium-size metro tote bag featuring that singular LF embroidery. The message: give a damn.
Refining the Narrative
The bag creation process began in June, with Hruska MacPherson leading the charge on colors for the stitching and, of course, potential sayings. The trio landed on "give a damn" for multiple reasons. The first-ever Lingua Franca sweaters were embroidered with the inspiring phrase, and it's a motto Hruska MacPherson champions in her own life.

"I've always liked that phrase because it can apply to so many different things, whatever your cause is," she says. "It resonates with what is happening right now in this climate of America. It's powerful. It's playful, but packs a punch. You know when you see it, that that person cares."
The women briefly considered an alternative, "give a shit," but ultimately decided against it. That the tote be accessible to all women (with a child-friendly phrase, just in case they asked about the meaning) was paramount. "My mother wouldn't carry a 'give a shit' bag," Hruska MacPherson says. "I wanted a message that you would be proud to wear around your house...." Later, she elaborates on what the phrase means to her, personally, saying, "We need to keep reminding everyone, including the younger generation, to give a damn, to not be complacent with what society says you should do. If you're human and you're alive, be an active participant in humanity and in culture."
Zwirner echos that need to fight complacency: "It's not about being passive, it's an active way of being," she says of the bag's messaging. "Hopefully, we inspire people to care and to promote change."

As for the palette, the ladies knew black was a powerful canvas to work off of—and would also potentially appeal to men who wanted to buy the bags in support. "We need the men on our side. This could be a cool diaper bag [for fathers]," Hruska MacPherson says.
The Final Piece of the Puzzle
As the limited-edition bags (there are just 700 units) were being made, the women worked on finding the right politically-driven organization to benefit. Whichever group they chose would receive 100 percent of the net proceeds from the bag sales. "It took us two minutes to come up with She Should Run," says Zwirner, noting the importance of choosing a non-partisan organization. Hruska MacPherson chimes in: "I am outspokenly liberal, but it was important we picked an organization that was not one-sided. It was about caring that women worked together. Everyone should give a damn, no matter what side they're on." Founded by Erin Loos Cutraro, She Should Run encourages women to seek office in the U.S.—regardless of their political leanings—and sets them up with the right resources and networking opportunities to create a truly viable campaign.
"We were over the moon to work with these incredibly well-known, women-led brands," Cutraro explains. "When we learned that the saying was 'give a damn,' we actually cheered in our office. She Should Run's role is to get women to run for office, so often we're like, 'Look, if you care about a cause and you're not seeing anyone in an elected role bring about that change, do something yourself, because, otherwise, you're missing an opportunity to give a damn.' The bag is such a powerful way for us to take this message even further."
For Wallace Eustice, "give a damn" is all about getting involved. "We can all claw our faces and talk about how upset we are, but 'give a damn' is a call to action. Don't just complain and feel crappy about it."
Officially sold on this empowering bag? You can shop it here. For those who may want to go a step further, create change in your own life and get into politics, Cutraro offers this actionable advice:
"If you care about a cause and you don't see a policy connection, look for someone who can make that change. Is there someone to represent you and your community? If not, consider running. And if not you, then who? Find someone else you believe in. It's highly likely she might have doubts in the ability for her to step up," she says. "We, as women, tend to think we don't have the necessary qualifications. But, having someone you trust say, 'you, you should run for office' really makes a difference. We don't have to remain in a place with the status quo. Use your power and your voice."
From explainers to essays, cheat sheets to candidate analysis, we're breaking down exactly what you need to know about this year's midterms. Visit Marie Claire's Midterms Guide for more.
RELATED STORIES
Celebrity news, beauty, fashion advice, and fascinating features, delivered straight to your inbox!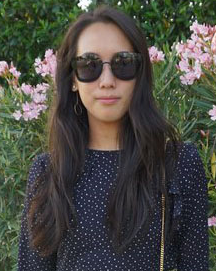 Marina Liao is the former fashion news editor at MarieClaire.com, where she covered celebrity style (from Meghan Markle to Katie Holmes), fashion trends, and shopping advice, plus conducted original interviews with industry insiders. She's also had many opportunities to write content in other areas such as beauty, food, tech, and even home. Her previous fashion stints include POPSUGAR and Cosmopolitan.