Why My Relationship With Camo Print Is Messy
Novelist Claire Gibson, who grew up at West Point, has watched camo print take over the fashion world—and has had to grapple with her own mixed feelings about the pattern.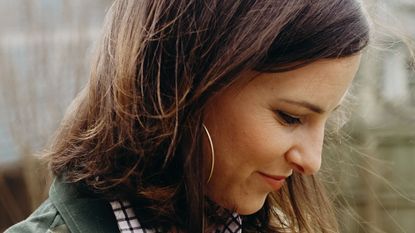 (Image credit: Courtesy Claire Gibson)
I was never afraid of camouflage until I saw my sister put it on. The pants were baggy around her slender frame. Her jacket had our last name emblazoned above the right pocket.
It was August 2002, and though my father had been in the Army for nearly 27 years, this was different. He'd served in a mostly peace time military. Now, our nation was fighting a shadowy organization in the Middle East—one with the resources and hatred to kill 3,000 innocent men and women without a second thought. It was one thing to see my dad put on a uniform: I'd spent my childhood as an Army brat witnessing adults go about their day in fatigues. But somehow, that one camouflage uniform—the one on my sister wore—made it all real.
In the mid-2000s, the classic woodland U.S. Army Battle Dress Uniform was phased out in favor of sand-colored fatigues. In response, nearly half a million Army service members packed their uniforms in boxes to be disposed of, donated, or stored somewhere gathering dust.
I bet they're kicking themselves now. Today, camo is everywhere, functioning almost as a neutral, like leopard print or pinstripes. And if the spring and fall 2019 runways were any indication, camo isn't disappearing from our wardrobes anytime soon. Designers Jeremy Scott, Philipp Plein, Nicole Miller, and Valentino all tapped the pattern for inspiration. The designs are beautiful, expensive, and—for me—fraught.
From 1997 to 2003, my family lived at the U.S. Military Academy at West Point, a prestigious four-year college where everyone wears a uniform. Though I was only 10 when we arrived, I was old enough to recognize that all that camouflage meant our family was a part of something important. Something bigger than just my dad's job.
At most colleges, professors wear business attire to class. At West Point, my father taught in uniform. After work, he'd walk in, place his cap on the dining room table, and rifle through the mail. Though he'd never deployed to combat, his camouflage uniform still held the grassy, sweaty, gunpowder scent of field training. Like Pavlov's dogs salivating at a bell, I knew as soon as he walked in from work and gave me a peaty-smelling hug, dinner was soon to follow.
In our new neighborhood, it was normal to see a weaponized Army green tank driving behind a minivan. On football Saturdays, all four thousand cadets wore camouflage uniforms, jumping up and down in the student section, dressed for figurative battle. Throughout my middle school years, I watched all this from the sidelines, dressed in my favorite Limited Too peacoat, enamored with the magic and grandeur, but without a uniform of my own.
During those years, dozens of young men and women came to our house to escape the pressures of life in the barracks. Back then, cadets weren't allowed to have televisions or personal cellphones. They had access to both at our house, with the added bonus of a home-cooked meal. A cadet we sponsored named Tim Cunningham led my high school Sunday School class. A crew of female basketball players gathered at our house each week for a bible study. I looked up to them all, amazed by their physical fitness, touched by their kindness.
September 11, 2001 shocked the nation, sending communities everywhere into a tailspin. At West Point, the air turned tense with the knowledge that everyone we loved—every student my father taught and my mother fed—was going to war. A year later, my sister, who'd attended a liberal arts college in Pennsylvania, surprised us all when she decided to enlist in the Army. It was one thing to see my dad put on a uniform, another to watch my sister wear camouflage. It made it all real.
Though my sister returned from deployment unharmed, many of the cadets we knew returned with injuries: some internal, some external. Tim Cunningham didn't come home at all. Neither did Laura Walker or Ryan Dennison or Emily Perez, or countless other West Point graduates whose names reverberated among our extended Army family.
A few years ago, I spotted a rack of embellished camo jackets for sale at the Brooklyn Flea in New York City. I was with a friend, a woman who'd graduated from West Point in 2004. Together we gawked at one jacket with a beautiful design painted on the back. Then we gawked at the price tag. My friend shook her head.
"Don't buy that," she said. "I have three of those in my closet at home. So does your dad. I can make you one."
At the time, I wasn't sure I wanted her to. Staring at the thrifted Army jackets at the Brooklyn Flea, I thought of those young men and women I'd known at West Point whose lives were cut short, who'd worn desert fatigues into battle. I wasn't sure I could ever wear one of those jackets solely for style's sake. I wondered if wearing a thrifted Army jacket might amount to "stolen valor." After all, I didn't serve. I never deployed. Who was I to wear this temporal fashion trend when it had cost my friends so much?
Soon after that encounter at the Brooklyn Flea, I began writing a novel based on true stories of women graduates of West Point. From my home in Nashville, Tennessee, I conducted interviews and conjured up memories from my time within the Army community. Meanwhile, more and more social media influencers were peddling skinny camouflage pants on liketoknow.it. I saw camouflage jackets in Madewell catalogues, styled with bauble jewels. One day, I spotted a wool-and-silk-blend camo print scarf at J.Crew, embellished with a blush pink stripe. Feeling the pull toward my childhood, I bought it.
As I worked on the manuscript, my husband and I began trying to have a baby. Our unexplained infertility ran emotionally parallel to my work on the book—difficult, disappointing, and seemingly endless. I wasn't at war, but I wasn't at peace, either. For Christmas that year, my sister, now out of the Army and settled as a mother of five, sent me a pair of Nickel and Suede camo earrings. I wore them with pride.

I often drove past Friedman's Army Navy Surplus in Nashville, where I currently live. The store's red and white sign featured a soldier in a green uniform, wearing a helmet and carrying a weapon. American flags hung in the windows. The drab exterior had cracked concrete sidewalks and a mostly empty parking lot. Finally, one day, I pulled up. Inside, my senses were overwhelmed with a scent I'd never forgotten: shoe-black, grass, and gunmetal—the smell of my father coming home from work. I meandered through racks of Carhart pants, flannel shirts, bandanas, tents, and a host of other kitsch to the back of the store, where the owners kept their stock of used Army uniforms.
Unlike the jackets I'd seen at the Brooklyn Flea, these uniforms were worn out, over-sized, and covered in dust. Many featured the desert-beige fabric and pattern that the Army had used for its most recent conflicts. Though the nameplates, badges, and regalia had all been removed, the sense remained: These uniforms had been to war. What I saw in fashion catalogues and running through my Instagram feed felt thin. These uniforms were real.
I moved to the section that featured woodland colors. The pattern reminded me of a time in my childhood that I'd never get back. A time when America's armed forces were at peace. A time when my father would come home from work, and pull me to his side and kiss my head. A time before September 11th, and two international conflicts, and the death of so many friends. The jacket cost twenty dollars. I would have paid much more.
When I returned home from Friedman's, I ordered a customized nameplate from Etsy with my maiden name, "CARLTON", in honor of my father and my sister's military service. I sewed it above the right pocket. Then I took a white paint pen and wrote several names on the inside.
Since the draft ended 1973, our nation has relied on a wholly volunteer military force. And as wonderful as that is, it's also created a deep divide between military and civilian communities. Perhaps the camouflage trend can serve as a way to bridge that gap.
Though veterans wear camouflage in battle, they shouldn't be invisible when they return home. Whenever I see the pattern, it reminds me of my friends; I remember their service and their sacrifice. I realize now that wearing the pattern as a civilian doesn't have to be stolen valor. It can be an act of remembrance.
Claire Gibson is the author of Beyond the Point (William Morrow), her debut novel available now.
For more stories like this, including celebrity news, beauty and fashion advice, savvy political commentary, and fascinating features, sign up for the Marie Claire newsletter.
RELATED STORY
Celebrity news, beauty, fashion advice, and fascinating features, delivered straight to your inbox!