The Do's and Don't's of a Closet Refresh
What to consider when cleaning out—and then restocking—your closet.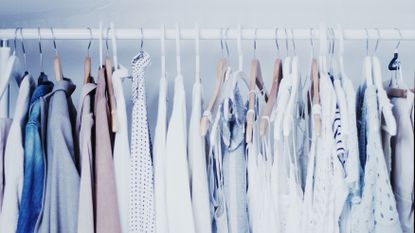 (Image credit: Julia Mller / EyeEm)
What January does for our fitness routines and careers, spring and summer seem to do for our wardrobes—suddenly everything feels ripe for reinvention. Purging, though satisfying, can wreak havoc on the environment, with each American sending about 81 pounds (opens in new tab) of clothing to landfills each year (a number that's projected to reach some 35 billion pounds (opens in new tab) collectively in 2019), and most won't biodegrade (opens in new tab).
Getting rid of old stuff isn't the only eco-averse thing about a closet clean-out: Restocking has pitfalls too. Filling your cart with finds from a fast-fashion brand is tempting due to low prices and trend-focused inventory, but purchasing with the intent to wear something for a single season isn't great.
Thinking more sustainably while you switch out your closet for the season is a relatively easy thing to do, according to Ajoy Sarkar, Associate Professor of Textile Development and Marketing at FIT. After talking with him, we identified a few do's and don't's when shopping new for the season and thinking about what sparks joy (opens in new tab).
DON'T: Totally ignore the material label.
Before there is a garment, there are fibers, and they are a key indicator of how sustainable your wardrobe is. Natural options such as linen, hemp, and ramie, for example, are going to give you the breathable quality you want in a summertime staple—hey, little white dress—and require fewer natural resources than some other fabrics.
"Hemp can grow as a weed with very little care," Sarkar notes. "Compared to cotton, it uses much less water and fertilizers" and, therefore, leaves a much lighter footprint on the environment.

Practically speaking though, natural fibers don't have the wicking action you want from, say, activewear (particularly during the warmer summer months). That, Sarkar says, is where manufactured fibers come in. Look for them by brand names such as Tencel—a fabric fashioned out of wood pulp—and Repreve, a form of polyester made from recycled beverage bottles that's proven to be very popular for swimwear from designers like Mara Hoffman. (opens in new tab)
"Tencel [lyocell] is manufactured in a closed-loop system," Sarkar explains, meaning that "they reuse all of the water and chemicals used in the process" rather than starting anew each time. Consumers like it because it feels soft and cool to the skin due to its breathable nature; they'll love it when considering the environmental implications: It's 100 percent compostable and biodegradable (find out more via the #MakeItFeelRight campaign (opens in new tab)).
DO: Consider organic fabric.
As with our food, there are guidelines and agencies in place to help certify whether a brand is doing what it says it is in regards to using particular fabrics.
Sarkar recommends checking whether whatever fabric listed on a tag is labeled as fair trade or is certified by an organization like the Global Organic Textile Standard (opens in new tab) (GOTS). Textiles must contain a minimum of 70 percent organic fibers to become GOTS-certified. Dyes, auxiliaries, and accessories must also meet certain environmental criteria.
DON'T: Shop without considering something's geographic footprint.
According to a recent report from the United Nations Economic Commission for Europe (opens in new tab) (UNECE), the fashion industry is the second largest user of water worldwide and produces 20 percent of water waste. It also contributes 10 percent of global carbon emissions.
With a lot of apparel being made in countries like China, India, and Ethiopia, an emerging fast-fashion hub, there's a ton of long-haul travel required to get your new summer dress into your closet. Take a look at the "made in ______" label on everything before you buy and really think about what that far-flung country could mean.
DO: Consider shopping more made-in-the-USA brands.
Beyond a reduced carbon footprint, locally made brands often mean more jobs for communities around the country. Our collective attention to conscious consumption has meant that more brands are making it a priority to produce within the U.S. (or calling attention to it if it was already being done).
Some of our favorites? Reformation's (opens in new tab) feminine dresses and separates that are made in Los Angeles; the cozy sweatshirts and tees from San Francisco-based American Giant (opens in new tab); and the sophisticated styles of Hackwith Design House (opens in new tab), all crafted by a team of seamstresses in St. Paul, Minnesota.
DON'T: Toss old clothes into the trash.
We recycle food and packaging waste, and the same thinking applies to our clothing. Or, at least it should.

Both mainstream and indie brands have set out to help us rethink our more-is-more approach to buying clothes, making it easier to hold onto a single, higher-quality item for longer (via repair programs) or trade in the ones we no longer use (H&M will recycle your unwanted textiles (opens in new tab) and give you a 15 percent discount to shop).
"The thinking is that people shouldn't buy more, but instead should buy one good product, which will last a long time," Sarkar notes, pointing to companies that offer lifetime warranties, repair programs, and other incentives to help reduce garment waste.
Jessica Cumberbatch Anderson is a New York-based lifestyle journalist. Her work has been featured on HuffPost, ArchitecturalDigest.com, Lonny.com, and ELLEDecor.com, where she served as digital director.