Handbag Brands to Get on Your Radar Before All Your Friends Discover Them
Get ahead of the game.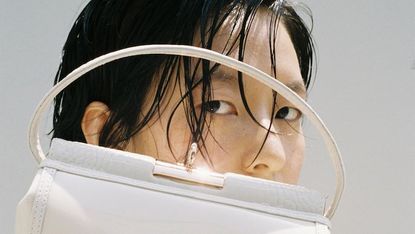 (Image credit: Gu_de)
Just like your favorite dress or most beloved pair of flats, your handbag needs to be swapped out every so often. One surefire way to earn your fashion-forward credentials is to begin sporting a bag from an up-and-coming new brand before any of your friends discover it. If you're in the market for a brand-new handbag—or just want to know what's on trend this season—leave it to us. We're tracking down the latest bag launches and emerging designers that'll keep your accessories game elevated.
To get you started, check out the nine brands below. Your new favorite bag awaits you.
Marge Sherwood
Created by design duo Sungeun Um and Soonyoung Kim, the brand is named after "Marge Sherwood," a fictional character in the Anthony Minghella film The Talented Mr. Ripley. The pair draw inspiration from contemporary art, particularly dance. Both dance and their designs are graceful, elegant, and known for their great lines.
Gu_de
Launched in 2016 by creative director Ji Hye Koo, this brand has quickly developed a cult following. Known for their minimal shapes and versatile pieces, gu_de (pronounced "good") credits their influence to things that are "retro-inspired." Just look at their most recent spring collection: The influence was anything '80s, like Walkmans, CD players, and video game nostalgia.
Michino
Prior to launching his own label in 2014, Yasu Michino worked for houses like Saint Laurent, Givenchy and Nina Ricci. His love for accessories came to fruition with a bag brand that's inspired by travel, meeting new people, and the experiences that come with it. Michino states that through his work, he tries to bring "happiness and humor to everyday life," and with a reputation as one of the nicest people in the industry (which I can personally attest to), he's doing just that.
JW Pei
This line of minimalist bags is designed by an LA-based husband and wife duo. These bags are some of the best out there, not only because they are made of vegan leather and recycled plastic, but also because of their accessible price point.
The Sant
Based in Barcelona, these bags are made from the highest quality leather, hardware and finishings. These minimalist bags are inspired by geometry: Precise shapes and clean lines are the go-to for this contemporary brand.