What I Wear on Repeat: My Vintage Coach Scooter Bag
The best bag to wear while going hands-free during the pandemic.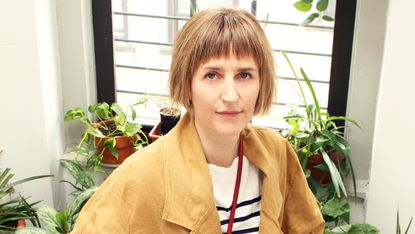 (Image credit: Bridget Burns)
In our biweekly series, editors share the item they wear on repeat, whether it be a basic white tee or a super-trendy jumpsuit. Prepare yourself (and your credit card) for some guilt-free shopping.
New York City is still on PAUSE and while I'm limiting my outings and working from home, I'm not always inside. I try to take a long walk every other day, usually through Prospect Park. If I can't do that, I at least walk around the block. At first, when it was cooler, I was putting the two things I always carry—keys and my phone—in my coat pocket, but as the weather has warmed up, I'm sweltering in a jacket worn expressly to carry my essentials. (The alternative is to carry them in hand, but it doesn't seem ideal in the handwash-before-touching-your-face era.)
This is where my Coach handbag comes in. With so much Slack action, texts, and screen time throughout the workday, the last thing I want to do is think about my phone, so my red vintage "Scooter" bag by Coach is the perfect vessel to give me some distance from temptation. It's accessible enough, however, to snap open if I hear something urgent. The bag is roomy enough to fit my keys and could probably accommodate a card holder or a tiny wallet. It has two compartments, so in theory if you had a "clean" object in one pocket and a potentially "infected" object in the other, they can stay quarantined from one another. Red seems like the perfect color for summer and it's nice that it's just a tiny pop of color.
I got this bag on eBay—I'm always curious about the older shapes Coach used to offer. This one is really called a "Scooter Bag," Coach number 9893. Some of my other favorites are "The Station" bags, "The Willis," and "The Casino." I love the early Bonnie Cashin era Coach designs, but they can carry a hefty price tag and I can't imagine being precious about a handbag when I tend to treat them a bit roughly.
I love the original Coach bags for their simplicity and durability: brass turnbuckles, thick leather, often slim internal or external pockets, and no lining! People apparently wash their vintage unlined Coach bags in the sink, too, and there are many internet threads dedicated to how to "restore" your Coach bag. You can still buy iterations of the original designs, as well as restored classics, directly from Coach.
My exact bag is not available anymore, but shop some similar, simple tiny red bags below.
For more stories like this, including celebrity news, beauty and fashion advice, savvy political commentary, and fascinating features, sign up for the Marie Claire newsletter.
RELATED STORIES
I'm the Digital Visuals Editor for Marie Claire and I help pick the most interesting, relevant and prettiest photos for our site.