The 2019 Halloween Costume Trends You're Going to See Everywhere
I call Rue from Euphoria.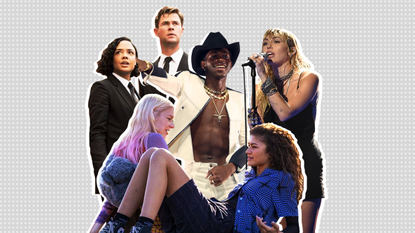 (Image credit: Design by Morgan McMullen)
Marie Claire Newsletter
Celebrity news, beauty, fashion advice, and fascinating features, delivered straight to your inbox!
Thank you for signing up to Marie Claire. You will receive a verification email shortly.
There was a problem. Please refresh the page and try again.
Before we dive into Thanksgiving and Christmas, there's another holiday to check off the list: Halloween. No matter where you're going this year, you'll be familiar with the pressure to find a costume that's somewhere between "cool but obscure" and "done to death." I'm here to take some of that weight off your shoulders: Drawing from some of the most talked-about shows and movies of 2019, I've compiled a small, but mighty, list of trendy 2019 Halloween costumes you can proudly wear and 'gram on October 31.
Most people tend to fall into two categories on Halloween: The ones who go all out, and the ones who don a cat-ear headband for the hundredth time. Armed with the inspo below, you definitely won't be the latter.
Marie Kondo
Pay homage to the woman who made you clean out your closet, reorganize your shirt drawer, and declutter your life for the better. The world was taken with Marie Kondo's soft mannerisms and truly impeccable organizational skills. Her iconic white cardigan, floral skirt, and tights ensemble is easy to pull off and after October 31, the separates can be re-worn with other items in your wardrobe. Carry around containers, as Marie often does when she arrives for those home visits. Does this outfit bring us joy? Most definitely.
Ali Wong From Always Be My Maybe
I will be out of town for Halloween this year but if I wasn't, I'd dress up as Ali Wong's character in Always Be My Maybe. Not only was this film funny, but it also placed Asians, who are often excluded from the rom-com narrative, in leading roles. Ali Wong brought her usual comedic swag to the film while Iranian-American film maker Nahnatchka Khan made her feature directorial debut with this film. Wong's outfit is simple to re-create (you can DIY those hearts on a white tee, if you wanted) and this is a genius couples costume without being overly cute.
Hannah B From The Bachelorette
Name a more badass or memorable woman than Hannah B on last season's The Bachelorette. The former pageant queen unwittingly became a feminist force on national television and though she didn't end up finding a husband (pffft, men), she has earned a new badge as a trailblazer for women amongst the Bachelor community. For the single ladies of the group (or Bachelorette fanatics), channel your inner Hannah B by dressing up in white and carrying around a single rose.
Rue Bennett from Euphoria
Since all your friends are talking about Euphoria, use it as inspiration for a costume on October 31. Tap into your best angsty teenage self and dress up as the show's protagonist, Rue. Her style consists of oversize hoodies and button-down mens-inspired shirts—comfy casual separates you'd stay home and watch Netflix HBO in. Just don't get into any trouble with law enforcement or drug dealers on Halloween, kay?
Maddy Perez from Euphoria
On the opposite end of the tomboy spectrum is Maddy, whose only require for clothes is the more skin, the better. Fans will recognize this outfit from season 1 episode 4, where Maddy takes molly, finds out her boyfriend's family actually hates her, and then gets choked by said boyfriend (Nate, you asshole). Though she is far from perfect, like everyone else on the show, her unique style and 'tude deserves some recognition too.
Agent H and Agent M From Men in Black: International
What caught my attention in this movie—aside from Chris Hemsworth and Tessa Thompson—were Agent M's combat boots. They looked cool and fabulous with her black and white suit. She is your spirit animal if you love badass female characters and "borrowed from the boys" when it comes to clothes.
Miley Cyrus (Post-Liam Hemsworth)
Did anyone else get chills (and/or cry) while watching Miley perform "Slide Away" at the 2019 VMAs? Miley stans will love her performance outfit: a sexy little black minidress with heels and a ton of chainlink jewelry. The VMAs was not only her first public appearance at a major event post-breakup, but also the first time she made it clear that she is hanging out with Kaitlynn Carter. And yes, they're not afraid to show some PDA.
Meryl Streep From Big Little Lies
In the second season of Big Little Lies, we're introduced to Mary Louise Wright, Celeste's mother-in-law, who might even be scarier than Streep's previous alter ego Miranda Priestly. Mary Louise was known for poking her nose into everyone's business (granted, her son did die in a questionable "accidental" death) and wore the most buttoned-up ensembles imaginable. From her trench coats to button-up shirts, plus grandma cardigans, Streep's character was a... character.
Joyce Byers and Jim Hopper From Stranger Things
Grab the Hopper to your Joyce and dress up as the couple we're all still rooting for in Stranger Things (spoiler: I'm choosing to believe he is still alive). There's nothing more fitting on a spooky holiday than to dress up as these two heroes who fight alongside their children to defeat and save the town from the Mind Flayer and Demogorgons.
Shawn Mendes and Camila Cabello
Everyone, including Joe Jonas and Sophie Turner, got worked up over their 'Señorita' performance at the VMAs. Whether or not these two are actually an item remains to be seen. But they don't need to be an official couple for you and your SO to dress up and channel the same energies they displayed on stage. Bonus points if one of you can sing and play the guitar.
Billy Ray Cyrus and Lil Nas X in "Old Town Road"
You might have rolled your eyes at this song when it first came out, but a week in and you were blasting this on repeat. Dig out your old cowboy gear and repurpose them for your "Old Town Road" outfits. To prove that you're not just any cowboy/cowgirl, make sure this song is blasting throughout the night from your iPhone or Halloween playlist.