What I Wear on Repeat: The Bralette From Free People That Keeps on Giving
It's basically the next best thing to being naked.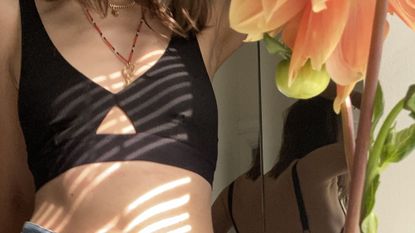 (Image credit: JULIA GALL)
In our biweekly series, editors share the item so versatile, so chic, so comfortable that they wear it over and over and over again—whether it be a basic white tee or a super-trendy jumpsuit. Prepare yourself (and your credit card) for some guilt-free shopping.

As working from home has become our new and "I'm not mad at it" normal, my personal style has undergone some major evolutions. From camp counselor to cottagecore, my late-summer-into-fall dressing has finally landed in a '90s minimalist mood. The one constant that has remained throughout these phases? Comfort. Duh.
Personally, I had to set some 9-to-5 ground rules in order to feel more motivated (i.e. ditch last night's pj's and immediately start my day with a shower; full sweatsuits are reserved for weekends only; never the same outfit two days in a row). I also had to integrate some "real clothes" with my loungewear pieces to feel, well, not like a slob.
Unlike many of my fellow females who have gone the braless route during this time, I've chosen to work my outfits around a comfortable bralette. Enter the Skin's Harley Bralette from Free People. Less technical than a sports bra and with a little more coverage than my a triangle bra, this is more like a top than underwear. In other words, it's just the right amount of naked. The graphic cut out detail also feels very minimalist, a vibe I'm really ready to lean into.
For busy work days when the temperature drops, I'll throw a linen blazer on top of the bralette with a sturdy pair of high-waisted leggings that feel more like pants. Add a retro sneaker, a simple but luxe tote (I've abandoned my purses for the time being, sorry my children!), and a chic mask (helloooo to this Alaïa number), and I'm good to run an errand or have a quick, socially-distanced catch-up with a friend or colleague.
I very rarely go anywhere, but I'll step it up for "date night" with my fiancé, which tamely includes a walk or a pizza takeout picnic (our Friday night ritual). I loved pairing this bralette with a vintage Chanel lace skirt I recently got from The RealReal and tying a mohair cardigan around my shoulders for warmth when the breeze kicked up.
And for lazy Saturdays, I just wear the bralette on its own with a pair of baggy jeans, which feels enough like "clothes" in case I run into a neighbor or my building's super.
I've been much more into breathable and easily washable fabrics lately, so the fact that this bra is made of eco-conscious cotton, makes it not only easy to deal with, but also a bit greener. Natural fibers are the way to go, guys.
In short, bralettes are kind of like hanging around in your underwear all day, you just gotta play it smart. By pairing one with a more elaborate piece or, hell, even something as basic as a great pair of jeans (on the looser side—remember, you're still half-naked), you'll be a master of socially-appropriate-naked-day dressing in no time.
Shop my go-to plus similar styles, here:
RELATED STORIES
Julia Gall is the former Style Director at Marie Claire, covering all things fashion, as well as styling tips, wardrobe upkeep and sustainability. Check her out at @juliasgall.