What I Wear to Work (at Home): Lindsay McCormick, CEO and Founder of Bite
She likes to buy from consignment shops for a special reason.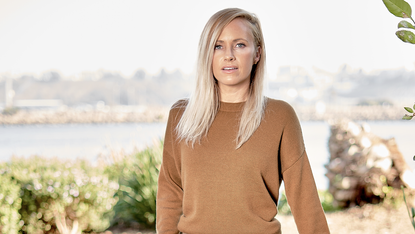 (Image credit: Courtesy of Asher Hunt)
In a bi-weekly series, we're asking female executives, founders, CEOs—basically, boss ladies—about their "power suit" a.k.a. the outfit they wear every day for easy dressing to conquer whatever the job throws at them.
When your side hustle or hobby turns into a real business, it's both rewarding and also terrifying. Lindsay McCormick, CEO and founder of Bite, an oral hygiene brand focused on sustainability, reflected on this journey during our chat. Prior to launching Bite, McCormick worked as a television producer and a snowboard and surf instructor. She saw firsthand how climate change affected the seasonal activities, noting that more and more plastic was entering the waters where she taught. When she would travel, she packed travel-size toothpaste, which, while convenient, was not environmentally friendly.
That's how she came up with an idea for plastic-free toothpaste packaging, describing it as "a hobby." She started taking online chemistry classes, attending dental conferences, speaking with dentists, and even making her own toothpaste tablets at home. She opened an Etsy store and a Shopify account to sell her homemade product, but didn't anticipate the amount of traction her toothpaste tablets would have.
"Every time you make a sale, [Shopify] makes this cha ching noise and I would look at it," she says. "[The sale would be from] a friend I went to high school with that I hadn't talked to in forever or a friend of my mom's. But then eventually, a few months in, because we had gotten featured on vegan and zero-waste blogs, there were names coming in that I didn't know. I felt like I made it. There's people buying my products! That was a really fun feeling."
What started as a one-person operation (McCormick gathered the ingredients, created the tablets herself in her living room, packaged them by hand, and mailed them out), has grown into a modest team of five, all working from the Marina del Rey, California area. Bite officially launched in 2016 and, in addition to toothpaste tablets—the brand's staple—there are now mouthwash, floss, and a 100-percent plant-based toothbrush in the line. All of Bite's products are refillable and come in compostable pouches. To carry the message of sustainability even further, the company tries to reduce its carbon footprint by having all its products manufactured and shipped in Los Angeles—at locations within walking distance of each other. McCormick, who is vegan, says that all of Bite's products are cruelty-free too.
"We're constantly trying to figure out how to be more sustainable," she says. "True sustainability is a moving goal post. We're always auditing new processes and [asking]: What is the new technology out there?"
In a time when businesses are being shaken to their cores by COVID-19, McCormick reflects on how lucky her small team is to already have been working remotely. Since all the products are made in the United States, Bite didn't encounter certain supply chain issues that other brands faced. "It feels good to know we can to stay on top of it and do what feels right," she says.
Here, I spoke to McCormick about how running her own business has changed how she gets dressed for work (no more wet suits!) and the ways she brings sustainability into her own work wardrobe.
Her Morning Routine
"Usually I'll go for a run or meditate. I hang out with my dog, then I wash my face and brush my teeth with Bite. If I run, I shower [in the morning], but if I don't, I'll shower at night. I am pretty casual and my routine hasn't changed that much [from] before and during COVID-19 because I [normally] work from home. I also still do a lot of Skype interviews, so I still end up getting ready for those."
Her Getting Dressed Strategy
"Based on my previous work history, I never acquired a work wardrobe, which has been a challenge now that I'm running my own company. It's the first time I'm like, What is a blazer? How do I wear one? That's a learning curve I didn't think I'd be experiencing in my mid-30s. If I don't have an interview, I'm usually in a band tee and sweats. If I do anything on camera, I'll straighten my hair and put on makeup.
Another thing is, I participated in the #NoNewClothes challenge. I only bought a few staple items for work to last me through the year and that was last September, so I just finished up my year. For me, when it comes to clothes, it's about functionality and buying quality pieces that last a long time, because I'm also vegan and try to make sustainable fashion choices. [That creates] extra hoops I have to jump through; I didn't realize how hard it was until I tried to buy professional clothing. I think the best bet is just to buy as little as possible."
Her Work-From-Home Uniform
"I feel like I am a pretty casual person and [gravitate towards pieces] that last for a long time and are not trendy. My favorite for work is a classic tee or button-down. I have these two button-downs that I found at Buffalo Exchange. I love wearing them with the sleeves rolled up. I also have a slouchy blazer that I love. A slouchy blazer on top of a plain white or black T-shirt or a classic button-down, and ripped jeans, nude pumps or chucks, depending on the situation, [works for me].
I loved the brand For Days. They have a closed loop system for their clothing. Some of my other favorites right now: There's a shoe company called Cariuma, they're like the eco-chucks, and Mate the Label is a great brand local in Los Angeles; they use high-quality cotton.
[For accessories], my favorite piece is my grandmother's high school ring. I like Aurate for sturdy jewelry you can wear every day. I was looking at my closet the other day and I literally don't have a purse, which is crazy. I am more of a canvas-bag-slash-backpack girl."
The Words That Describe Her Power Outfit
"Effortless, classic, and earthy."
Her Motto
"Things turn out the best for those who make the best of what turns out. It's all about making the best out of every situation that lands on your plate and accepting situations as they happen, whether good or bad, and trying to work with it."
Get McCormick's laidback WFH aesthetic here:
RELATED STORIES
Celebrity news, beauty, fashion advice, and fascinating features, delivered straight to your inbox!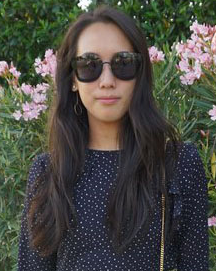 Marina Liao is the former fashion news editor at MarieClaire.com, where she covered celebrity style (from Meghan Markle to Katie Holmes), fashion trends, and shopping advice, plus conducted original interviews with industry insiders. She's also had many opportunities to write content in other areas such as beauty, food, tech, and even home. Her previous fashion stints include POPSUGAR and Cosmopolitan.