What Rebecca Minkoff Wears to Work
The designer and queen of accessorizing shares the closet staples that have helped her be fearless, in and out of the office.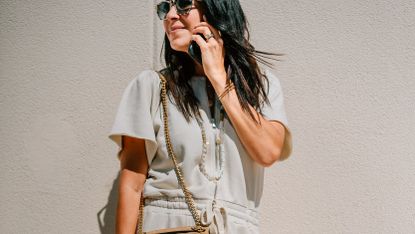 (Image credit: Ray Kachatorian)
Marie Claire Newsletter
Celebrity news, beauty, fashion advice, and fascinating features, delivered straight to your inbox!
Thank you for signing up to Marie Claire. You will receive a verification email shortly.
There was a problem. Please refresh the page and try again.
It's always a good sign when a fashion designer can't stop wearing their own pieces. Take 40-year-old Rebecca Minkoff, who isn't ashamed to admit her wardrobe is 90 percent her own stuff—hey, if you don't want to wear it, then who will? For almost two decades, Minkoff has wooed women just like herself with accessible and wearable-meets-edgy accessories and ready-to-wear clothes. Now, she's sharing her leadership and life lessons with the world, publishing her first book Fearless: The New Rules for Unlocking Creativity, Courage, and Success (out June 15).
Much like her designs, Minkoff takes her book's words to heart, explaining to Marie Claire that it isn't filled with coffee table platitudes. Instead, it contains stories of real hurdles she had to overcome and knowledge she gained while trying to launch and sustain a company in the early aughts—lessons she had to tap into when the pandemic threatened luxury fashion brands last year.
"We had 70 percent of our business basically disappear when the pandemic started. So the entire business model had to pivot," she says. "I was experiencing, 'Oh, my company might go away. How do we keep it alive?' And so, to be parallel pathing everything I did 20 years ago with everything we had to do now to survive, [the book] couldn't have come at a better time."

The pandemic also caused Minkoff to pivot at home. Upon realizing she'd have to home school her three kids while continuing to run a business, she and her husband picked up and headed to Florida, where Minkoff's parents live and where schools remained open. There, she got to ditch her NYC-sanctioned winter jackets and heels, replacing them with beach-slash-house dresses and sandals. (Though she had to seriously step up her travel style, finding comfortable looks for her new commute—frequent flights from Florida to Manhattan, until the family heads north again.) But the temporary move also helped her adopt a "less is more" strategy to shopping, saying she now consciously curates her closet with longevity and sustainability in mind.

From not needing permission to do what you want ("We're not children anymore. Leave that in your childhood.") and the necessity of risk-taking (in your career and in your wardrobe) to her athleisure go-tos, and of course, her Rebecca Minkoff staples, here's what the designer wears to work and live. (Warning: You'll be lusting after a new bag or two by the end…)
Her Morning Routine:
My husband and I have divided the duties. I put the crazy kids to bed and he puts the kid who takes three minutes [to fall asleep] to bed. My husband gets up first [in the morning] and makes lunches for all the children, and then gets my coffee started. I used to be a heavy creamer user, but I'm trying to wean myself off of it—I'm now doing almond creamer, which is definitely not the same. Then I get the kids dressed and feed the baby. I do school drop off three days a week; my husband does two. [On my days to do dropoff] I'll rush home and give myself about 45 minutes to work out. Then I have a daily call at 10:00 a.m. with our executive team. We go through what happened the day before, what our goals are, and plan any coordination points.

Her Getting-Dressed Process:
There's definitely a casual element to how I dress, but there's always some element to it that makes it unique. If it's jeans and a T-shirt, there's a twist to it that makes it have an elevated feel—[my style includes] lots of unexpected accessories. When I finally could afford my first pair of designer Sergio Rossi heels, back when they were the rage, I was at an outlet in Italy. Looking at them, they were definitely heels that were making me uncomfortable. Like, Can I pull this off? I went ahead and got them anyway. Every time I wore those shoes, they were the standout part of the outfit. So I feel like I have adopted this idea of "Put on something that makes you slightly—not physically but, mentally—uncomfortable."

I try to make sure I'm wearing something that is available in [our] stores or online and something that the [Rebecca Minkoff] brand is talking about so girls and women who follow me can see it on a real human. A purse, hands-down, is always my signature item. There's never a moment where I'm not wearing a Rebecca Minkoff bag. Lately, it's been a tote—something to double as a diaper bag. But there are other rare times when I get to wear a crossbody, like our Jett Boxy bag, and that's what I'm definitely more comfortable in.
Three Words That Describe Her Personal Style:
Casual, boho-rock, and free-spirited.
Her Pandemic Wardrobe Staples:
We have these sweatpants, the Noras, which I pretty much lived in. And then our Janine sweatshirt—[it] has a little bit of puff around the shoulder, so it's just enough of a design detail that made me feel put together and not like I'm wearing my college sweats. I was also wearing easy house dresses. Natalie Martin makes a great beach dress, so I would just throw on that as my house dress.
Her Go-To Travel 'Fit:
A coordinated sweatsuit. I always have some sort of oversized tote too. It changes seasonally, but recently I've been living on the plane with our Sienna Tote. We have it both in nylon and leather, but I've been wearing it in leather.
Her Wardrobe Editing Process:
I used to be somewhat of a hoarder. I never wanted to get rid of anything. Then when I moved to Florida during the pandemic, with 10 percent of my wardrobe, I realized I was still able to live very comfortably. So I've definitely taken on a new mentality. When I went back up to New York [recently] I was like, "Get it out. I don't need it. I don't want it." I'm definitely trying to adopt the strategy of "Is this something I want to save forever? How many times have I worn it?" If I haven't worn it in a long time, it just goes.
Her Denim Shopping Tips:
It might seem outrageous, but when I find a good fit, I always buy a backup pair. I think that trends come and go but you should always focus on what makes your body look the best. For the most part, my closet is Levi's—not necessarily vintage Levi's, just from the Levi's store or outlets. I also discovered recently that Madewell makes high-rise jeans. I've always had trouble with high-rise jeans because [where I have the most body issues is my tummy]—believe me, I've tried all the fancy brands, all the popular ones, and they didn't work. And then Madewell just hit it and I was like "Great. I'm buying it in every fucking color."
The Piece She Can't Get Enough Of:
There was a collaboration between Barneys and Birkenstock a couple of years ago—they're just simply studded [sandals]. I'm obsessed with them. I have four black pairs and four white pairs. I find them on eBay or Poshmark because they don't make them anymore. I have this rule if I ever come across it online, and it's not outrageously priced, I'm just buying it.
The Item That Makes Her Feel Powerful:
A leather jacket—whether it's cropped or oversized. If I'm ever like, "I don't know about this outfit," I know it'll be perfect once I put the leather jacket over it.

Shop Rebecca's Wardrobe
RELATED STORIES
Celebrity news, beauty, fashion advice, and fascinating features, delivered straight to your inbox!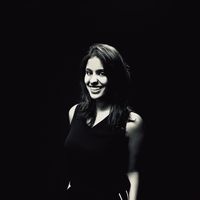 As Marie Claire's Entertainment Director, Neha oversees and executes strategy for all editorial talent bookings and culture coverage across the brand's print and digital entities, including covers, celebrity profiles and features, social takeovers, and video franchises as well as handles talent relations for MC's flagship summit, Power Trip. She's passionate about elevating diverse voices and stories, loves a hot-take, and generally hates reboots. She's worked in media for more than 10 years and her bylines about pop culture, film & tv, and fashion have appeared on Glamour, Vanity Fair, GQ, Allure, Teen Vogue, Brides, and Architectural Digest. She is a graduate of the Columbia School of Journalism.