Take Care Of It: How to Hand-Wash Silk
Also known as: How to keep the quality of your silk high and your dry-cleaning bill low.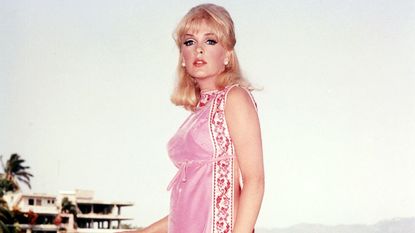 (Image credit: Silver Screen Collection)
Welcome to Take Care of It, where we'll share best practices for the upkeep and maintenance of luxury fashion purchases—because we know you want to keep them forever.
We know how intimidating it can be to take care of your most dainty pieces. The dreaded "dry-clean only" tag can have your silkiest possessions hanging in your closest for far too long in fear of possible stains. But the best way to keep the quality of your most delicate pieces high and your dry-cleaning bill low is as easy as 1, 2, 3...4!
Before you psych yourself out: Hand-washing is an easy way to take your must-have silk blouses and delicates from fusty to fresh in the comfort of your own home—while avoiding additional costs and chemicals used at local dry-cleaners. Follow these four simple steps from start t0 finish to preserve the color and quality of your favorite silks and remove stains from them where necessary.
Step 1: Check the Temperature
To avoid any shrinkage and color bleeding, always start by filling a basin with cold water.
Step 2: Soap Up
Make some suds by adding a gentle detergent like the Laundress: Delicate Wash to your basin.
Step 3: Suds 'N' Soak
Gently lather up your garments and spot treat wherever necessary, then leave them submerged in the soapy water for up to 30 minutes.
Step 4: Hang Loose
Once any stains are removed gently rinse, press (don't wring) excess water out, and let your delicates air-dry flat on a drying rack or hang to dry in the breeze!
Shop our favorite silks and detergents below:
Taylor Ayers is a fashion editor at Marie Claire, covering the new editorial fashion trends, looks, and contemporary styles.