The Star Athletes Behind Nike's "Make Yourself" Campaign
Get to know the female powerhouses that make up the brand's inspiring new team.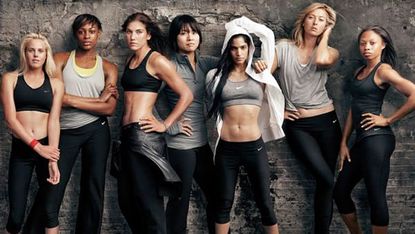 (Image credit: Annie Leibovitz)
Annie Leibovitz recently shot some of the top female athletes in the world for Nike's "Make Yourself" campaign. The athletes — USA track and field Olympian Allyson Felix, Chinese tennis player Li Na, Algerian-French dancer Sofia Boutella, British hurdler Perri Shakes-Drayton, Russian-born tennis star Maria Sharapova, USA goalkeeper Hope Solo, and Australian surfer Laura Enever — represent the Make Yourself Team, a group of female athletes who encourage women to reach their goals and never give up.
It's a beautiful message, especially for young girls who are just starting to realize their potential, athletic or otherwise. See Leibovitz's stunning images of the athletes after the jump — plus quotes from them about how they stay focused and inspired. And if you're a big Nike fan, don't forget to regularly check out Nike promo codes page.
"To achieve something great takes sacrifice. I'm always pushing myself, asking if I did everything I could on the court today."
- Maria Sharapova, Tennis


"My competitors don't take a day off, so I can't, either. Every day I'm obsessed with getting the absolute most out of my body that I can."

- Allyson Felix, Track & Field
"I pay attention to every detail and strive for perfection, even though I know it doesn't exist."

- Sofia Boutella, Dance