Kim Kardashian's Secret Weapon: The Bodysuit
How you can rock one too.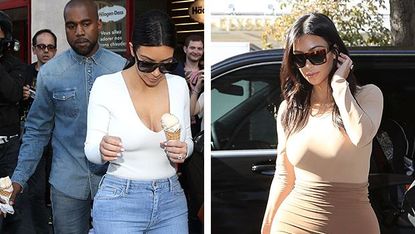 (Image credit: Archives)
There's no doubt about it, Kim Kardashian has become a major player in the style stakes. Her signature look? A pencil skirt (opens in new tab) (of course) with a cropped top or body skimming sweater, or, a bodysuit.
The bodysuit is an oft forgotten piece, normally relegated to dance class and bad '80s aerobic videos, but lately its been making a comeback. Performers such as Béyonce and Katy Perry wear them on stage, and the aforementioned Kim Kardashian is a huge supporter. The trick to the bodysuit is its ability to skim the body as a sort of second skin, leaving no chance of a shirt untucked or bunched fabric around your waistline. The result is smooth, sleek, and super polished. AKA, the Kim Kardashian 101.
Plenty of new bodysuit designers are also making waves. Newcomer Erica M. (opens in new tab) is a favorite of Beyoncé, and creates designs in flattering and interesting patterns. Kim K.'s preferred bodysuits are by Wolford (opens in new tab), who creates options in a multitude of neutral hues. And the queen of them all is Donna Karan, who began wearing a bodysuit in the '90s and includied it as a staple in her collections. So next time you're considering a new top or wondering what to wear with your pencil skirt or jeans, reach for a bodysuit—the results will surprise you.
Related Video: Every Time Kim Kardashian Wore a Pencil Skirt
Related Links:

Every Time Kim Kardashian Wore a Pencil Skirt (opens in new tab)


10 Kim Kardashian Style Hacks That'll Change Your Fashion Game (opens in new tab)