8 Style Tips For The Holidays
The holiday party season is the source of some serious wardrobe woes, but we have plenty of tips to help you inject your look with some festive spirit!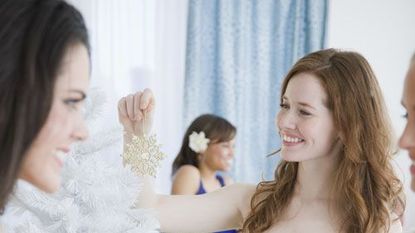 (Image credit: Getty Images)
The holiday season is right around the corner, which means one thing: a calendar full of festivities, and a chock full of seasonal sartorial conundrums to go with it. Getting a look together for a holiday party can be tricky, but we've come up with a handy list of eight tips that we're sure will help you out. Our number one suggestion? HAVE FUN! This festive season is all about standing out — and more than a little bit of sparkle — so forget about being shy until after New Year's.
1. Start off with some statement outerwear. Chances are it'll be freezing outside when you head to your holiday soirées each evening, so a chic coat is a must have. It's the first thing people see, and you can use it to pull your entire look together. Make sure that you find one that's perfectly fitted — you can always take it to your friendly neighborhood tailor for some alterations — and if you want to step it up in the style department, try one with a fashion-forward silhouette or an interesting texture, like fur or embroidery. One last tip: You can make your overcoat stand out by embellishing it with a broach or cinching it with a belt!
2. 'Tis the season to sparkle! There isn't a time of year when glitter is more appropriate than during the holidays. Incorporate a shimmering piece into your holiday look, whether it be a sequined skirt, a metallic blazer, or a cute, crystal-embellished pair of shoes. But be careful not to go overboard — try to limit this trend to one or two pieces per ensemble. You don't want to look like the Christmas tree, do you?
3. Inject some color into your look to reflect the spirit of the season. Sure, a little black dress is always a foolproof option for any party, but when it comes to the holidays, it's a pretty boring choice. Try to incorporate the season's popular jewel tones, neons, or acid brights into your getup to help you get into the holiday spirit!
4. Get on board with the return of velvet. The revival of this '90s trend can be a bit tricky, but it's perfect for the holidays. Try a dress or coat in the soft, shimmering fabric in rich tones like plum or burgundy — if you're not completely sold on the stuff, try a velvet pair of shoes or an accessory like a hat or scarf. Hey, if Alexander Wang made it work, it's definitely worth a try.
5. Eye-catching jewelry is key. If there was ever a time to pile on an armful of bangles, wear a gigantic bib necklace, or pull out the cocktail ring that's the size of a doorknob, it's the holidays. Don't be afraid to make a statement with your jewelry, just try to keep the rest of your look simple.
?
6. Try a bold, festive beauty look. Fans of a smokey eye, a bold red lip, or an intricate up-do, rejoice! We all know that these looks are certainly not appropriate for every day, so try something more directional and daring when the holidays roll around. We're dying to experiment with bedazzled headbands, la Blair Waldorf and Miu Miu Resort 2012!
7. Experiment with textures and layers. Simplicity should be left to another season — during the holidays, your look should be festive and interesting. Leather, lace, faux fur, or all-embellished-everything, give it a try!
8. Ditch the denim. You have 11 other months to don your skinny jeans, so temporarily store them until the party circuit is over. Instead of denim, try some tapered black trousers or a pair of pants in a fun, festive color. You don't want to look too casual!
Celebrity news, beauty, fashion advice, and fascinating features, delivered straight to your inbox!