The Rebel Next Door
Name any youthful indiscretion and chances are Drew Barrymore has been there, done that. With scandal in her rearview mirror, the girl-all-grown-up still just wants to have fun.Behind the Cover: Fashion | Behind the Cover: Beauty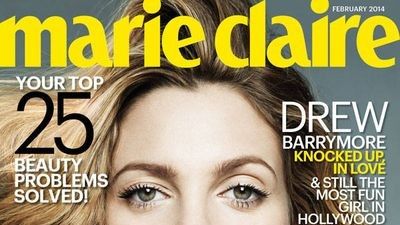 (Image credit: Photographs by Jan Welters)
I found the porn section!" Drew Barrymore is shouting through the narrow aisles of Book Soup in West Hollywood. An older woman perched behind the counter narrows her eyes, watching while Barrymore longingly strokes the spines of several hardback books, none of which contain anything saucier than, well, sauce.
"I looooove cookbooks," Barrymore, 38, exclaims. "I cook a lot when I'm pregnant." The actress-producer-entrepreneur and, with her recent photography volume Find It in Everything, author has a 16-month-old daughter, Olive, with art consultant husband Will Kopelman and is due with their second daughter in March. "When I got pregnant the first time, I couldn't even boil water." By logging long hours on food channels and poring over recipes, she taught herself to cook. "Now I can make the most spectacular slow-roasted pork tacos you will ever have, an incredible verde sauce with ancho chilies—so fucking good." Barrymore eagerly scrolls through her iPhone for her latest triumph: "A Greek yogurt pie with lemon zest and pepper filling on a gingersnap crust with black seedless grape compote," plated on vintage china, a hand-embroidered napkin folded off to one side. "Amazing!" she beams.
The same could be said of Barrymore's transformation from the fast-and-loose genial wild child who trumpeted her bisexuality and flashed her breasts at David Letterman when he turned 48 (there are worse birthday gifts) into an organic-omelet-whisking, cabbage-rose-gardening, modern-Martha wife and mother. Gone is the "love of love" that for decades magnetized her to dubious dudes (Tom Green, Fabrizio Moretti, Justin Long) and kept her in a sudsy romantic churn. Instead, a cozier, cultivated domesticity has her house-hunting and school-screening in New York City to nest closer to her in-laws, Coco and Arie Kopelman, the former head of Chanel. This is New Barrymore, or, as her sister-in-law and writer Jill Kargman labels her, "Jew Barrymore."
"I try to be a good shiksa wife," explains Barrymore. "I go to Central Synagogue in New York." She also attempted to prepare a Passover Seder when she and her husband were courting. "It was a disaster. I screwed everything up. And I got the date wrong. I ended up taking him to a really awesome Seder at [Working Title president and producer] Liza Chasin's house."
Casual friends for several years, Kopelman and Barrymore reconnected in January 2011. A year after their first date, they were engaged. Six months after that, they were married. "Sometimes whom you least expect is the person you fall for," Kopelman, 36, says. "It was a combination of moments: watching her with my nephew. Traveling with her. Going to museums with her. I knew, adding them up, this was it." He laughs when recalling her reaction to him not seeing key films in her oeuvre. "She was angry and surprised I hadn't seen Grey Gardens or Ever After and immediately sat me down and had me watch them."
Dior DRESS, $3,700; (800) 929-DIOR
Kargman says Barrymore reminds her of their mother, who would pull exquisitely roasted lamb from the oven while wearing ballgowns: "That combination of glamour and homeyness is so Drew!" The familial comparison brings tears to Barrymore's eyes. Over lunch at the decidedly old-fashioned joint The Musso & Frank Grill—a favorite of her grandfather John Barrymore, whose Hollywood star sits outside the entrance—she confesses, "I don't know anybody in my family of origin. The other day someone asked me what my mother's mother's name was, and I was like, 'No idea.'" In the dim light, Barrymore resembles her famous kin, with a gently sloping face and the bow lips of a 1930s screen gem. She says she feels of a different time, and though dressed in a white quilted "$19 Princess Leia–looking tunic from Topshop" and jeans, Barrymore rhapsodizes about pouring herself into a gown and teasing her hair into a giant beehive.
"When I was a kid, everything was so unplanned, my parents were so erratic," she says, "and my world was so inconsistent." Her childhood was indeed the stuff of sad Hollywood legend. Drug addiction and rehab at 13. Suicide attempt at 14. Emancipation at 15. A Playboy cover at 19. Even by modern standards, Barrymore's youth makes Miley's look downright chaste. "I was 14 when I moved into my own apartment," she recalls over spaghetti and meatballs. "I was so scared. I didn't know anything. I didn't know you had to throw food out when it rotted in the fridge. I was convinced someone was going to crawl through my window. I would go to the Laundromat and sit there reading Anne Sexton, Sylvia Plath."
When it is suggested that living alone at such a vulnerable age seems extraordinarily tough, Barrymore smiles. "I was lucky," she clarifies. "It wasn't, 'Boo-hoo, poor girl all by herself.' It was, 'Good for you, kid! You got out. Now make something of yourself!'" The kid took her own advice, somehow managing to overachieve while maintaining her sense of whimsy and goodwill. To date, she has appeared in 49 films; her next, the stepfamily rom-com Blended (her third picture with Adam Sandler), comes out in May. She also started Flower Films in 1995, a production company whose movies have grossed more than a half-billion dollars and which she runs with cofounder Nancy Juvonen, who is married to Jimmy Fallon.
"Drew was 19 when we started," Juvonen marvels. "At the time, she was coming out the other end of her family stuff. We had literally no experience. Every day we were heading right into the ditch." Nobody in Hollywood expected much—especially, says Juvonen, not from "that cutie Drew and her 'bestie,' even though I'd met her only once." The two persevered, largely due to Barrymore's chutzpah. "Drew is a little go-getter," says Juvonen. "It was like, 'Hey, we are two great chicks! Let's dive in and swim!'"
Last year, Barrymore took another leap of faith, launching the award-winning Flower, a line of more than 200 cosmetic products sold at Walmart. No mere celebrity figurehead, Barrymore helps develop the products, oversees marketing, and hosts naming parties with her girlfriends where they test lipsticks and drink wine. (Barrymore wine, naturally—she created a pinot grigio inspired by her trips to Italy.) "With films, I tried to please men and women," she says, "and this is much more about the woman, which is nice. What's gonna make her happy? What's gonna give her a little giggle?"
Barrymore has always been the consummate girl's girl, the BFF we all wish we had—fun, funny, never competitive or petty, willing to act a fool and hand you the Kleenex box. "She is the opposite of a diva," attests Kargman. "She is never 'dicks over chicks.'" Juvonen agrees: "We became sisters."
This was by Barrymore's design. Coming of age without a family, she chose to assemble one of her own. "I hated growing up alone. I hated it." Barrymore has run with largely the same gang for 20 years. (Cameron Diaz is a recent addition.) Her loyalty is renowned. "I don't fuck anyone over." More to the point: "My friends are the loves of my life."
When asked if becoming a mother has shifted the decades-long volatile dynamic with her own, Jaid Barrymore, she drops her head and stares intently at her plate. "Ugh, I mean, my relationship with my mom is so complicated that …" she trails off, taking a sip of club soda, starts again. "I've always been empathetic toward my mom, and I was even more so when I had a kid and we had a really amazing conversation about it. However, it hasn't enabled me to lessen the distance. It's the hardest subject in my life. I've never just been angry with her. I've always felt guilt and empathy and utter sensitivity. But we can't really be in each other's lives at this point." (Her father, John Drew Barrymore, died in 2004.) Marrying into the Kopelmans has been an eye-opener. "I didn't think I would ever get to experience that. This is so safe and positive and healthy because they have their values intact. It was huge for me. And that's what I want for my family."
She talks about hosting Saturday Night Live at age 7, the youngest host it's ever had. (She also holds the record of most times—six—for a female host.) How she grew up completely exposed. About not wanting to make the same mistakes with her children. How that bond is paramount, as is their protection. Everything else could fall away, but as long as the family was safe and sound, all would be fine. "I'm so weary of the modern world. I'm not really of this era, so I'm struggling with that." For example? "I don't want to talk about sex anymore," she says frankly. "I used to be so open. But now people are like, 'Let's explore our sexuality!' And I'm like, 'Let's not!' I'm such a prude these days."
It is odd in some ways to hear the once freewheeling Barrymore describe herself as "very old-fashioned and very traditional," and yet, in other ways, it's not. She has grown up. She has built an empire and found her center and has no need for seductive naïveté or people-pleasing. Instead, she craves "structure, consistency, privacy, plans—they're crucial to me …" She starts to laugh. "God, I'm so boring now." Not too long ago, Barrymore endured bitter backlash after saying she didn't believe women could "have it all." Never mind that she is plainly correct—that it is, in fact, the belief in the myth of excelling in every capacity that drives women to madness—Barrymore still felt shitty. But she did not back down. "I understand if someone might be like, 'What fucking sexist crap are you pulling?' or 'What era are you talking about?' But the sentiment is not that you can't have it all, but that you can't do it all. Maybe I shouldn't say that nobody can. I know I can't. It's just not possible. You don't get to do everything all at once and all the time. Life doesn't work that way. I'm definitely going to be 5 to 10 pounds overweight. I'll be thrilled if my husband is pleased with me that day, if my kid feels like she came first, and if I accomplished something at my job. Then I can hit the sack."
Later, around 10 p.m., Barrymore will be in bed with Kopelman, hugging her body pillow. Olive is sleeping, the dogs, Douglas and Lucy, have been walked, The Colbert Report is queued up on the DVR. The scene is both mundane and perfect, a deep celebration of what is there rather than a longing for what is not. This is Barrymore's favorite time of day, when she feels most complete, when all that matters in her world rests in a tight circle and "there is nothing left to do." Earlier, she walked over her grandfather's star, blew a kiss into her hand, and patted the ground. Then she drove home to her husband and child, at long last knowing in her bones what family means.
DRESS, $3,700, DIOR; RING, BARRYMORE'S OWN.
CHOICE WORDS
On makeup: "I do my makeup in the rearview mirror most of the time."
On her Flower beauty line: "It gives me a lot of pleasure, and that in itself is the biggest luxury, that is the definition of success: Not hating what you do."
On family life: "My husband and I love spending a Sunday flea-ing. We take little adventures with Olive in the BabyBjörn. We were at a farmers' market the other day, and I was like, 'Ewww, we are a fucking cliché.'"
On fashion: "I love clothes that make me feel good about myself, but I don't contemplate my wardrobe in the morning. I'm actually mad that I have to get out of my sweatpants."
On working out: "My body is never going to be all that and a bag of chips. I will never be that woman who gets up at 5 a.m. to exercise. I'd rather curl up with my husband and my dogs."
On religion: "I thought about converting, but it takes a lot of work and time. I love the Jewish faith. I love the family values. I can get behind those."
On baby #3? "I think I'd like to have more. In the back of my head, I'm already timing if I was to have another when that would occur."
On David Sedaris: "He is my absolute favorite ever. If I saw him in person, I'd freeze and say nothing. And then I'd say too much. I'd be a crazy person. And probably vomit. And pee on myself. I've never downloaded a book, and I never will. If you want to buy a book, buy a fucking book."
Celebrity news, beauty, fashion advice, and fascinating features, delivered straight to your inbox!