A Brief History of the Wardrobe Malfunction
Is there any better way to celebrate Janet and Justin's 10 year anniversary?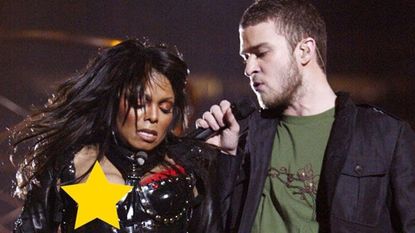 (Image credit: Marie Claire)
Marie Claire Newsletter
Celebrity news, beauty, fashion advice, and fascinating features, delivered straight to your inbox!
Thank you for signing up to Marie Claire. You will receive a verification email shortly.
There was a problem. Please refresh the page and try again.
1812: Death by wardrobe malfunction? After winning the Battle of the Maloyaroslavets, 490,000 of Napoleon's soldiers die in Russia. Scientists speculate the tin buttons on their uniforms couldn't withstand the -30°C temperature and turned to dust, leaving the men exposed to the elements.
1837: In Hans Christian Andersen's "The Emperor's New Clothes," a vain ruler becomes a fashion victim when two weavers trick him into wearing a suit so amazing that it's "invisible" to those in a lower class. This results in the emperor parading around completely naked in front of his subjects.
1955: Marilyn Monroe's dress blows up as she stands over a New York City subway grate in The Seven Year Itch. Though the scene was intended to leave little to the imagination, Monroe reportedly tried layering pairs of silk underwear between takes, once she realized just how exposed she was on film. Her then-husband, Joe DiMaggio, was said to be outraged with the results—the couple divorced before the movie was released.
1977: Tube topped Yolanda Bowersley inadvertently flashes the crowd when she's invited to "Come on down!" to the stage of The Price Is Right. Host Bob Barker quips, "She came on down, and they came on out!" Watch the moment in the video below.
1980: Diana Spencer, future Princess of Wales, is royally embarrassed when she's photographed wearing a backlit skirt. She becomes a fashion icon when she marries Prince Charles a year later.
1988: After a near nip slip, German figure skater Katarina Witt wins the gold at the 1988 Winter Olympics in Calgary, but her revealing costume doesn't score with the judges. Rules are soon changed, requiring female skaters to wear more modest ensembles until the dress code relaxed again in 2004.
2004: "Wardrobe malfunction" enters the lexicon when Justin Timberlake "accidentally" exposes Janet Jackson's right breast during the halftime show of Super Bowl XXXVIII — as he sings the lyrics "I'm gonna have you naked by the end of this song." Jackson explains a costume reveal went awry.
2010: Venus Williams brings le scandal to the French Open in flesh-colored shorts that were so close to her skin tone that viewers wondered if she was wearing anything at all.
2011: It's like boob baboob boob boob baboob boob face when Nicki Minaj performs on ABC's Good Morning America.
2012: Two-time Olympic gold medalist Ricky Berens splits his suit right before his turn at the World Swimming Championship in Rome. He competes em-bare-assed, securing his 400-meter freestyle relay team a spot in the finals.
2012: Sofia Vergara's too bootylicious for her dress at the 2012 Emmy Awards. Her handlers patch up the split 20 minutes before Modern Family wins for Outstanding Comedy.
2013: Lady Gaga keeps on dancing when she splits her latex pants while performing in Vancouver. Maybe it's safer to stick to meat dresses.
2014: Pretty hurts, but it also prepares. Grammy viewers get a peek of Beyoncé's pasties during her sexy "Drunk In Love" duet with husband Jay-Z.
Celebrity news, beauty, fashion advice, and fascinating features, delivered straight to your inbox!