Interview with Kendall and Libby Glazer, Founders Stoney Clover Lane
Stoney Clover Lane has been spotted on the Kardashians, Miley Cyrus, Carrie Underwood, and Tori Spelling. But the beaded bangles are more than another celebrity fad. Marie Claire sits down with founders Kendall and Libby Glazer to get the scoop. Plus, through May 10th, Marie Claire readers get 10% off at StoneyClover.com when you use promo code: mclaire.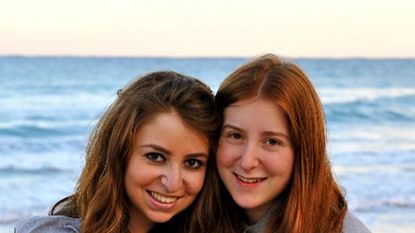 (Image credit: Kendall Glazer)
Adorning high profile wrists from Hollywood to Nashville, Stoney Clover Lane bracelets are more than just an accessory fad for celebs. The company benefits charitable organizations and relief efforts — most recently to help last week's tornado victims. And oh — did we mention it's run by sisters Kendall and Libby Glazer, who are only 19 and 17 years old? The girls tell Marie Claire about their new-generation business savvy (read: Twitter-stalking!) and how they've gotten their looks on the wrists of — sigh — Justin Bieber.
What inspired you to launch a jewelry line?
KG: Basically we were making bracelets for fun over the summer of 2009, and my aunt wanted them for her friends. So we made a lot and put photos up on a website for her to see. After, we started showing the site to other people, and from there we just kept growing.
LG: At first, everything was handmade on a per-order basis. We sold to people from our high school and friends of our parents, but when we got involved with the Dream Foundation, everything definitely got bigger.
KG: Also, I don't think we'd even have a company if it weren't for Twitter!
Why the name "Stoney Clover Lane" and the tagline "Luck and Love?"
LG: It's the street we grew up on and it just worked with our "Luck and Love" slogan.
KG: We like that they're supposed to bring luck, but because they benefit a charity, too, they also bring love.
How much does each bracelet cost?
LG: It's one for $25 and five for $100, with 25% going to the Dream Foundation.
You have so many celebrity supporters — many of which have designed their own SCL items — how did you get in touch with such notable celebs?
KG: That first summer, we saw there was going to be a big party before the Teen Choice Awards. We found a PR woman tweeting companies for samples to include in the event gift bags, so I emailed her from a SCL email I made that day. She got back to me saying they wanted to include our bracelets and mentioned another event that was giving free products to celebrities before the show. So we flew out to L.A. and met the cast of The Secret Life of the American Teenager [ABC], Matthew Morrison, and Miley Cyrus' sister — which is how we got in touch with Miley.
LG: Also, I tweeted Khloe Kardashian about SCL, and she retweeted it! Five minutes later, her publicist emailed asking if they could write about us on her blog.
KG: And another time, we were in the New York Bloomingdales for Tori Spelling's book signing, and we gave her bracelets there. She was really excited about it and eventually designed her own set. So a lot of it is by chance, and we both really love celebrities, so it's been really cool for us. I also think celebrities really like SCL because we give to charity. Some have definitely brushed us off, but most have been so nice and take pictures wearing the bracelets. And it's definitely cool that celebrities are wearing them — but what's really great is when someone else buys the bracelets because celebs are wearing them, and then we can give the money to The Dream Foundation.
How did you get it to Justin Bieber?
KG: A lot of artists do meet-and-greets before concerts — that's how we met Justin and Taylor Swift. It's definitely a big help if you can reach someone who works with their managers or does interviews on the radio. But again, most times, it's us talking to them for five seconds, saying "We make these bracelets, they benefit The Dream Foundation, can I take a picture of you wearing them, please?"
You have a really strong following of young people. Why did you pick the Dream Foundation (which grants wishes to terminally-ill adults)?
KG: The Kardashians had an online fundraiser that benefited the Dream Foundation around the time we started SCL. So I researched the foundation, read about the patients' dreams and started to cry. We definitely wanted to help, and they were so appreciative that we decided it was a perfect fit. Also, there are many huge organizations that help kids under 18. But we'd never heard of anything for people over 18 — and I'm 19 now, so we thought as we're getting older it would be a nice way to help.
LG: Also Dream Foundation grants less-expensive wishes than organizations like Make-a-Wish. Some people ask for laptops, other people ask for wheelchairs — so our donations help a lot more people.
Dream Foundation isn't the only organization you donate to — who else have you worked with?
KG: I go to school in New Orleans, so when the oil spill happened, we wanted to help save and the animals. So we made bracelets to benefit the Audobon Nature Institute. And then this year was the 5th anniversary of Hurricane Katrina, so we did a bracelet for the St. Bernard Project, which helps people rebuild their houses. With Japan's tsunami relief, we've been working with Honor Society, a band that's opened for The Jonas Brothers. They designed their own SCL bracelets and made a YouTube video to get their fans on board. And now with last week's tornadoes, we've released a bracelet in support of tornado relief — particularly for those in Alabama.
Is this what you plan to do after college?
KG: I always wanted to work in fashion, though I never thought it would be with jewelry. I love that everything is handmade right now, but if we could have them mass-produced, we could sell in stores and give more to the Dream Foundation. This summer, we're trying to open an L.A. pop-up shop — so yeah, if we can get bigger, I'd love to do this for a while.
LG: As long as people are buying them, we're going to keep making them!
Last thoughts?
KG: Buying these bracelets really does help make dreams come true. We put all the letters we get from the patients and their families on our website. If you read those, we promise you'll understand why we're doing this!
Celebrity news, beauty, fashion advice, and fascinating features, delivered straight to your inbox!