Top Spring Fashion Trends Straight from the Runway
Check out our forecast for what will be on everyone's shopping list next season.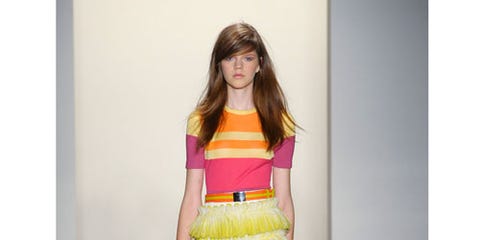 Whether it's a stark white or an intense pop of electric neon, the looks from New York City's Spring 2012 Fashion Week touched both ends of the spectrum, and then some. Click through our forecast for what will be on everyone's shopping list next season. For more fashion week coverage, visit our all-access pass to Spring 2012 Fashion Week!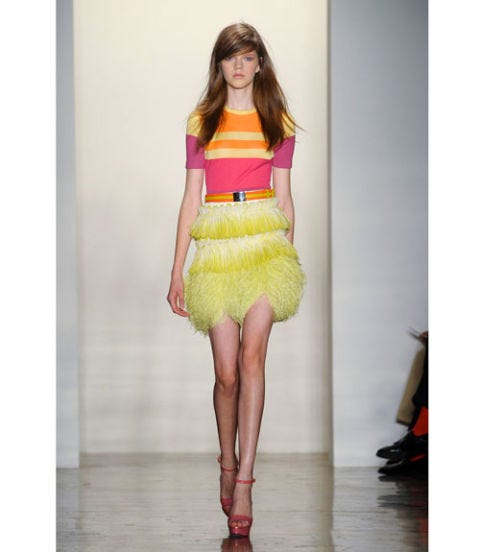 Neon
Peter Som
The color-blocking trend gets a fun, fresh facelift with Peter Som's latest collection of high-voltage neons against '60s-style silhouettes.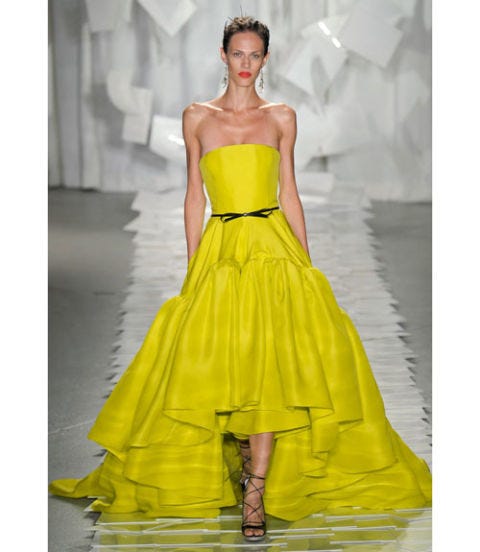 Neon
Jason Wu
We'd love to see First Lady Michelle Obama rock this hot yellow number, a sharp twist from the designer who's known for offering a timeless, highly refined red carpet look. This season, he took inspiration from a graffiti artist, and the added edge is one of his boldest moves yet.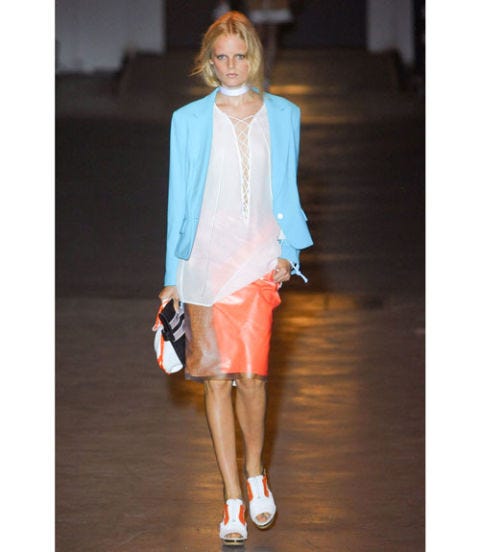 Neon
Rag & Bone
Electric hues are nothing new to David Neville and Marcus Wainwright, but the bright turquoises and oranges popped in some seriously exciting combinations on the runway.
Neon
Rodarte
Sisters Kate and Laura Mulleavy were inspired by Vincent van Gogh with this season's color palette, and although we see evidence of the the post-impressionist painter's brush strokes, we don't recall him using anything quite as shocking as this lime green ruched top and pencil skirt in, say, Starry Night.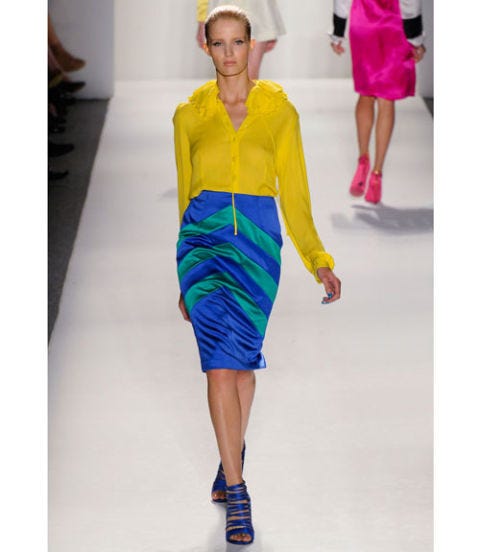 Neon
Ruffian
It was hard to know just where to look when this look came down the runway. The shock of yellow against the blue and green skirt was graphic color blocking at its most extreme.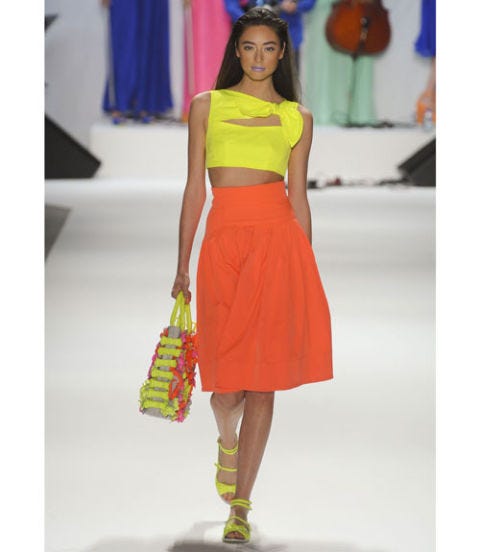 Neon
Nanette Lepore
If there was any question about neon being the upcoming color family of choice, Nanette Lepore's collection quieted all queries. From the ultraviolet lipstick to the brighter-than-brightly crafted handbags, every look was truly spellblinding.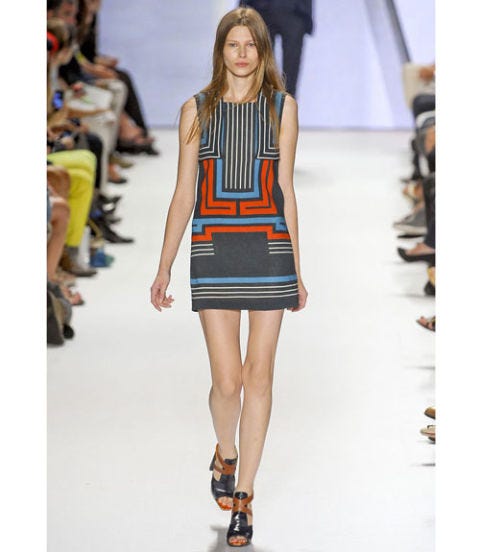 Art Deco Graphics
Lacoste
In his first showing for the brand, Felipe Oliveira Baptista played with lines and even made us try to follow the maze of this chic shift dress.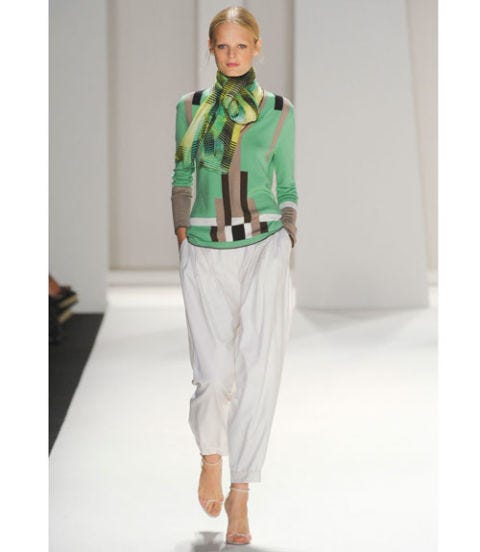 Art Deco Graphics
Carolina Herrera
When she wasn't affixing adorable sparrow prints to dresses, Carolina Herrera was playing with geometry. We love how the black, taupe, and white graphics on this knit top evoke the Chrysler Building!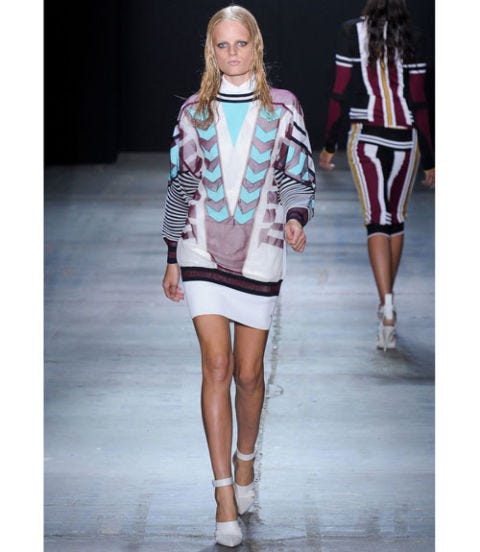 Art Deco Graphics
Alexander Wang
Some of his dresses had a literal stadium seating chart as the focal print, but we much preferred this more abstract-yet-linear take. The corners and edges made a baggy top feel sharp and tailored.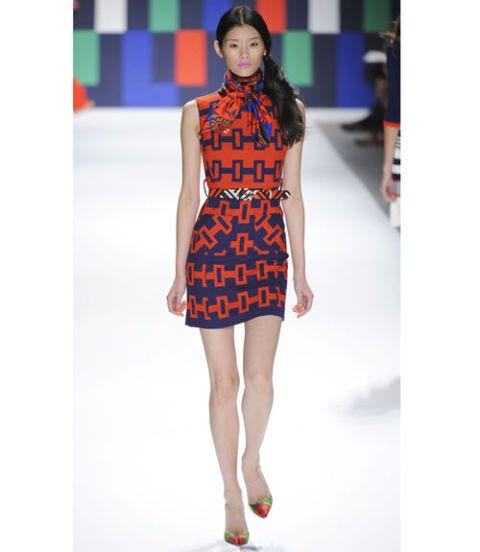 Art Deco Graphics
Milly
Michelle Smith offered up a lesson in geometry with her latest collection for the brand. The vibrant linear prints and clean shapes — not to mention the adorable retro neck scarf — made us more than happy for the crash course.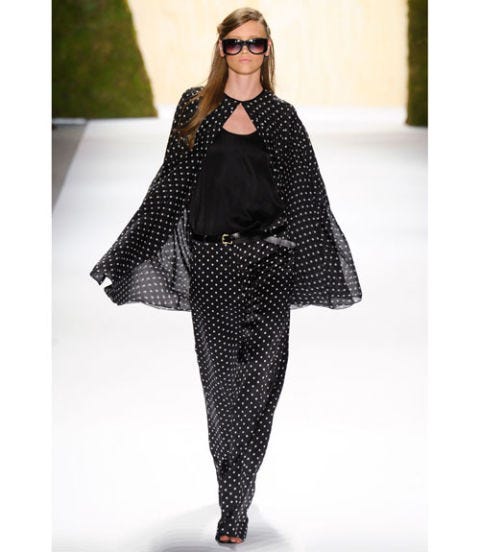 Pajamas
ADAM
Going to sleep never looked so stylish as it does in Adam Lippes' show, where PJ-style pants and tops reigned. This look's polka-dot (another trend that has legs through at least another few seasons) print did the trick, too.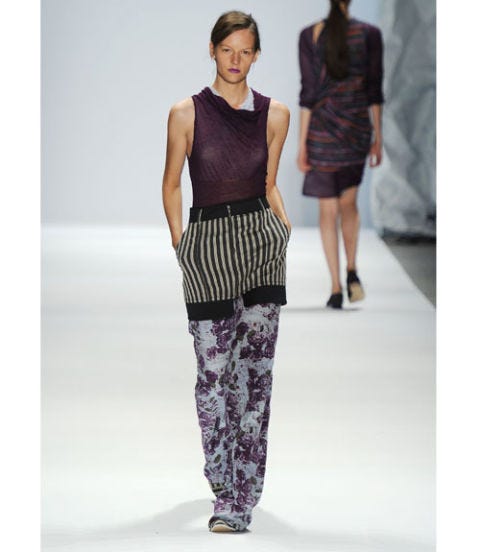 Pajamas
Richard Chai Love
Although Richard Chai played up pajama dressing this go-around, there was nothing overly slouchy about these silk rose printed pants.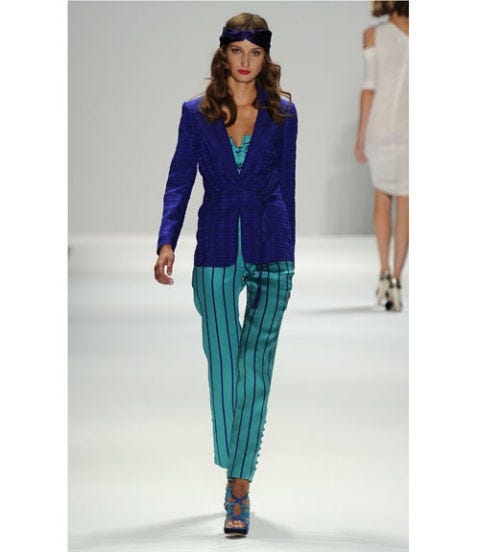 Pajamas
Luca Luca
Raul Melgoza demonstrated a more relaxed mood on this season's runway, but even his loungewear-inspired looks — teal-and-blue striped pants under a robe blazer with a matching knotted headscarf — still showed off his focus on expert tailoring.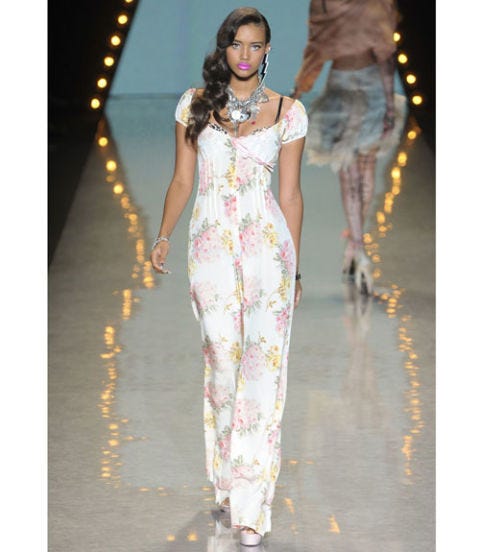 Pajamas
Betsey Johnson
Sure, not many of the looks on the cartwheeling designer's runway are really appropriate outside the bedroom, this burlesque-inspired floral onesie is one we'd love to wear exclusively when hitting the sheets.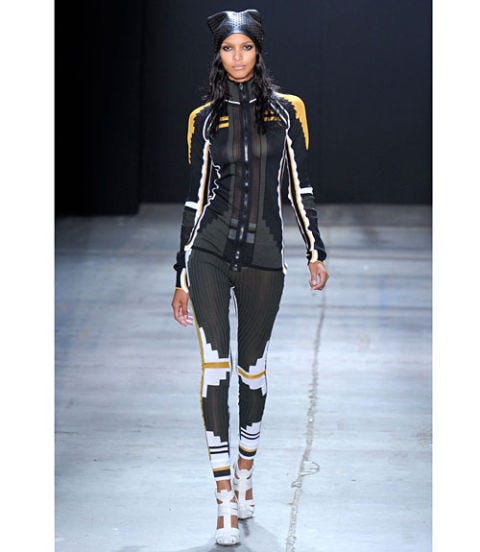 Athletic Chic
Alexander Wang
Sure, most of Alexander Wang's collections are all about tough, urban street wear, but this one really honed in on the motocross moment in particular. Aside from actual motorcycle helmets and laser-cut mesh layering, this body-con tracksuit made us all want to hit the gym in style.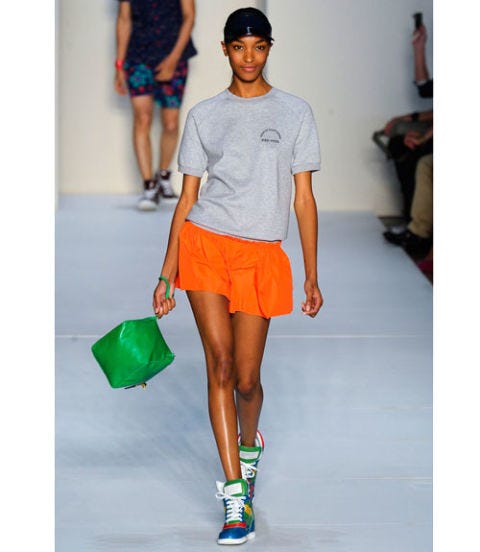 Athletic Chic
Marc by Marc Jacobs
You can't get much sportier than with this look from Marc Jacob's more affordable collection. Although all the moving pieces on their own aren't especially remarkable, when they come together, it's street chic at its finest. And those shoes! We love a good pair of color-blocked kicks.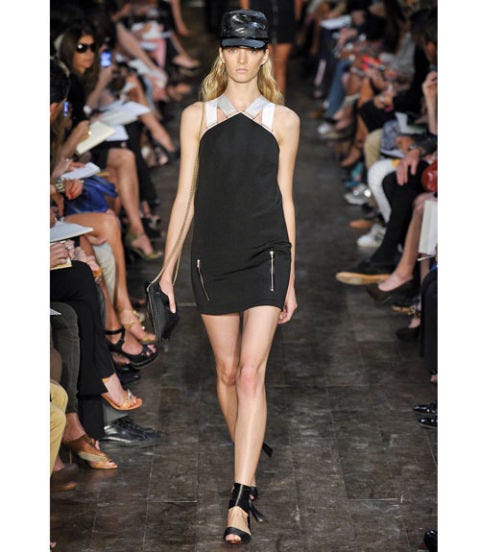 Athletic Chic
Victoria Beckham
Posh Spice has gone a wee bit sportier with her first official runway show. All about utility, the most noticeable embellishment were the sturdy nylon straps fastened with durable D-rings.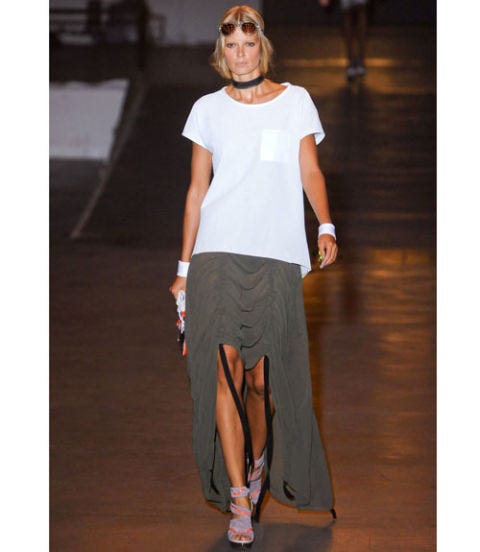 Athletic Chic
Rag & Bone
There's something intriguing about the dangling straps from this mullet skirt — short in front and long in back — and we suspect that there's some hidden utility to change the fabric's height. Either way, having it paired with an ultra-white crisp tee makes it all the more striking.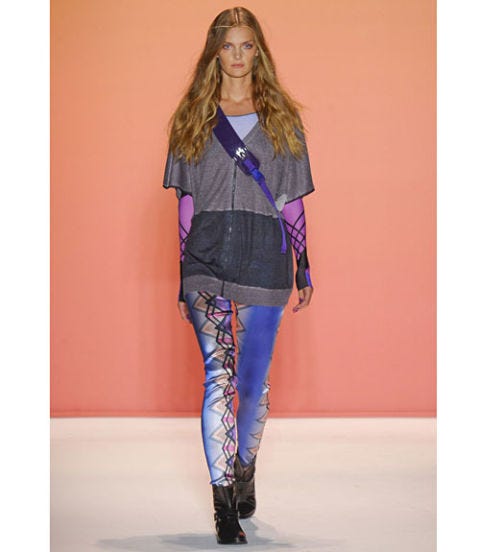 Athletic Chic
Nicole Miller
Nicole Miller toughened up the also-emerging neon trend with hyperactive prints and loads of neoprene that evoked a real skater-girl vibe, which was happily exactly what the designer was going for.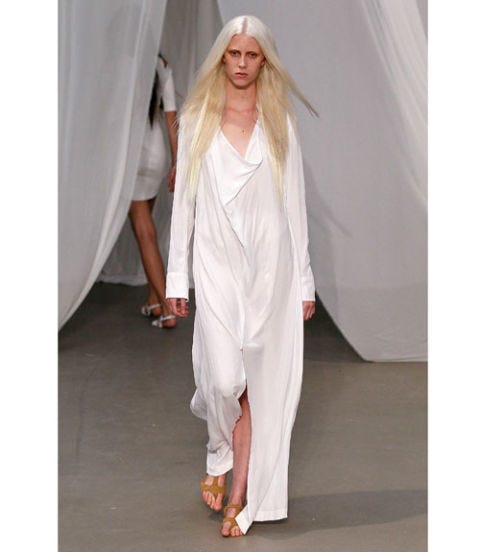 Diaphanous Whites
Kimberly Ovitz
The up-and-coming designer's latest collection was predominantly a medley of ethereal whites — all loosely pieced together and draped.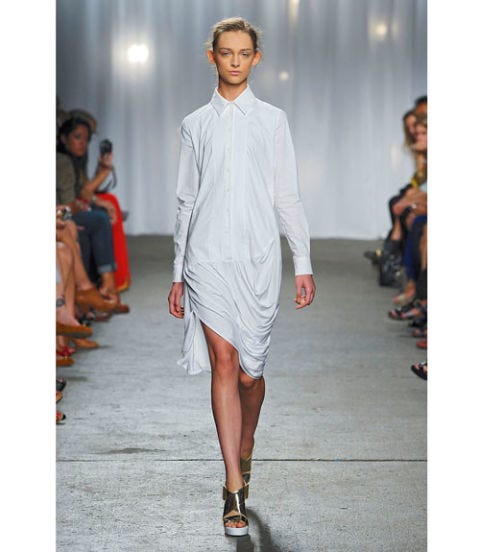 Diaphanous Whites
Doo.Ri
Doo-Ri Chang is above all a master draper, and with this look, she managed to offer the structure of a crisp white button-down with the unexpected flow of a pseudo-sarong.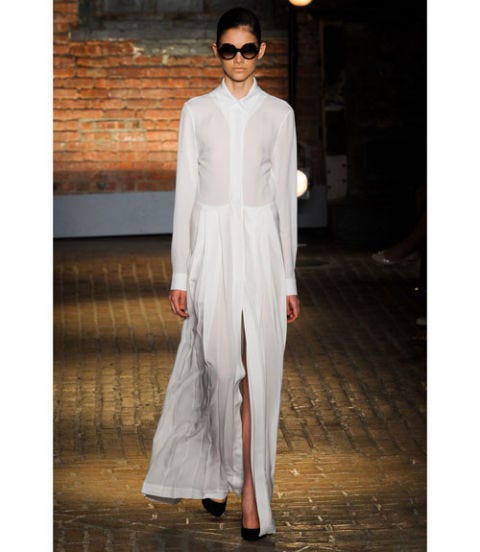 Diaphanous Whites
Yigal Azrouël
Mostly prim and proper with this long-sleeved, floor-length white shirt-dress, the designer shows off a hint of sex appeal with an above-the-knee slit.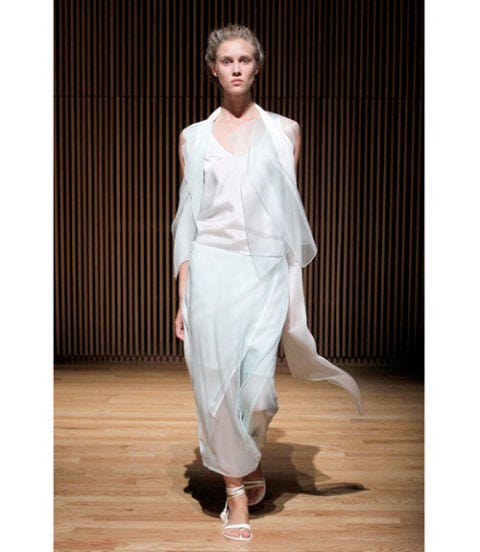 Diaphanous Whites
The Row
Despite the primarily white palette, Mary-Kate and Ashley Olsen snuck in barely-there mint with this mix of separates that seem to float through the air.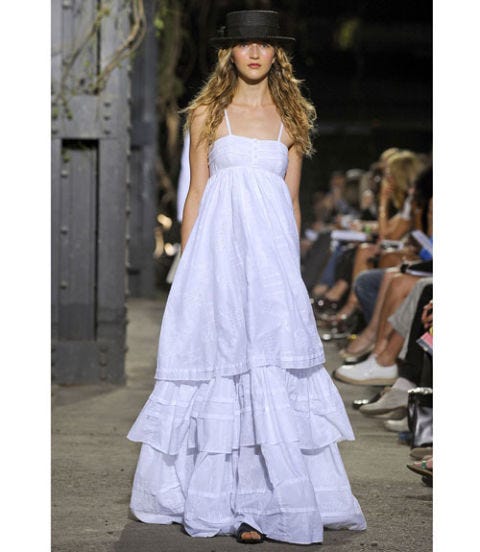 Diaphanous Whites
Band of Outsiders
This floor-dusting tiered frock — with its chic pastoral feel — from Scott Sternberg's womenswear collection exuded a sweet softness.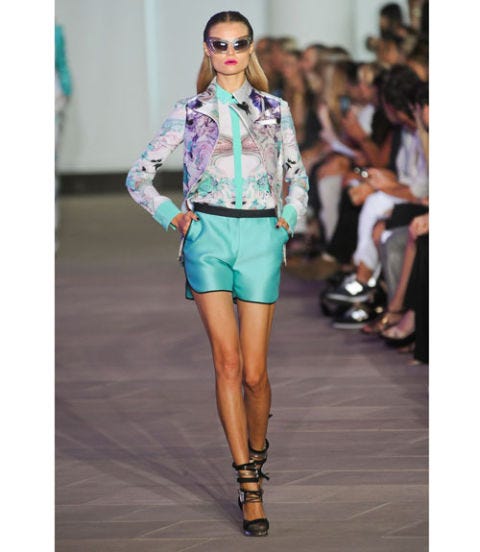 Graphic Florals
Prabal Gurung
Floral prints are rapidly becoming a trend this season — but not just any floral. With a little digital manipulation, Prabal Gurung takes a Magic Eye approach to pretty petals and turns them into something out of a sci-fi fantasy. So complex and fascinating you can get lost in them for hours.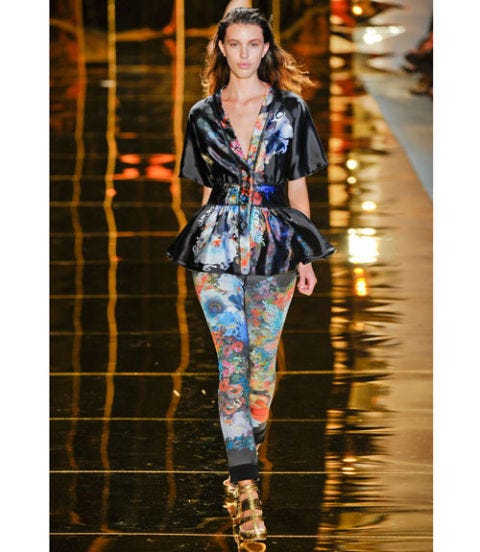 Graphic Florals
Cynthia Rowley
There were no shrinking violets at Rowley's spring show. What might otherwise be an overly girly (Lisa Frank-inspired, perhaps?) flower pattern, got an edgy twist when juxtaposed against metallic gold and black leather.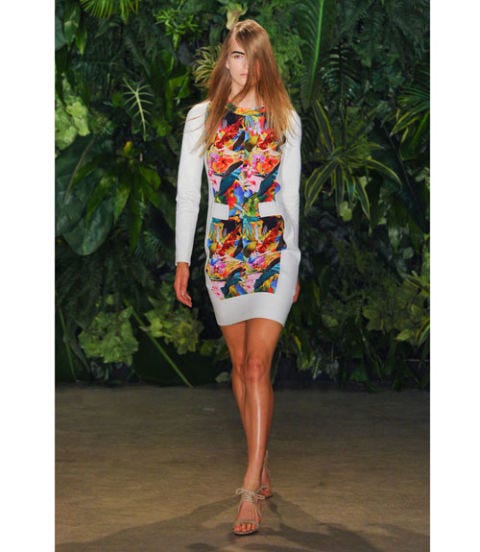 Graphic Florals
Altuzarra
Joseph Altuzarra has gone Hawaiian with his street wear this season. Although he offered up the print in a head-to-toe vest-and-pants ensemble, we much prefer the floral panel on an edgy leather LWD.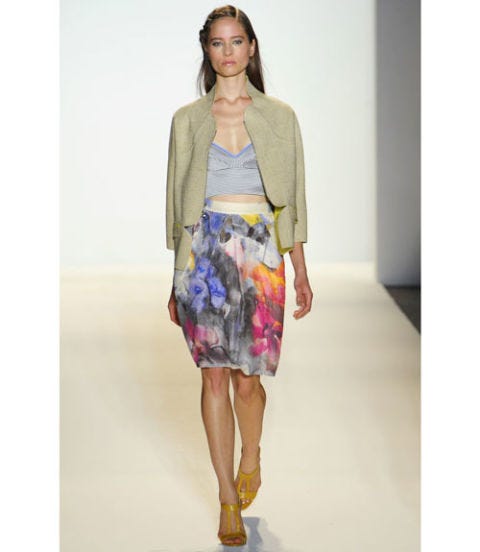 Graphic Florals
Lela Rose
We love the juxtaposition of oversized neon flowers with the smoky, blackened backdrop of this skirt, so it's no wonder we found out the designer was inspired by a visit to a Las Vegas graveyard for old neon signs.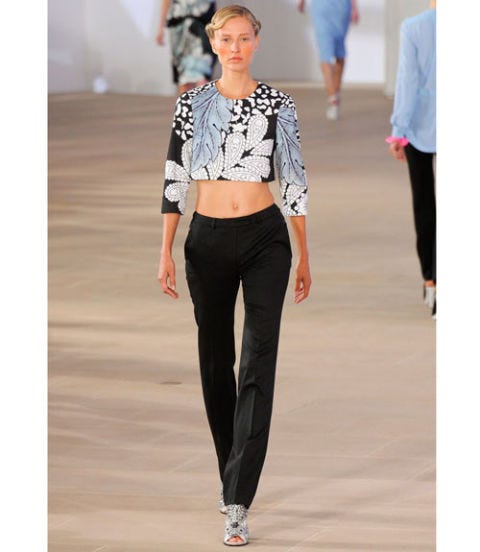 Crop Tops
Preen
Ladies better hit the gym this season! It's all about the abs for some designers, including Preen's Thea Bregazzi and Justin Thornton, who strutted this midriff-baring black-and-white floral top down the runway.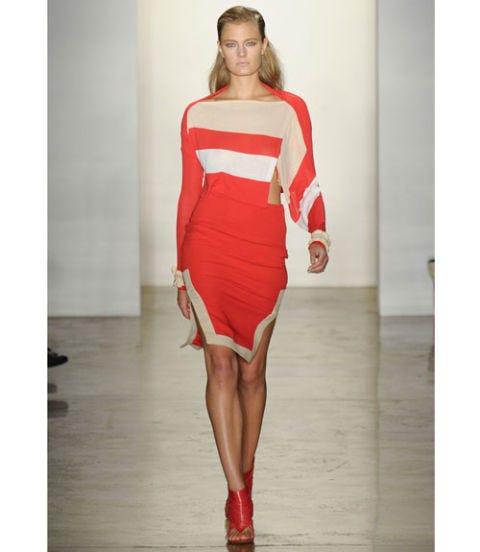 Crop Tops
Ohne Titel
Flora Gill and Alexa Adams know how to exude sex appeal with just a hint of skin. This striped and cropped sweater has a sophisticated, asymmetrical feel.
This content is created and maintained by a third party, and imported onto this page to help users provide their email addresses. You may be able to find more information about this and similar content at piano.io