Editor's Picks from Europe: Favorite Looks from S/S 2013 Fashion Week
What trends are being set across the pond? Our esteemed fashion team offers up a shortlist of the most awe-inspiring style statements to hit the British runways this season.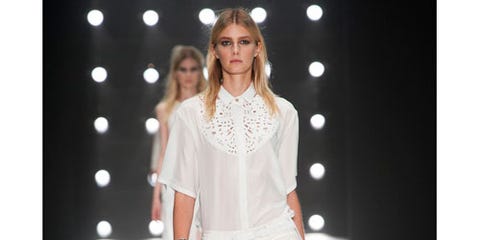 What trends are being set across the pond? Our esteemed fashion team offers up a shortlist of the most awe-inspiring style statements to hit the British runways this season.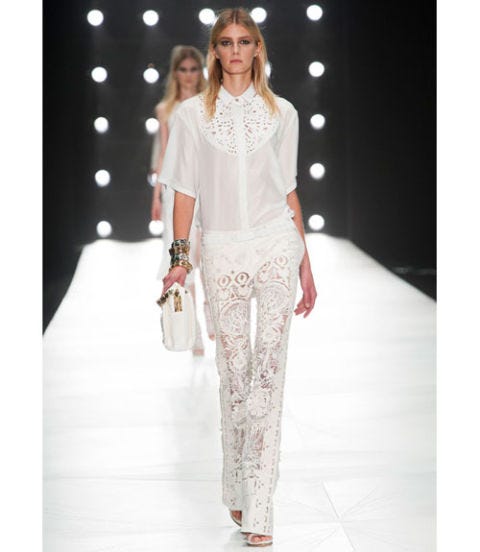 Roberto Cavalli
Milan
Holy laser cut outs Roberto Cavalli! Even when he gives you full coverage, this guy creates pieces that are all sexy all the time.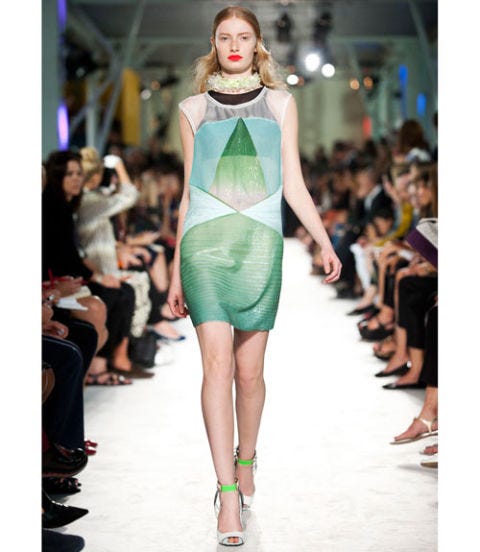 Missoni
Milan
This is how we imagine mermaids might look today. The shining sequin scales and fin-like waist of this Missoni dress are fit for a post-modern lady.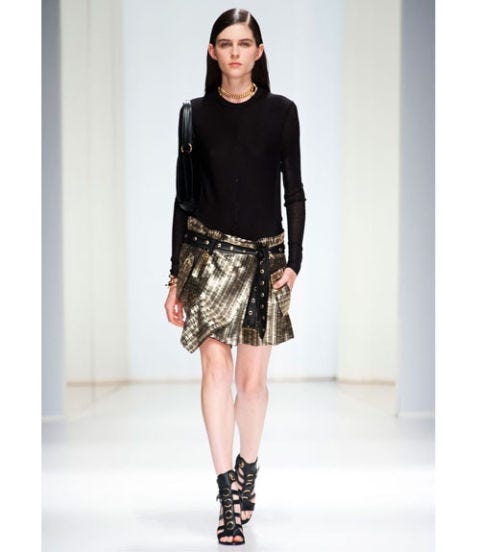 Ferragamo
Milan
A little bit '90s goth, a whole lot of aughties gorgeous. This embellished skirt is pretty much everything we want in a statement piece. Massimiliano Giornetti, you get us so well.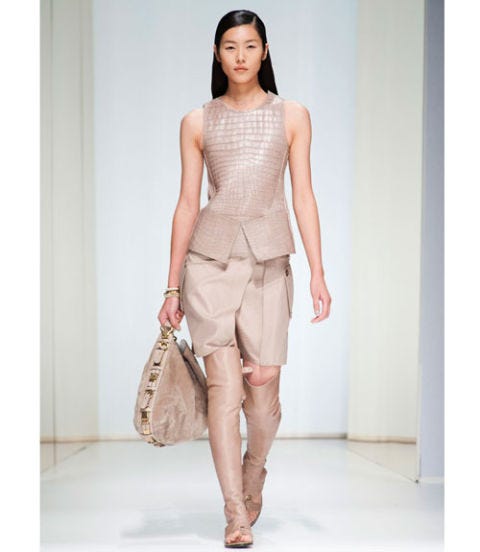 Ferragamo
Milan
So you missed out on the peplum craze this past spring? Fear not, Salvatore Ferragamo proves the trend has staying power, quite literally, in a rigid croc embossed top that's less frilly more fierce.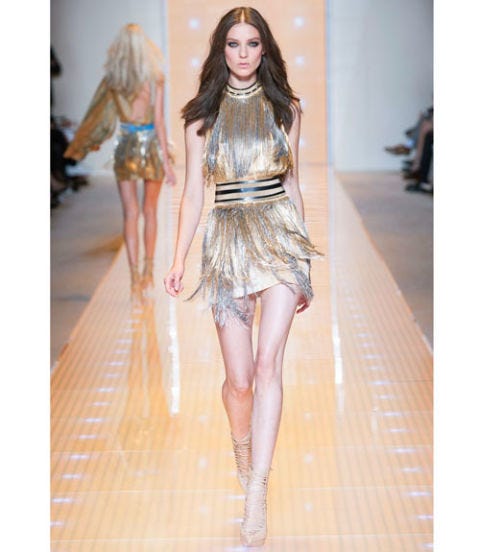 Versace
Milan
If you listen closely to the swinging metallic fringe on this Versace stunner—you can hear Shakira's "Hips Don't Lie."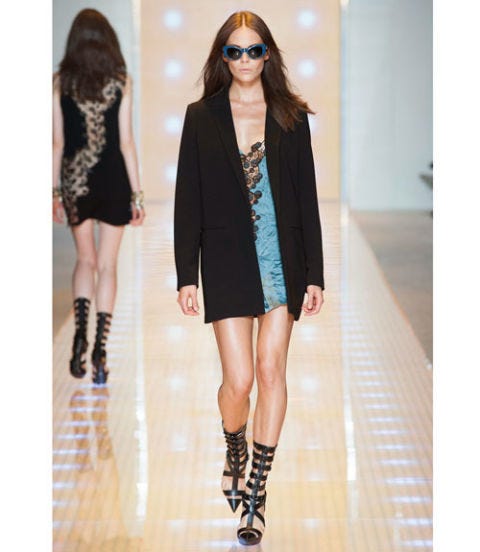 Versace
Milan
Donatella does a little boudoir, a little business — all beautiful.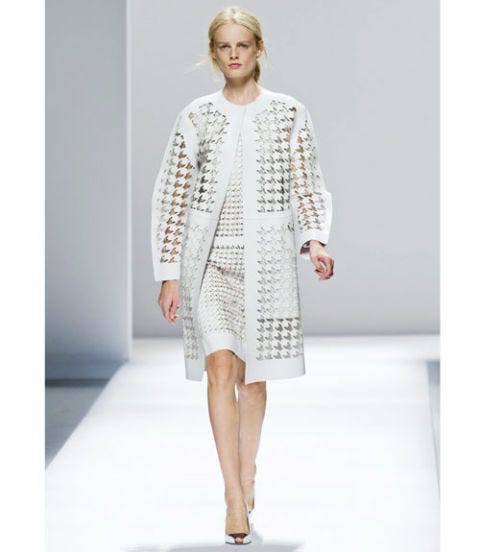 Sportmax
Milan
Sportmax cuts its teeth — that is laser cut houndstooth — in leather thus giving the heritage print a new razor sharp edge.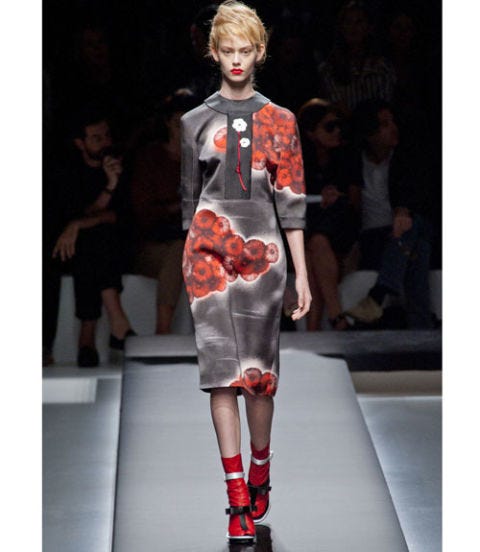 Prada
Milan
Like the S on Superman's bodysuit, the front-and-center flower on this modest dress broadcasts superhero power of the Prada variety.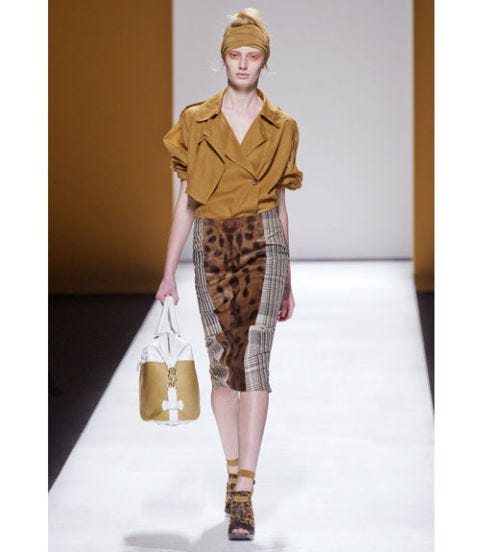 MaxMara
Milan
Okay we admit, we insta-stalked Margherita Missoni on her safari honeymoon and loved her outfits as much as her pictures of elephant herds. Since we won't be getting out of the office any time soon, we'll settle for dressing the part of a global adventuress in MaxMara's Out of Africa separates.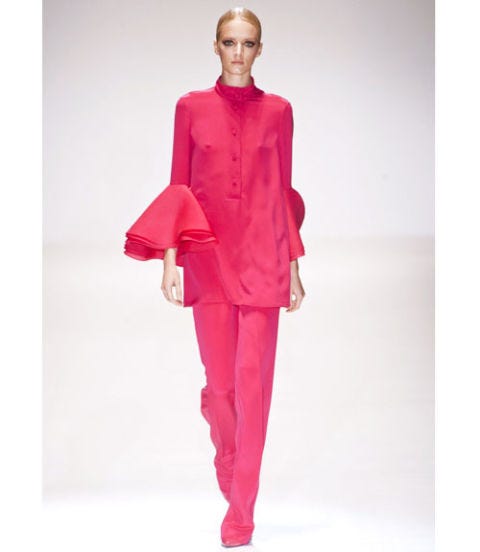 Gucci
Milan
Regardless of your stance on matchy-matchy, Frida Giannini 'scolorful tunics over trousers bring nothing but happy-happy vibes.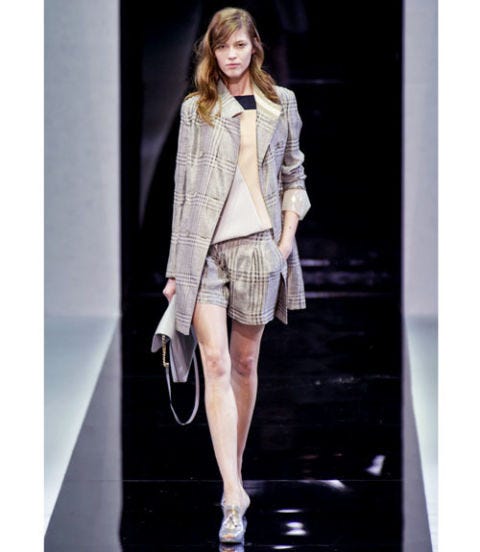 Emporio Armani
Milan
Giorgio Armani prettifies Prince of Wales checks by coating them in a glossy finish. Name change (Princess of Wales checks) pending.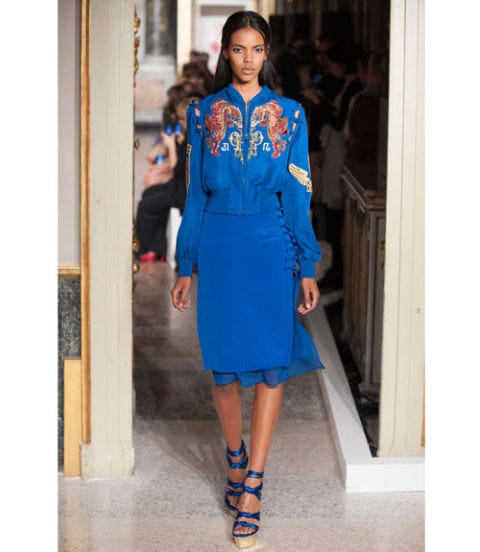 Pucci
Milan
Royal blue should change its name to imperial. Few do full coverage with so much sex appeal like Peter Dundas. Note the toggle seams at the shoulders and hips. Oh so sexy.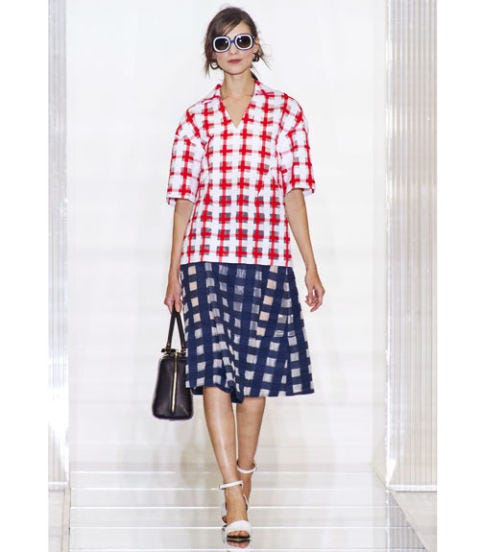 Marni
Milan
Post Marni's insanely successful collection for H&M, Consuelo Castiglioni pulled back on the prints a bit for spring, but not entirely. She keeps sheer fabrics, quite literally, in checks.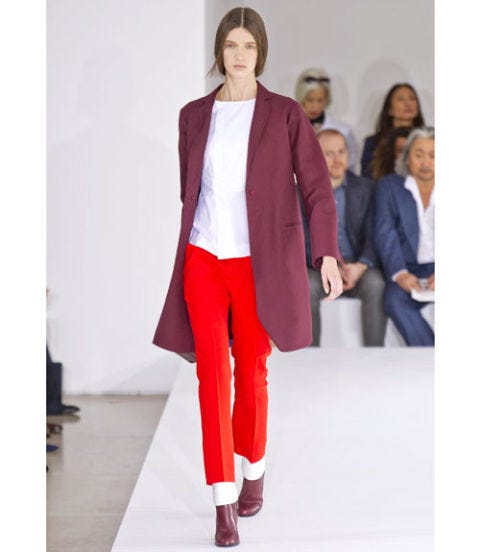 Jil Sander
Milan
She's back! Jil Sander jolts a serene sleeveless coat — a transitional must between seasons — with rich cherry red trousers.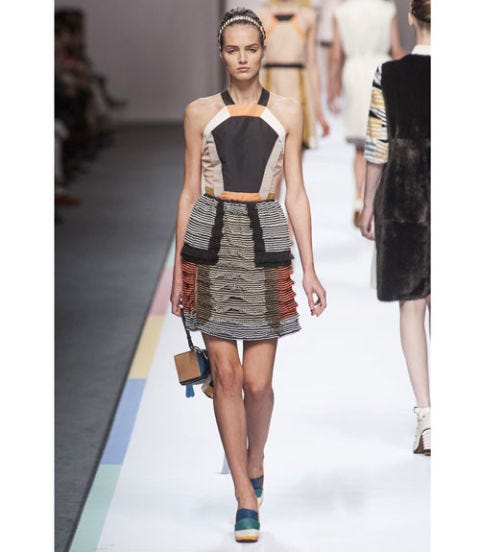 Fendi
Milan
Fendi puts a 3D cubist spin on the spring's stripe trend.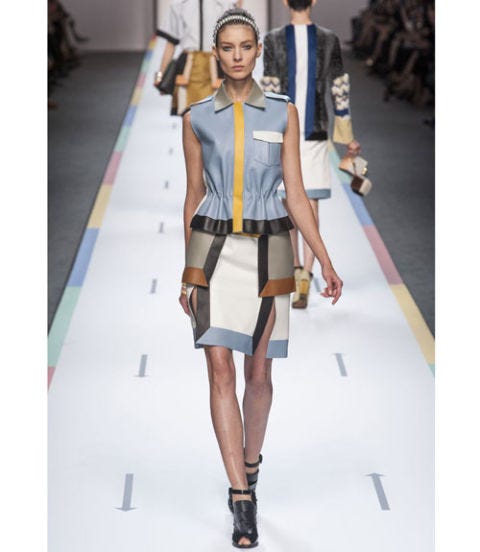 Fendi
Milan
Bauhaus is to the 2010s what Boho was to the early aughts. Everybody looks better with a little structure — especially when its leather by Fendi.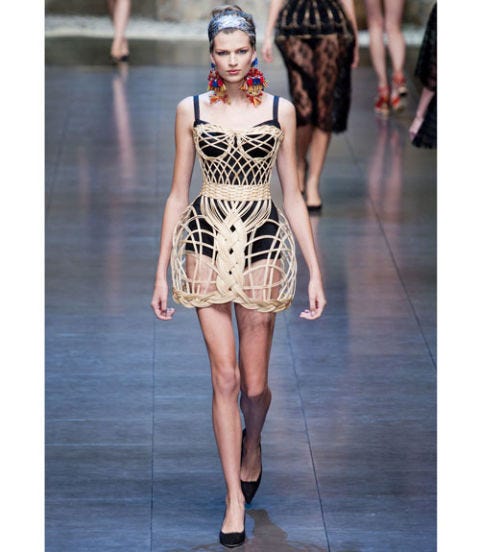 Dolce & Gabbana
Milan
A tisket, a tasket, who wants a corset-dress basket? We thought Dolce & Gabbana couldn't top their bejeweled body suits for fall. We were wrong.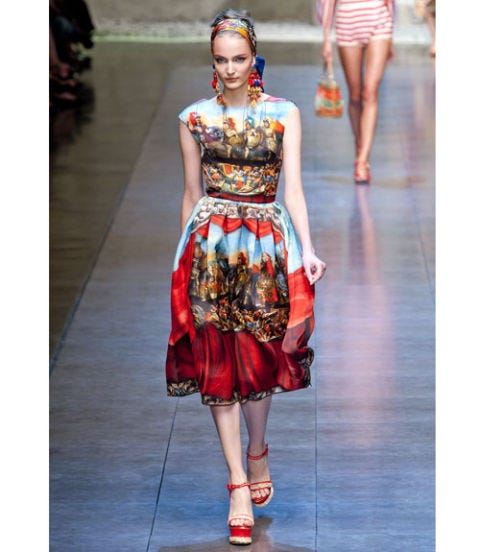 Dolce & Gabbana
Milan
Curtains up! It's a show within a show-stopping dress thanks to Dolce & Gabbana's crusading prints.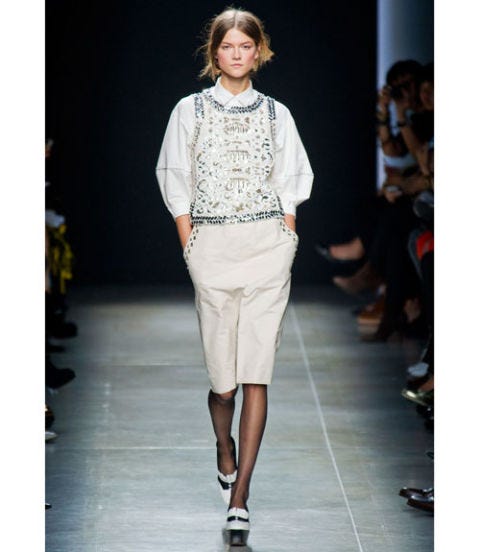 Bottega Venetta
Milan
Collar alert! (Again!) Tomas Maier gives the buttoned-up-look a glittering artisanal feel. Keep the shirt on for office hours, change into just the tank for evening. Gotta love the versatility.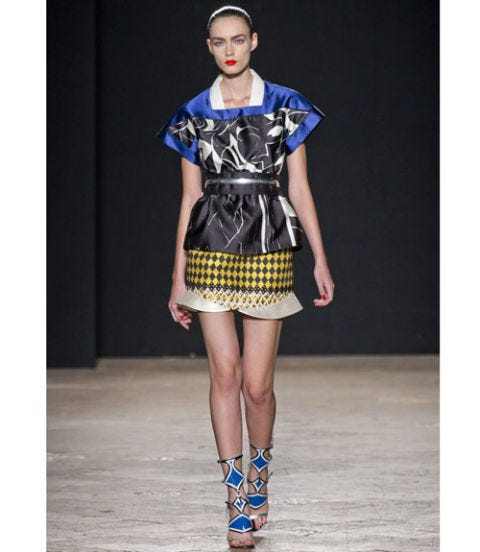 Aquilano Rimondi
Milan
Not since our Mary Engelbreit calendar circa 1996 have we been so in love with colorful contrasting checks. Aquilano Rimondi brings the Italian circus to town with a hint of Japanisme.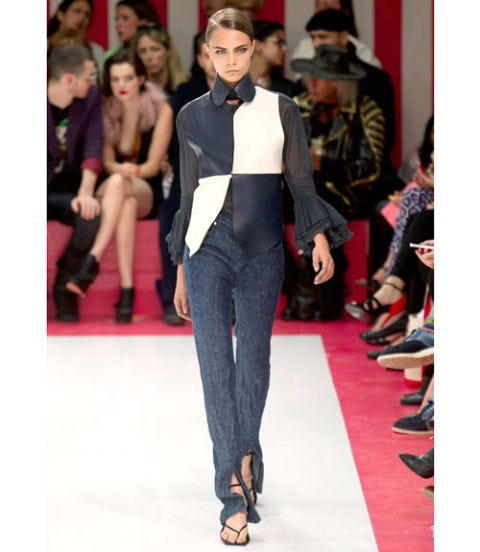 Acne
London
In the show notes, Acne designer Jonny Joansson describes his spring collection as "a clash of romantic silhouettes, jockey outfits, and street style." All three elements are represented in this look — but we'd argue that it's more of a perfect harmony.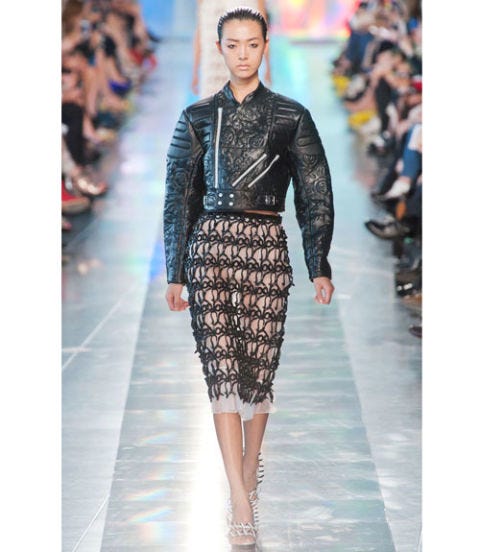 Christopher Kane
London
Chalk it up to mad genius that Chris Kane used injection-mold rubber bows to create a skirt (and dresses and jackets). Our only concern: Does it stick to the furniture? If yes, standing is a small price to pay for being the only avant-garde girl in the room.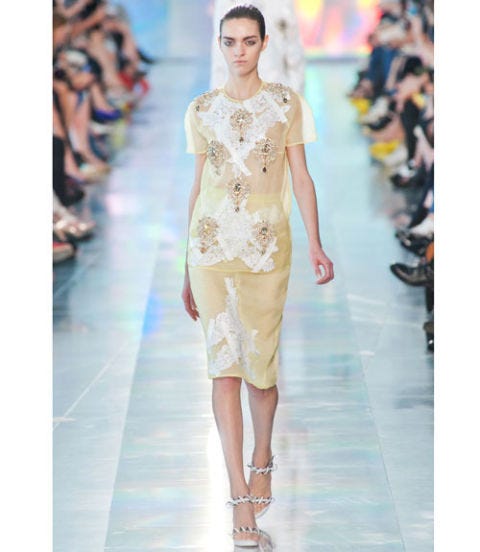 Christopher Kane
London
Christopher Kane pulls a page out of Tyra Banks' America's Next Top Model "Ugly Pretty" book by accenting embellished chiffon dresses with white gaffer tape. Note to young starlets: This is how to do cool without looking like you're trying too hard.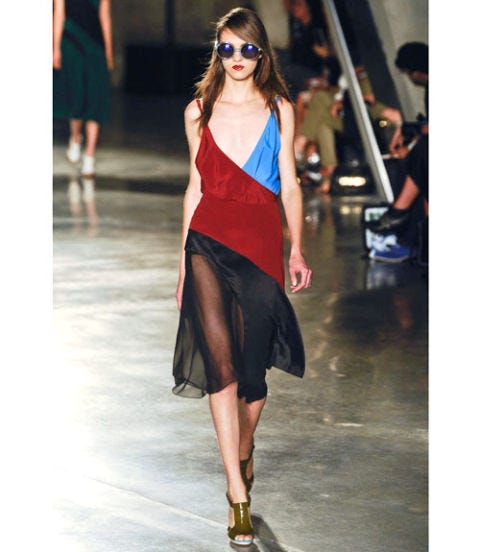 Jonathan Saunders
London
The typically print-happy Jonathan Saunders pared down his palette for spring. The exquisite ease of this dress, and the glimpse of one leg through sheer chiffon makes it one of the sexiest things we've seen on the runways so far.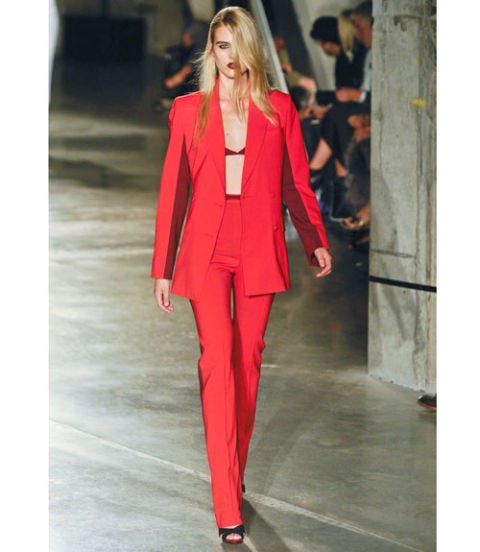 Jonathan Saunders
London
Is there anything more powerful than a cherry red suit? Yes, one that's dual toned and worn sans shirt.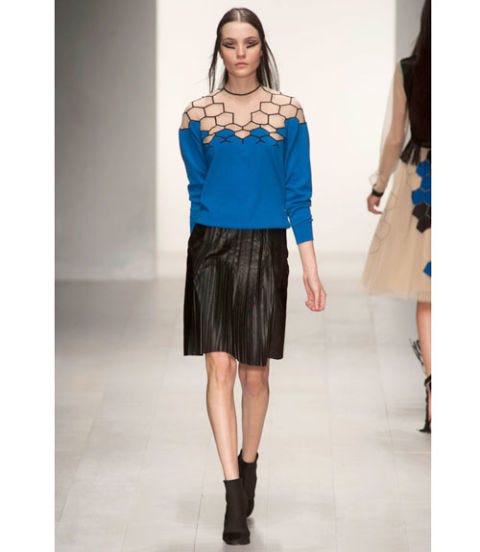 Marios Schwab
London
Marios Schwab looked to the humble worker bee for inspiration this season. The contrast between a geometric honeycomb embroidered sweater and the irregular pleats of a leather skirt are a reminder of both the precision and chaos found in nature.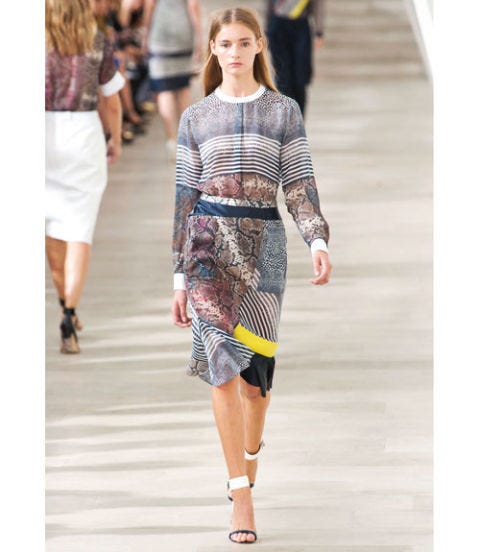 Preen
London
Preen takes the fear factor out of python and stingray by screening the exotic skins onto silk and organza. Breton stripes tie them all together because, well, why not?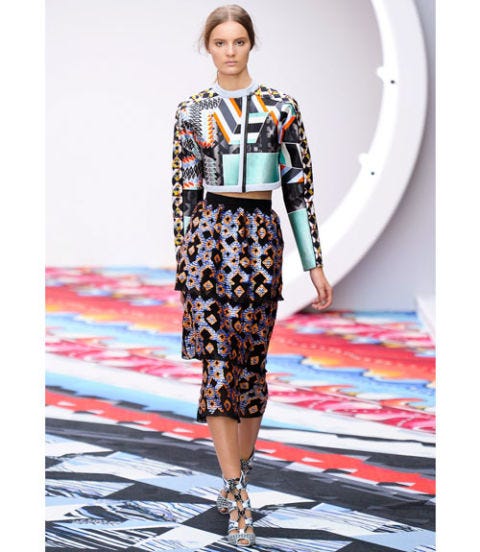 Peter Pilotto
London
Breaking: When graphic masters Christopher de Vos and Peter Pilotto try their hand at complex beading and embroideries the effect is nothing short of dazzling. Exhibit A: this cascading sparkling skirt.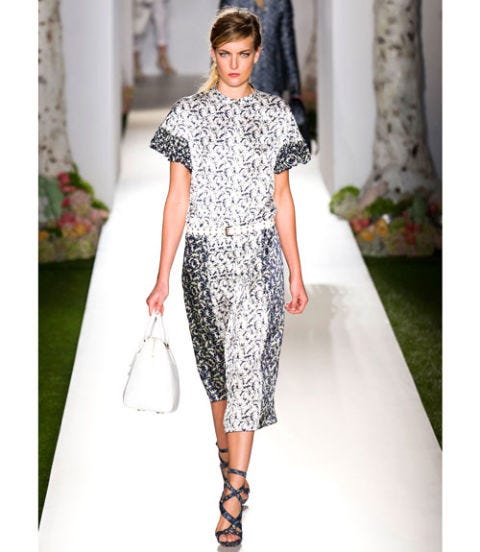 Mulberry
London
Sitting front row at the show, there's no doubt Lana Del Rey was pleased with the new iterations of her namesake bag by Mulberry—now available in a mini-gecko print! This silk jumpsuit, on the other hand, seems choice for del Rey's seat mate, Kate Moss.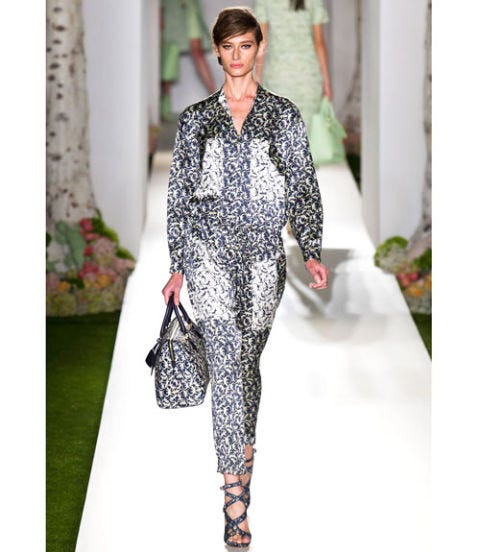 Mulberry
London
To add to the list of things you never knew you wanted, no, NEEDED, until now: a frayed biker jacket in mint cotton tweed with matching oversized leather tote. It's all just so delicious.
This content is created and maintained by a third party, and imported onto this page to help users provide their email addresses. You may be able to find more information about this and similar content at piano.io