Down Jackets to Save You From the Cold In Style
Staying warm never looked so chic.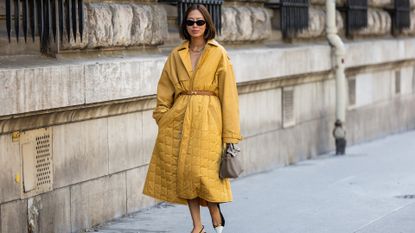 (Image credit: Getty)
With the continued plummeting of temperatures, our hemlines are growing longer and our jackets puffier. Fabrics like wool, suede, leather, and cashmere promise to keep us warm all winter long, but there's one weatherproof staple that most of us rely on above all: the down jacket. This fluffy silhouette is flexible, comfortable, and made to keep you warm while protecting you from the elements.
"Down jackets use a combination of fabric and down clusters to create a multi-layered garment," explains Niamh McManus, Senior Design Director at Canada Goose. "The down is essentially clusters of light & fluffy filaments that trap lots of air, and as such are one of the best natural insulators."
And why choose down jackets over alternatives like wool and fur?
"Down can be very versatile; it can pack easily and is super lightweight so that it can be a great piece in almost any season," McManus explains. "It's one of the world's best natural insulators, and it locks in warmth for all-day protection." She adds that down jackets are "quick drying and can easily compress down, making them great for travel, compared to other outerwear fabrics and materials like wool that don't easily pack and require more drying time. Down jackets are best fit for the winter given their warmth properties and coziness."
But, as with any clothing item, when investing in a down jacket, you should look for an option that suits your needs. It's best if you also learned how to take care of it so that your investment lasts for years to come, saving you time, money, and a whole lot of hassle in the long run. Below are some of the best down jackets on the market for just about every need, along with advice from McManus on the care and keeping of your new favorite winter piece.
How to Choose the Right Down Jacket
Warmth
The first factor to consider when buying a new down jacket is how warm you need it. For mild weather or engaging in physical activity, for instance, you may want to opt for a more lightweight option. On the other hand, when it's snowing, you'll want something thick and waterproof.
"Part of the appeal of [down] and its construction is that it has great warmth to weight so that it can have lots of soft loftiness but doesn't weigh you down," says McManus. She notes that fabric weight, in particular, is an essential factor to consider while shopping. "With a wide variety of types of down jackets, I would first think about the weather where you live, how warm you want it to be, whether it is for layering and shoulder seasons or more heavy-duty to take you through the depths of winter."
Another factor to consider is exactly how puffy you want your down coat to be—something that contributes to more than just your outfit's overall look.
"When choosing a jacket, look out for the fill power, which is a measure of the loft or the 'fluffiness' of a down product and its insulating properties," McManus advises. "Fill power ranges from about 500 to 800, and a jacket with a high fill power has the potential to be more insulating, but only if the correct amount of down is used. For example, two ounces of an 800 fill is not nearly as warm as five ounces of a 650 fill."
The Best Down Jackets
Best Cropped Down Jacket
Alo Yoga Gold Rush Puffer - Black
If you love a cropped style jacket, consider this one from Alo Yoga. It comes in six different colorways, including black, of course, as well as white, tan, brown, burgundy, and navy, each of which is versatile enough to match just about any outfit. It promises to be super warm and weather resistant, with a proper to-size fit that accommodates what you wear underneath. It can be form-fitting if you choose (it comes with adjustable, pinchable bungees).
Customer Review: "Love this jacket; it's warm, but not overly warm; I would not pick this one for an east coast winter. But elegant and comfortable. Also easy to squeeze in a bag." -Alo Yoga
Best Sustainable Down Jacket
Save the Duck Woman's Hooded Quilted Jacket Herrea in Sherwood Green
This option is from Save the Duck, a brand that delivers warm, comfortable outerwear without harming animals. This coat scores about a medium on the brand's warmth index impacts 25 saved ducks and is made from 100 percent recycled plastic bottles. Plus, the jacket is stylish, offered in three colors (green, burgundy, and blue—though this olive green is my favorite), with a diamond quilted pattern and a stunning high-shine finish.
Best Lightweight Down Jacket
Lululemon Pack It Down Jacket
This slim-fitting, lightweight down jacket packs a surprising amount of warmth and is created with movement in mind. With its stretchy, water-resistant fabric, you can wear it on hikes, camping trips, vacations, or your daily commute. Plus, it has a convenient matching pouch that you can roll the jacket into and stow away for easy packing. I have one, and it's perfect for long trips, concerts, and more when you're not sure how long the weather will hold up.
Best Down Jacket for the Outdoors
The North Face Women's Belleview Stretch Down Hooded Coat
This down hooded jacket is designed for hiking, camping, and other outdoor activities. It's lightweight enough for the wearer to be comfortable during physical activity, but it also features insulation at both its armpit and side panels so that you can stay warm in the rain, sleet, and wind. It's also water-repellent, and its hood has a front zip closure at the neck to provide extra protection from the elements. I love it in this light purple colorway, but it also comes in blue and black.
Best Luxury Down Jacket
Moncler Ribbed Wool-Blend and Quilted Shell Down Jacket
If you're in the market for a down jacket, but you're not into the style's traditionally puffy silhouette, consider this luxury option from Moncler. Sleek, warm, and stylish, it has ribbed wool sleeves that hug the contours of your arms while keeping them toasty. Its front and back, meanwhile, have a quilted-down texture that boasts an elevated, glossy finish. With this original take on the winter classic, you'll stand out with this jacket all season long.
Best Affordable Down Jacket
Uniqlo Ultra Light Down Jacket
When Uniqlo came onto the American fashion scene, it took the market by storm with its comfortable, affordable down jackets, with their gender-inclusive silhouette and roomy fit. This super light option, which comes in a whopping 11 colors, can also be found in various sizes from XXS to XXL. It contains 90 percent down for extra warmth and padding, and reviewers say it's easy to pack into suitcases or fold up to be stored off-season.
Customer Review: "I've wanted a lightweight jacket that I could condense into a bag, and this was it. It's the perfect color and weight for transitional seasons." -Uniqlo.
Best Colorful Down Jacket
ASOS Design Belted Longline Puffer Jacket
I love any departure from traditionalism, and this long-down jacket from ASOS Design certainly accomplishes that. First, its green khaki color stands apart from the blacks, whites, and beiges that dominate most people's coat collections, making dressing for winter infinitely more fun. The coat also features a swirl stitching pattern rather than the run-of-the-mill series of parallel horizontal lines. Finally, the skin includes a long tie belt to cinch your waist for a polished, feminine look.
Best Patterned Down Jacket
Gorski Apres-Ski Printed Jacket
This is another fun take on the après ski down jacket, with its bright floral pattern and black lamb trim hood. The entire coat, including the sleeves, is filled with 100 percent down (80 percent white duck down and 20 percent white goose feathers, to be exact), ensuring you'll remain warm no matter how frigid temperatures become. The super luxe option also features spacious snap enclosure pockets so you can safely stow your phone away when it starts snowing, and the sleeves include windbreaker cuffs to prevent your wrists and hands from getting exposed.
Best Waterproof Down Jacket
The North Face Women's Arctic Parka
The North Face has long been beloved by customers for its premium outerwear that helps people look and feel their best all winter. This jacket, in particular, ranks a three on the brand's warmth scale (their warmest rating), ranks highest on their waterproof scale, and is wind-resistant. Plus, it's highly customizable, available in both standard and extended size fits, and in eight different colors, from neutrals to fluorescent pink. It also has an internal waist adjustment, so you can cinch it around the waist or let it hang loose.
Customer Review: "I love this jacket. It keeps me warm in the cold north, and it's the first jacket I've ever owned that fits me perfectly all around. I've also never owned a jacket with long enough sleeves for my lanky arms. I recommend buying this if you need a durable, cute, warm jacket for winter." -The North Face.
Best Long Down Jacket
Canada Goose Black 'Black Label' Byward Down Parka
"For days that require a longer time outdoors in colder temperatures, opting for TEI 4 rated outerwear is important as it protects wearers when temperatures are 5°F to -13°F," McManus advises. "The Byward Parka Black Label is another TEI 4 rated classic offering heavyweight warmth, in a lightweight construction. The style is crafted using ultra-soft EnduraLuxe fabric with CORDURA® fabric reinforcement at high-abrasion areas, making it both incredibly light and incredibly durable."
Caring for Your Down Jacket
Since coats tend to have high price points, they aren't items that you'll want to be replacing yearly or bi-yearly. Therefore, it's imperative that once you have your down coat, you care for it as best you can, which means washing and storing it with care.
"Just like washing any type of down, whether it be a down comforter, pillow, or jacket, it's best to approach with care and patience," McManus explains. "To prolong the lifeline of a down jacket, have it professionally cleaned at the end of each season to refresh and revamp the outerwear piece so it's ready for next season. While there are ways to wash a down jacket at home by using a front-load washing machine on a cold setting, professional cleaners can remove any lingering dirt, oils, odors, and suborn stains that will degrade the fabric over time, all while keeping the shape of the garment as the filaments can easily clump together in the lining if not handled properly."
Professional cleaning is convenient if you've spent the colder months walking or hiking in the snow, sleet, and rain or if you (like me) tend to spill hot coffee or food on your clothes occasionally. Getting your jacket professionally cleaned also saves you the trouble of drying it home.
"As long as the face or front fabric allows, the dryer is also critical for re-fluffing down after it's washed," says those who still prefer to wash and dry at home. "Using a dryer ball can help add back that loftiness that creates more warmth."
Finally, when the winter is over and it's time to stow those coats away, McManus says it's essential to be mindful that you're doing so with care.
"When it's time to pack it away for the season, make sure to have it cleaned before storing," she reiterates. Then, she says, "Using a wide hanger and garment bag, store the jacket in a dry, moisture-free, and dark environment so mold and dust do not damage the fabric. If space allows, hang the jacket for the season until it's ready to be brought out. Otherwise, packing the jacket down may compress the garment, but it can be re-fluffed on low heat and tumble dry with a few clean tennis balls."
Naimh McManus is the Senior Design Director at Canada Goose. A graduate of Ryerson University, she is currently based in Toronto.
Marie Claire email subscribers get intel on fashion and beauty trends, hot-off-the-press celebrity news, and more. Sign up here.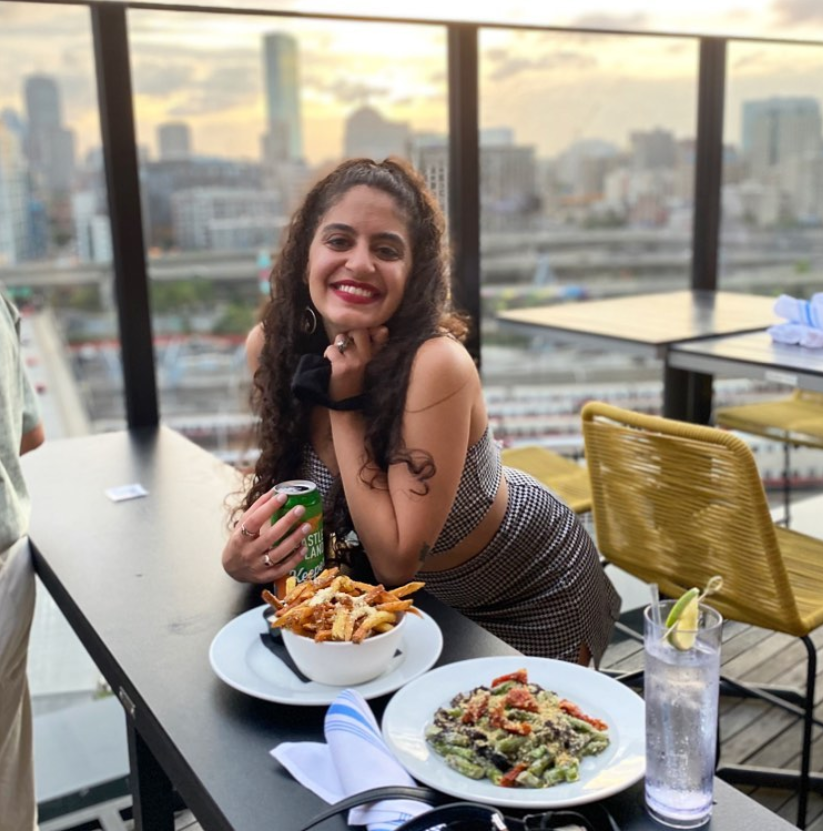 Gabrielle Ulubay is an E-Commerce Writer at Marie Claire and writes about all things beauty, sexual wellness, and fashion. She's also written about sex, gender, and politics for publications like The New York Times, Bustle, and HuffPost Personal since 2018. She has worked extensively in the e-commerce and sales spaces since 2020, including two years at Drizly, where she developed an expertise in finding the best, highest quality goods and experiences money can buy. As a film school graduate, she loves all things media and can be found making art when she's not busy writing.