Stylish Best Friend Necklaces for Grown-Ups
This isn't the Claire's friendship jewelry of yesteryear.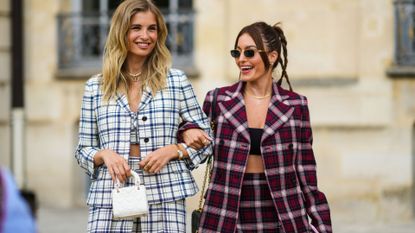 (Image credit: Getty)
As preteens, my friends and I would browse the candy-colored walls at Claire's and almost always walk away with novelty trinkets around our necks. And by novelty, I mean necklaces with charms in the shapes of pizza slices, gummy bears, and, of course, half-hearts. In our still-developing minds, we thought these necklaces were the best symbols of friendship and proudly wore them everywhere. While I'm (somewhat) sad to say these necklaces did not last until adulthood, I'm happy to report that the best friend necklaces of the early aughts have gotten a major upgrade.
Long gone are the days of cheesy plastic pendants. Instead, jewelry brands have modernized the best friend necklace with quality materials and simplified designs to create sentimental keepsakes that can be worn daily. Sure, you may still see the shareable heart design from the past, but as you can see from this list, they've taken on a much more elevated approach (case in point: Monica Vinader's Togetherness Set). Either offered in a set or as a single piece, plus the option to add personalization to many, the stylish friendship necklaces, below, offer up sweet gift inspo your friend will actually want to wear.
Brooke Knappenberger is the Editorial Fellow at Marie Claire, where she writes across the board from fashion and beauty to books and celebrities. As a pop culture junkie, Brooke obsessively consumes and writes about the latest movie releases, streaming TV shows, and celebrity scandals. She has over three years of experience writing on fashion, beauty, and entertainment and her work has appeared on Looper, NickiSwift, The Sun US, and Vox Magazine of Columbia, Missouri. Brooke obtained her Bachelor's Degree in Journalism from the University of Missouri's School of Journalism with an emphasis on Magazine Editing and has a minor in Textile and Apparel Management.