The 9 Best Tote Bags of All Time
According to the editors and stylists who use them.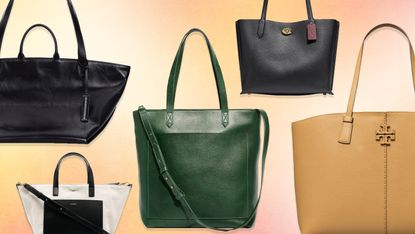 (Image credit: Future)
We love to hone in on the basics here at Marie Claire—the fundamental pieces that make or break your wardrobe, right down to the accessories. And while there are many trendy handbag styles to shop this season, I'm here today to talk to you about tote bags. A fundamental part of the working women's wardrobe, a great tote bag should seamlessly take you from the office to the weekend while holding all of your essentials. I turned to my team of bona fide shopping experts—plus a few very busy celebrity stylists—about what makes the very best tote.
What to Look For in The Best Tote Bag
Tote bags are the most versatile bag option in your rotation. Or, at least, they should be. They can double as both the perfect laptop bag and the best bag to hold all your groceries on a weeknight. And while some of the options on this list are leather totes, other materials, like canvas or nylon, can be wardrobe workhorses too. A few are also big enough to moonlight as an overnight or weekend bag if you're a light packer. Some are structured similarly to a bucket bag, while others have a relaxed, slouchy feel. The most important aspect that you should consider when shopping for a tote are:
Durability: You want a durable bag. Tote bags should be built to last, with details that guarantee they won't fall apart after a few months of daily use. This means that straps should be good quality, thick enough to be comfortable, and equipped with design features like padding or metal feet at the bottom to protect them from signs of wear.
A Lightweight Feel: Odds are, you carry a lot of stuff in your tote bags. From computers to makeup bags to books, your tote bag can get heavy by the end of the day. That's why you want to pick one that's not too heavy before putting anything in it.
Safety Features: Since you're carrying all your essentials around, you want to ensure that nothing falls out—or that no one can get in. The options on this list have design features like zippers, lots of interior pockets, or magnetic closures that guarantee your belongings stay in your possession.
With that in mind, keep scrolling to shop the 11 best tote bags on the market, all of which have been hand-picked by the editorial team at Marie Claire and the stylists we trust. From affordable Amazon finds to a few designer picks worth the investment, this list is the end-all for my favorite bag silhouette.
Best Overall Tote bag
Madewell
Madewell The Zip-Top Medium Transport Leather Tote
The Madewell Transport Tote is a favorite of the editors here at Marie Claire. It has a roomy interior, a sturdy design, and is easy to style. You can shop in a few colors, but this caramel brown is a favorite. The zipped interior pocket makes it easy to keep your belongings safe, too. This version also features a zip-topped design for extra protection. It's not as structured as other bags but lightweight and works for many occasions.
Pros: Top-rated; Sturdy design; Has a zip-top design; Has interior pockets; Has a crossbody strap
Cons: Some customers say the brown shade is different in person.
Customer Review: "My only complaint about this purse is that the saddle color is slightly lighter in person than in the photos. Otherwise, I'm OBSESSED with this bag. It's the perfect size, and the long strap is perfect. The leather is nice, and the little zip compartment inside is great for carrying the small things I need to be able to find easily. Honestly, even when I have a ton of stuff in here (and it fits a ton of stuff), I never feel like I'm digging too long to find anything. I'm very happy with my purchase." — Nordstrom.
Best Affordable Tote Bag
Lubardy
Lubardy 15.6 inch Laptop Tote Bag
While not all totes need to hold your computer, this under-one from Lubardy on Amazon is designed to fit it while still looking chic. It's a favorite of Marie Claire's Associate Commerce Editor, Brooke Knappenberger, who carries it daily. "This tote is my holy grail work bag!" she says. "I bring anything I could need to work just in case of an emergency—makeup, deodorant, dry shampoo, hairbrush, and gum." Other reviewers love it because the material is of excellent quality for the price you pay and its sleek design.
Pros: Costs under $50; Top-rated; Editor-approved; Great quality; Comes in 12 colors.
Cons: Some reviewers say it's not structured.
Customer Review: "It's much more spacious than it looks. It's very sleek and stylish. I use it as my work bag, and I find that it looks professional and has enough space for all of my stuff. I carry a laptop, pencil case, two books, a makeup bag, water bottle, wallet, lotion, phone and laptop charger, and other small miscellaneous objects—still plenty of space. And when you carry it, it doesn't feel bulky or cumbersome. The bag does sag a bit after use. But has held up to wear and tear. I would recommend." — Amazon
Best Leather Work Bag
Coach's Willow Tote comes in this rich black leather with burgundy accents and Coach's iconic logo minimally placed on one side. It's made from pebbled leather, less prone to scratches and signs of wear, and features a magnetic closure across the top. Laptops have a dedicated sleeve across the middle of the bag's interior for easy access and to keep you organized. Adding metal feet on the bottom also protects the bag as you move through your day.
Pros: Has a interior laptop sleeve; Has interior pockets; Has a magnetic closure.
Cons:: Only comes in one color
Customer Review: "With a zipper compartment in the middle and a compartment on each side of the zipper, makes this the perfect tote for business or personal occasions." — Bloomingdale's
Best Canvas Tote Bag
L.L Bean Boat-And-Tote With a Zip-Top
L.L Bean's Boat and Tote is having a moment right now. You can customize it, for one, which has spawned memes the internet over. The zip-top design is excellent for your commute or when you're running more than one errand in one day, and the vast array of colors available to shop means you'll never have to settle. It's made from a sturdy canvas material that has cemented it as an American wardrobe staple. Plus, it's affordable at under $50.
Pros: Can be customizable; Has a zip-top design; Made from a sturdy canvas material.
Cons: Some reviewers thought the straps were too short.
Customer Review: "I have had my extra large zippered boat and tote for over 20 years. Definitely worth every penny. It is definitely a classic!" — L.L Bean
Brandon Blackwood Everyday Leather Tote Bag
"This is actually a recent gift to me, and I have never been so obsessed. It comes in different materials, I prefer the leather but it also comes in canvas. It is a great travel bag and it also can be used as a work bag! It is massive too! It can fit all of your stuff inside and it will still have room! It has a zipper too! (Bonus points) It also has two different straps. You can Carry it like an oversize purse and also put it over your body. Super obsessed!" — Zoe Gofman, Celebrity Stylist
Best Designer Tote Bag
Jil Sander
Jil Sander Wander Tote Bag
"This roomy canvas and leather tote wins on function and style— and won't force you to leave any of your essentials behind. Wear this one handheld or crossbody, thanks to a detachable shoulder strap, and keep your smaller items secure with a zippered interior pocket tucked away in the interior." — Sara Holzman, Style Director
Best Nylon Tote Bag
This black tote from it-brand of the moment BAGGU is definitely more sporty than some of the others on this list. It has a zip-top design plus a zippered interior pouch. The padded handles provide comfort on long-haul commutes, while the roughly 14-inch height guarantees that you'll be able to fit your computer or tablet. It's made from a durable (and recycled!) heavyweight nylon fabric that won't rip or tear as you wear it. Plus, it packs away into a small pouch for easy storage.
Pros: Made from durable nylon fabric; Packable design; Has a zip-top design; Has interior pockets; Comes in several colors.
Cons: Doesn't have a structured design.
Customer Review: " I've been looking for a lightweight bag for my work commute. This bag holds my laptop, headset, leather binder, mouse and mousepad, lunch, phone, and sunglasses and has room for more. Plus, it's inexpensive and cute, and according to my daughter, this brand is trending, so there's no downside for me. I bought black because it goes with all my work clothes, but the other colors look cool too, especially green. I highly recommend it." — Amazon
Best All-Black Tote Bag
Rebecca Minkoff
Rebecca Minkoff Megan Large Leather Tote
"I take my tote bags seriously—I bring my tote with me nearly everywhere I go and I keep it packed to the brim with my essentials, so not just any bag will do. That being said, this Rebecca Minkoff is the latest addition to my collection and the perfect fit. It's just the right size to fit my laptop, makeup, water bottle, and headphones, plus the great quality leather means I can count on it to last for years. I'm big into matching my jewelry with my accessories, so the mixed metal hardware is a major win in my book, too." — Brooke Knappenberger, Associate Commerce Editor
Pros: Editor-recommended; Holds a laptop; Has a snap closure.
Cons: Only has one interior pocket.
Customer Review: "Perfect medium size tote! Leather is grainy and smart-looking! Glad I purchased itLooking forward to wearing it with everything!" — Bloomingdale's
Best Travel Tote
Tory Burch
Tory Burch McGraw Leather Tote
Tory Burch's McGraw Leather Tote comes in four colors: off-white, black, sky blue, and a light brown called "Tiramisu"—yum. It has longer handles to sit comfortably under your arm and a clasp across the top to keep all your essentials in check. Measuring 16 inches wide and a little more than 10 inches high, it will fit your computer and then some, and it has an interior zip pocket for your most prized possessions.
Pros: Comes in different colors; Has longer handles; Fits a laptop; Has an interior zipped pocket; Has a clasp closure at the top.
Cons: Some reviewers found it too wide.
Customer Review: "This bag is huge, beautiful, and soft. The bag is light for its size. I get cold while traveling on a plane and like carrying my neck pillow, small blanket, and personal belongings. This bag will fit all of it; the inner zipper pocket is huge. I would recommend it if anyone is considering it. Also, I love the big Tory Burch emblem in the front." — Nordstrom
MZ Wallace
MZ Wallace Large Metro Nylon Box Tote
"I'm all about texture this season, and it feels like MZ Wallace got the memo! Of all the bags they've put out this fall, their Large Metro Nylon Box Tote takes the cake. Not only does it use diamond quilting to create texture, but it also features a mid-century hexagonal pattern that creates some visual trickery. Mixed with size zips to safeguard your most personal items, this tote is also a whopping 13 1/2 "W x 16 "H - perfect for your favorite laptop or tablet." — Heather Newberger, Wardrobe Stylist
Pros: Stylist-recommended; Can fit a laptop; Has zipper internal compartments; Has a removable zip pouch; Has metal feet on the bottom; Has a crossbody strap.
Cons: Has a short top handle.
Meet The Experts
Heather Newberger is a fashion stylist, author, and television commentator. Her mission is to help people find joy and self expression through clothing. An imaginative and discerning creative, Heather's inspired point of view uniquely reflects her commitment to championing all genders, shapes, and sizes. She is devoted to creating inclusivity within the fashion industry. Heather's first book "How to Date Your Wardrobe" is available for purchase wherever books are sold.
Zoe 'Zaz' Gofman, is a New York and Los Angeles-based fashion stylist, wardrobe stylist, personal shopper and creative consultant. She is known for marrying her bold flair with her love for vintage pieces and the classic crispness of French fashion.
Growing up spending her summers in France, Zaz was continually immersed in and inspired by international fashion trends at a young age. She curated and refined her stylistic eye throughout young adulthood by sourcing and sewing textiles, working at local clothing stores, and being hired as a personal shopper in her hometown of New York City.
In addition, her passion for fashion, zaz possess a unique musical talent and went on to college at Tulane University, with the long-term goal of entering the music industry. Graduating from Tulane in 2020, Zaz began to think about ways to merge her creative interests as she sought to lay the foundation for her career path. However, that career path found her. Zaz's intrepid style and unmatched confidence turned heads when she attended NYFW in September of 2021, catching the eye of big industry names and landing her a job as Shanina Shaik's wardrobe stylist. since then, Zaz has taken on several additional clients including Adriana Lima, Meredith Duxbury, Elisha Herbert, Charlotte McKinney and more as well as styling for various brand campaigns and contributing her style expertise in articles for InStyle, Harper's BAZAAR, People, etc. Whether she is styling someone for a night or dressing an entire brand campaign, Zoe is devoted to creating timeless looks that capture not only a moment, but also the people in that moment, and making them feel like they're the only one in the room.
Marie Claire email subscribers get intel on fashion and beauty trends, hot-off-the-press celebrity news, and more. Sign up here.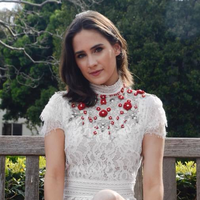 Julia Marzovilla is the E-Commerce Editor at Marie Claire, where she covers everything from the latest beauty and fashion launches and sales to celebrity outfits and news. She also creates shopping guides that span every vertical on the site. Prior to joining the Marie Claire team, she contributed similar shopping stories to sites such as Bustle, InStyle, The Zoe Report, Who What Wear, and STYLECASTER. In her spare time, Julia can be found creating shopping guides for all of her friends, spending too much money on yet another pair of black boots, and cooking in her far-too-small kitchen.