Fall 2023 Marks a Return to Fashion's Fundamentals
Eight no-fuss, no-frills items every wardrobe needs.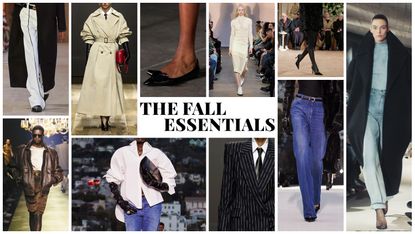 (Image credit: Future)
Before you learn to walk, you learn to crawl. Before you learn to read, you learn your ABCs. And before you start tackling fashion trends, you need to build out your collection of wardrobe basics. Button-down shirts, white tees, basic blue jeans—the no-fuss, no-frills pieces that get the job done without making too much fuss. The mindset for the current season very much celebrates the concept of fashion's fundamentals, with fall essentials like practical trench coats and ballet flats driving sales across retailers.
Moda Operandi's Director of Buying, RTW, Marc Rofsky, weighs in: "This season, there is an undeniable return to a cleaner, more minimal aesthetic. You can call it 'stealth wealth' or 'quiet luxury,' but at Moda Operandi, we just call it great, timeless style," he details to Marie Claire. "Perhaps it's the pendulum swinging back from the post-pandemic Y2K-inspired over-the-top fashion we have seen in recent years or a desire for (sartorial) stability amid growing uncertainty in the world around us—in any case, we are embracing wearable investment pieces and easy must-haves, just in time for fall."
But where exactly should you shop for everlasting essentials? "Brands like The Row, Khaite, Brandon Maxwell, Toteme, By Malene Birger, Lou Lou Studio, Eterne, High Sport, and Beare Park are reliable pillars in the space, offering a wide range of pieces that make for a chic and easy wardrobe foundation," Rofsky shouts out. Ahead, you'll discover more of the shopping expert's insight on curating an edit of closet classics, as well as the eight indestructible items every wardrobe needs. And, yes, closet classics don't possess much pizzazz, but they offer something much more valuable: longevity. Because whenever that one microtrend fades into oblivion, and all that's left is dying Internet discourse and dust, these classic pieces will already be in your closet, patiently waiting for you to reach for them again.
---
"We love long coats this season: from tactile textures to cozy wrapped shapes or strong shoulders that assert confidence," Rofsky shares, specifically shouting out Toteme's wool-cashmere wrap coat. If the Swedish label's price tags rocket way out of your budget, look to the cocooning coats offered by STAUD and Apparis.
Even if edgier aesthetics don't align perfectly with your taste (perhaps you're more prim and proper than grungy rock-and-roller), a leather jacket belongs in your outerwear rotation. Try a classic moto option, like this one from All Saints, or, to tap into your more polished and prepster style, a sleek leather blazer.
A trench coat is another key building block to any solid outerwear collection worth its salt. Originally known for its utility (soldiers wore them while fighting in the—guess where?—trenches), the trench coats of today place an equal balance on both function and fashion.
"Tailoring makes a strong comeback this season, taking you from day to night with effortless ease," describes the Moda Operandi ready-to-wear expert. "Jackets with nipped waists range from looking feminine to fashion-forward when balanced against stronger shoulders like Wardrobe NYC's contoured style. Boxy shapes like Khaite's Malek jacket look great with a narrow pant or over a body-skimming slip, or worn as a dress with tights."
Oh, a white button-down shirt—how we love you so. It's a standby staple—one you likely already have in your closet—that won't ever steer you wrong. Nili Lotan's collared tunic, which will serve as a neutral base in limitless combinations, is one of our top picks of the season.