The 7 Types of Coats to Permanently Keep in Your Closet
A definitive guide.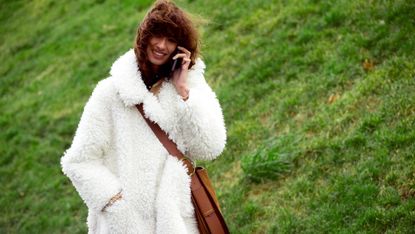 (Image credit: Melodie Jeng)
Marie Claire newsletter
Celebrity news, beauty, fashion advice, and fascinating features, delivered straight to your inbox!
Thank you for signing up to . You will receive a verification email shortly.
There was a problem. Please refresh the page and try again.
Regardless of where you live, you want several reliable types of coats in your wardrobe. From rain and snow to a light breeze, covering all your bases usually takes more than one coat. Most of us default to a jean jacket (opens in new tab), a classic trench coat (opens in new tab), a wool coat, or a winter coat throughout the seasons. But there are several other stylish jackets and coats that every woman should have in her wardrobe, or want to own for variety's sake.
We've assembled a guide to coats and jackets, with the specific types we consider essential to have on hand in any situation. Plus, we've edited a selection of favorites to shop now, whether you're in immediate need or planning ahead.
1/35
The Puffer Coat
Puffer coats are traditionally filled with down insulation to keep you warm and toasty. However, with a variety on the market, some variations are suitable for fall weather (opens in new tab), while other puffers are designed for the cold. (opens in new tab)
2/35
Super World The Super Puff Glossy Goose-Down Puffer Jacket
If you don't already own an Aritzia Super Puff, it's high time you add one to your collection. Each season, the retailer introduces tons of new colors and finishes, from matte to hi-gloss. Plus, it offers a variety of lengths if you're more of a cropped or maxi puff type.
3/35
Farm Rio Crazy Mix Reversible Puffer Jacket
You can recognize a Farm Rio piece anywhere, thanks to the Brazilian brand's unique use of colors and prints. This season, the label takes its DNA and channels it into this printed puffer that's not only vibrant but also reversible.
4/35
Normal Kamali Blanket Sleeping Bag Coat
If your favorite place in the world is your bed, slip on this puffer coat for a similar effect. The double-layer design will give you those same comfortable, lazy day vibes when you have to leave the house.
5/35
Daily Paper Black Epuff Cropped Jacket
If your knee-length black puffer feels tiresome, change things up in favor of this cropped Daily Paper version. The short boxy fit is totally worth the slight surrender of warmth.
6/35
The Peacoat
The peacoat (opens in new tab) has been around since the 1800s when members of the Dutch navy first wore it. (The name itself originated from the Dutch word (opens in new tab) "pije," which described a coat made from coarse wool fabric.) Today, the topper is a classic wardrobe trademark in neutral colors and brights alike.
7/35
J.Crew Double-Breasted Topcoat
This peacoat is as classic as it gets. With this timeless double-breasted version in your arsenal, you'll be able to wear it for seasons to come.
8/35
Mango Handmade Wool Coat
Fancy a bold peacoat? Look no further than this bright blue design with an oversize fit.
9/35
Everlane The ReWool Peacoat
Yes, indeed, peacoats come cropped. Get your hands on this Everlane design (made with recycled wool) before it sells out.
10/35
Balmain Navy Wool And Cashmere Pea Coat
This belted peacoat is made from a wool-cashmere blend with logo-embossed buttons for a luxurious touch. Pair it with riding boots and a collared button-down for sophisticated prep.
11/35
The Trench Coat
The trench, like the peacoat has a utilitarian history—officers quite literally wore them in the trenches. Over the years, the style has been modernized and tweaked, showcasing varied colors and prints, but its double-breasted, buckle waist silhouette mostly remains the same.
12/35
The Frankie Shop Rhodes Trench Coat
The quickest way to bring street-style flair to a look? With oversize outerwear, like this roomy trench coat crafted from 100 percent cotton.
13/35
Allegra K Notched Lapel Double Breasted Faux Suede Trench Coat
Obsessed with the '70s (opens in new tab)? This sumptuous trench draws inspiration from the decade with a cool faux-suede touch and waist-cinching belt.
14/35
Burberry The Kensington Cotton-Gabardine Trench Coat
We can't talk about trench coats without discussing Burberry. The ultimate classic when shopping for a luxurious take.
15/35
Sandro Cyrus Hooded Cotton Anorak
We love an element of femininity to tweak the classic trench, like the balloon sleeves on this flowing Sandro design. The green drawstring at the waist further modernizes the look.
16/35
The Wrap Coat
If you've ever thought about leaving the house in your robe, the wrap coat is the one for you. Cinch the belt around your waist and head out the door—no fumbling with zippers or buttons.
17/35
Nobody's Child Oversized Wrap Quilted Coat
For a warm wrap coat with a utilitarian touch, look to a quilted design, like this oversize style. It's as cool over jeans as it is a knit dress or jumpsuit.
18/35
Summersalt The Warmest Eco Wool Wrap Coat
This coat offers the comfort of a bathrobe (opens in new tab) while still looking utterly polished. In cool weather, sport it with a turtleneck, jeans, and your favorite pair of ankle boots.
19/35
Massimo Dutti Wool Wraparound Coat
Behold an impeccable long sage wool coat in an effortless wrap silhouette—the antidote to neutral tone fatigue, without feeling overly bold and saturated.
20/35
Hilary MacMillan Leather Wrap Coat
Channel a Matrix vibe in this sleek wrap coat by Hilary MacMillan. It's crafted from buttery soft vegan leather and elevated enough to pair with evening attire, though it's perfectly stylish with jeans, available in sizes XS to 4X.
21/35
The Parka
What makes parkas unique? They're hands-down one of the best coat styles for surviving harsh winter conditions. Chock-full of useful details like pockets and hoods, you'll feel well-equipped to take on just about anything, bomb cyclones included.
22/35
H&M Packable Commuter Jacket
Lightweight but ultra-practical in inclement weather, this packable parka from H&M is made with windproof and waterproof fabric for city or wilderness adventures.
23/35
Rudsak Odin Unisex Down Parka
This unisex parka is at once sleek and sturdy—the ultimate city to snow coat you feel as stylish in as your go-to trench.
24/35
Eddie Bauer x The Great The Plush Pocket Parka
This plush parka is the ultimate fashion-meets-function hybrid. Part of a limited-edition collaboration between Eddie Bauer and The Great, it's ready for adventure, combining the spirit of California with the soul of the Pacific Northwest.
25/35
Canada Goose Resolute Parka
Worn by explorers on Antarctic expeditions, features like double-reinforced elbows and shoulder grab straps are no joke. But, despite being built for the extreme, it looks pretty sleek on city streets, too.
26/35
The Cape Coat
If you're looking for a timeless piece that earns you major style points, a cape (opens in new tab) is the way to go. A big trend on the runways, there are more options on the market than ever before.
27/35
Isabel Marant Étoile Gabin Cape
Swap your coat for this statement-making gingham cape that can pair down with denim or dress up with a woolen midi or maxi skirt.
28/35
Rag & Bone Varsity Zip Wool Poncho
Take your cape look in a sporty direction with this varsity-inspired style by Rag & Bone.
29/35
Johnstons of Elgin Fringed Wool Cape
A blanket, but make it fashion. But seriously, this fringed black wool cape is c-h-i-c.
30/35
The Row Darfo Cashmere-Blend Cape
Minimalists, meet your perfect cape crafted from a soft cashmere blend. In genuine The Row fashion, it boasts an oversize shape for elegant nonchalance.
31/35
32/35
Stutterheim Mosebacke Khaki Green
This minimal green raincoat proves you can look stylish on wet days. It features a straight hem fit and deep-set side pockets for essentials, like your phone and keys.
33/35
Barbour Somalia Hooded Waterproof Jacket
This waterproof hooded coat features elasticized cuffs to keep out moisture, even when it's raining sideways. We love the quintessential yellow color with tonal lining for an ultra-clean look.
34/35
Hunter Original Waterproof Vinyl Smock
Show off your look without getting drenched with this transparent rain jacket by Hunter.
35/35
Rains Curve Jacket
Not all waterproof jackets are shapeless. Case in point: this cinched style by Rains.