The 7 Types of Coats to Permanently Keep In Your Closet
A definitive guide.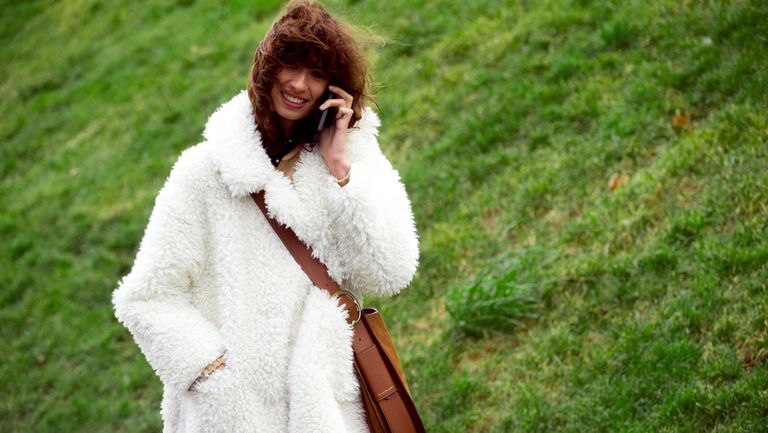 (Image credit: Melodie Jeng)
No matter where you live, you need a selection of reliable coats and jackets. Most of us own a few variations of outerwear, from a jean jacket to a trench coat to a thick puffer, but there are several key types of jackets and coats that every woman should have in her wardrobe. We've put together a guide to coats and jackets and the specific types to have on hand for any situation—and we've picked a few of our favorites of each style, to boot.
1/28
2/28
Farm Rio Lucy Floral Puffer
You can recognize a Farm Rio piece anywhere, thanks to the Brazilian brand's unique use of colors and prints. For fall/winter, Farm Rio takes its DNA and channels it into this puffer-meets-fleece outerwear that is not only vibrantly beautiful, but also reversible, should you want a fully printed piece.
3/28
Norma Kamali Blanket Sleeping Bag Coat
If your favorite place in the world is your bed, slip on this puffer coat. The outerwear will give you those same comfortable, lazy day vibes, though the only downside is you might never actually leave your house once this is on. Oh well.
4/28
Allbirds Women's Trino® Puffer - Natural White
Allbirds is expanding its categories, and one of its newest debuts is this puffer outerwear made from natural and recycled materials such as merino wool, recycled nylon, and Tencel Lyocell. Style the winter white puffer with your favorite outfits all season long.
5/28
The Peacoat
The peacoat style has been around since the 1800s, when it was first worn by members of the Dutch navy. (The name itself originated from the Dutch word "pije," which described a coat made from coarse wool fabric.) Today, the jacket is a classic wardrobe trademark.
6/28
Alaia Openwork Wool Blend Pea Coat
Fancy a unique peacoat? Unlike traditional wool options, this laser cut outerwear gives the classic peacoat an elevated twist.
7/28
J.Crew Italian Double-Breasted Peacoat
This peacoat is as classic as it gets. With this timeless double-breasted version in your fashion arsenal, you'll be able to wear it for seasons to come.
8/28
Balmain Double-Breasted Pea Coat
This tailored peacoat is made from luxe wool cashmere and comes with logo-embossed buttons for that luxurious touch. Pair with riding boots and a collared button-down for the ultimate preppy outfit.
9/28
The Trench Coat
Much like the peacoat, the trench has a military history—officers wore them, literally, in the trenches. Over the years, the style has been tweaked, showcasing varied colors and prints, but its double-breasted, buckle waist silhouette remains largely the same.
10/28
Club Monaco Sd Everywear Trench
This beige trench coat has a classic style that will pair with all of your fall pieces. Even better, all sizes are still available and it's currently on sale.
11/28
Daily Paper Green Croco Jedoun Coat
The least mundane trench coat there is. This neon green outerwear comes with a belt to cinch everything in and is oversized with embossed crocodile print.
12/28
JW Anderson Pointed Collar Trench Coat
Obsessed with the '70s? This outerwear draws inspiration from the decade with a cool suede touch and an elongated Peter Pan-style collar.
13/28
The Wrap Coat
If you've ever thought about leaving the house in your robe, the wrap coat is the one for you. Simply tie the belt around your waist and head out the door, no fumbling with zippers or buttons.
14/28
Maje Wool Blend Wrap Coat
This coat offers the comfort of a bathrobe, while still looking utterly polished. For fall, sport it with a beige turtleneck, jeans, and your favorite pair of ankle boots.
15/28
Helene Berman Plaid Wrap Coat
Slip this one on over your comfy clothes for a cool athleisure look or dress it up with your favorite maxi skirt and knee-high boots for fall apple-picking and pumpkin patch adventures.
16/28
Max Mara Manuela Icon Belted Camel Hair Coat
Few can compete with the outerwear selections from Max Mara. This coat is made from soft camel hair and looks great for layering over chunky knit sweaters, dresses, leather skirts, and more. The coat is pure sophistication.
17/28
The Parka
What makes parkas unique? They're hands-down one of the best coat styles to survive harsh winter conditions. Chock-full of utilitarian details like pockets and hoods, you'll feel well-equipped to take on just about anything.
18/28
Adidas Xploric Parka
This high performance parka is water repellent, has deep set pockets, and customized two-way zippers to keep you and your belongings warm and dry amid inclement weather.
19/28
Canada Goose Resolute Parka
Worn by explorers on Antarctic expeditions, features like double reinforced elbows and shoulder grab straps are no joke. This parka means business, but looks pretty sleek on city streets, too.
20/28
H&M Cotton Twill Parka
This lightly padded parka features a high collar to protect your neck from the wind. Make this coat even more snug with a drawstring at the waist.
21/28
The Cape Coat
If you're looking for a timeless piece that earn you some street style points, a cape is the way to go. A big trend for fall, there are more options on the market than ever before.
22/28
ISABEL MARANT ÉTOILE Gingham Flannel Cape
Swap your coat for this statement-making cape that can pair down with denim or dress up when styled over your favorite autumn maxi skirts.
23/28
Rag & Bone Zip Wool Poncho
You'll make a street style statement wherever you go in this varsity jacket-cape hybrid.
24/28
Chloé Striped Wool Blanket Cape
Armor yourself with this sophisticated option from Chloé. An adjustable belt closure sets this apart from other styles.
25/28
26/28
Stutterheim Hooded Trenchcoat
This two-toned rain coat from Swedish brand Stutterheim has a stylish straight hem fit and deep set side pockets for essentials, like keys and credit cards.
27/28
Hunter Lightweight Waterproof Jacket
This coat is waterproof yet lightweight and has an open back vent for breathability. We love the quintessential yellow color option.
28/28
Helmut Lang Vinyl Rain Jacket
Show off your look without getting drenched with this transparent rain jacket.
Sara Holzman is the Fashion Editor at Marie Claire covering runway trends and tracking down the latest finds to buy and wear. When she's not writing about fashion, she pens about the best places to jet-off to.