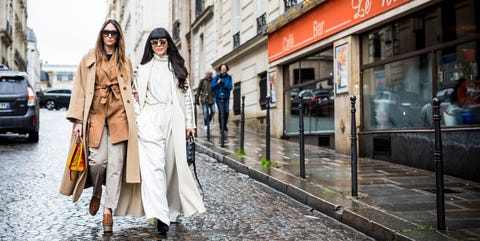 You go along paying your rent and occasionally eating something that grew out of the ground, thinking that you're an adult. But then you realize your closet has certain...deficiencies, such as zero plain T-shirts or my personal problem with pants. That's when you regroup and pad your wardrobe with known winners, like the 12 must-haves we've listed below.
Think about it: You'll wear it for half the year—more than that if you're a shoulder-slinger/'80s teen movie villain. So quit it with the Trendy Wendy high-street ones that pill at the first sweat bead, and get yourself a thick, quality one.
Aritzia, $145
You need them for professional reasons. Might also be a good idea to get them tailored.
COS, $115
It doesn't have to be super stylist Karla Welch's version, but it should be one that fits you well. Still nothing fresher than a white T and jeans.
Hanes x Karla, $30
Another classic, which just shows you how easy it is to be chic: We all know the formula, it's just a matter of sorting out the right variables.
H&M;, $399
The best thing I bought all year. Don't be scared it'll be too stuffy, because it looks right with practically anything you throw at it.
J.W. Anderson x Uniqlo, $150
7
Sunglasses That Fit Your Face
Nose pads are everything, rose-colored lenses are extra.
Krewe, $295
Because you never know when you'll get a last-minute invite, and you wouldn't want to be caught unawares, would you?
Mango, $130
Whatever size you choose, you can be confident they'll withstand the shifting sands of fashion. Unless you get some of those absolutely massive ones you can fit your hand through.
Jamie Wolf, $790
When you want the ease of a slip-on but more walkability than a mule.
Topshop, $48
I wouldn't go so far as to say a white boot, specifically, but anything at a height that flatters the leg and is comfortable enough to dance in is approved.
Urban Outfitters, $79
(But get one with a strap when your hands are full of coffee/phone/shopping bags/piñata.)
Trademark, $550