The 20 Most Famous Supermodels of the '90s
The '90s brought us "The Big Six." Need we say more?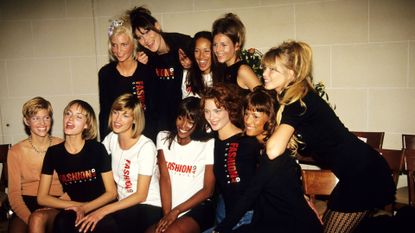 (Image credit: Getty Images/Foc Kan)
Marie Claire Newsletter
Celebrity news, beauty, fashion advice, and fascinating features, delivered straight to your inbox!
Thank you for signing up to Marie Claire. You will receive a verification email shortly.
There was a problem. Please refresh the page and try again.
The Supermodels (note the capital S) of the '90s were pretty much as close to superheroes as we've come. These girls were celebrities in their own right, hosting TV shows, owning restaurants (who can forget Fashion Cafe?), appearing in music videos—like the legendary "Freedom '90" by George Michael—and killing it on the catwalk. While we have Gigi Hadid and Kendall Jenner to obsess over now, modern-day models can credit much of their careers and celebrity to the "Big 6" (comprised of Linda Evangelista, Claudia Schiffer, Naomi Campbell, Kate Moss, Cindy Crawford, and Christy Turlington), who kickstarted our societal obsession with supermodel culture.
Nearly three decades later, these models' impact on fashion and beauty can still be felt. A few of them are even parents to supermodels of their own (Kaia Gerber, we see you). Even more significantly, many of these models are still dominating the fashion scene, fighting back against the notion that only the young can strut down walkways or appear on magazine covers. Without further ado, here are the women who ruled the runway in the '90s and will be our forever be out fashion (and confidence) inspiration.
1/20
Kate Moss
No supermodel, or "anti-supermodel," took the '90s by storm quite like Kate Moss dud. With her boyish, waifish figure and striking features, she was a far cry from the other cover girls of the time. The Croydon beauty was discovered when she was only 14 at JFK Airport by Sarah Doukas, the founder of Storm model agency, and found instant success. Soon, she was appearing on the cover of every fashion magazine and booking international campaigns—none more famous than her controversial Calvin Klein underwear ads, which she starred in at only 18.
2/20
Naomi Campbell
Naomi Campbell was discovered at age 15 while studying ballet at the the Italia Conti Academy of Theatre Arts in London—talk about multi-talented. Her pyramid cheekbones, towering physique, and entrancing almond-shaped eyes set her apart from anyone else and brought her tremendous success: She went on to walk for every famous international fashion house and led "The Big Six," a group of supermodels with a very unapologetic attitude.
3/20
Linda Evangelista
After doing some modeling in her early teens, Linda Evangelista was scouted at a Miss Teen Niagara contest. She moved to New York in 1984 and had steady modeling work, but it wasn't until she took photographer Peter Lindbergh's advice to cut her hair into a bob that she became a sensation. She went on to become one of the most famous faces of the '90s . Her famous confession that she doesn't "wake up for less than $10,000 a day" has immortalized her, and certainly serves plenty of bad b*tch energy that the rest of us can take notes from.
Most recently, Evangelista bravely took to Instagram to share the deep sense of insecurity she's developed after being "deformed" by a failed cosmetic procedure.
4/20
Stephanie Seymour
Stephanie Seymour became just as famous for her wild ways and high profile relationships (she dated Axl Rose—'nuff said) as she was for her high-profile measurements. Richard Avedon even referred to her figure, quite problematically, as "the perfect body."
During her career, Seymour posed for most of the major fashion magazines, as well as Sports Illustrated and Playboy. She also appeared in two Guns N' Roses music videos, "Don't Cry" and "November Rain."
5/20
Helena Christensen
Helena Christensen's career began when she accidentally won the Miss Copenhagen competition (she thought it was a charity fashion show). She went on to represent Denmark in the Miss Universe competition, and eventually began appearing in major fashion magazines, as well as campaigns for Chanel, Versace, Prada, and Victoria's Secret. Her topless appearance in the music video for Chris Isaak's "Wicked Game" is now hailed as one of the sexiest cameos of all time.
6/20
Claudia Schiffer
In 1987, 17-year-old Claudia Schiffer's life changed forever when she met a model scout at a Dusselfdorf disco who convinced her to move to Paris. She found instant success in the City of Lights and was chosen by Karl Lagerfeld to become the face of Chanel. Since then, she's appeared on the cover over 500 magazines and continues to star in campaigns for Chanel, YSL, Dolce & Gabbana, and more.
7/20
Christy Turlington
Christy Turlington was discovered at 14 while horseback riding, and the rest is fashion history. Speaking of history, Turlington also pursued degrees in comparative religion and Eastern philosophy. In the '90s, she was part of the supermodel "trinity' (along with Naomi Campbell and Linda Evangelista) as one of the most popular cover girls of the time. The Metropolitan Museum of Art declared her the "Face of the 20th Century," and not without good reason: She's fronted campaigns for Calvin Klein, Maybelline, and Giorgio Armani, to name just a few.
8/20
Tyra Banks
My goodness, who doesn't know about Tyra Banks? In high school, Tyra Banks landed a contract with Elite Model Management and appeared in Seventeen magazine within the year. After graduating, she planned on going to college, but bowed out in favor of being sent to Paris. She took the catwalks by storm, booking 25 shows her first season. As her career flourished, she allowed herself to gain weight and became fiercely proud of her curvier frame. Since then, she's created and hosted America's Next Top Model and spoken out about issues from race to body image.
9/20
Kristen McMenamy
There's no one in the world quite like Kristen McMenamy. Who else can brag that Karl Lagerfeld walked them down the aisle?
But it wasn't always easy for this beauty: Her unconventional, androgynous look made it difficult for her to book jobs early in her career. Eileen Ford even told her she'd need plastic surgery to find success. But against all odds, she wound up modeling for the likes of Chanel, Versace, and more, as well as working with some of the most storied fashion photographers of the time such as Richard Avedon, Juergen Teller, and Steven Meisel.
10/20
Eva Herzigová
Eva Herzigová's career began when she won a modeling contest in Prague at the age of 16. She was known as the Marilyn Monroe of the '90s because of her gentle features and platinum blonde hair, and she was featured in Sports Illustrated along with high profile campaigns for H&M, Guess, and Agent Provocateur. She is most famous for her Wonderbra "Hello Boys" campaign, which she did in 1994.
Even more impressive? She became a film star, playing Picasso's wife Olga Khokhlova in the movie Modigliani and starring in a film by infamous French film director Gaspar Noé.
11/20
Cindy Crawford
By the '90s, Cindy Crawford was pretty much a household name, but it was that iconic British Vogue cover that transitioned her into supermodel-dom. An appearance with then-husband Richard Gere at the 1991 Oscars in a stunning red Versace gown and an iconic Pepsi commercial at the Super Bowl the following year confirmed her place. She went on to host MTV's House of Style for a time, and has inspired her daughter, fashion megastar and actress Kaia Gerber.
But that doesn't mean Crawford's modeling days are over! She still returns to the runway on occasion, memorably closing the Versace 2018 spring/summer fashion show with several of her '90s contemporaries.
12/20
Shalom Harlow
Shalom Harlow was discovered at a The Cure concert (wild, I know) and began modeling straight out of high school, eventually appearing on numerous magazine covers, editorials, and in runway shows for designers like Alexander McQueen, Chanel, Marc Jacobs, and Versace. She later moved into a brief film career, popping up in films like Vanilla Sky, How to Lose a Guy in 10 Days, and The Jury. She maintained her modeling career well into the '00s, and in 2007, she was named one of the World's 15 Top-Earning Supermodels by Forbes, earning an estimated of $2 million. She keeps a low profile nowadays, but a video of her dancing at a photoshoot for Versace went viral in 2018. She also made a huge splash when she walked Versace's first show in New York City for their Pre-Fall 2019 collection after a seven year catwalk-hiatus.
13/20
Karen Mulder
Mulder was one of the first Guess girls and one of the OG Victoria's Secret model. She graced the cover of Vogue nine times (including the 100th anniversary issue) and was known for her classic, timeless beauty, which earned her the nickname "The Blonde with Class." In 2000, Mulder retired from the modeling industry, and has spoken out about its dangers and her struggle with mental illness. She left fashion, in part for those reasons, and now focuses on her music career.
14/20
Carla Bruni
Italian-born Bruni began her modeling career at 19 and eventually became one of the '90s highest-paid fashion models, working for designers and fashion houses such as Guess, Christian Dior, Givenchy, Paco Rabanne, Karl Lagerfeld, John Galliano, Yves Saint-Laurent, Chanel, and Versace. In 1997, 10 years after her career began, Bruni retired from modeling to pursue a successful career in music, and has released six acclaimed albums. In 2008, she married then-French president Nicolas Sarkozy, and has become involved in the political sphere, drawing on her innate sophistication and sharp intelligence (she's fluent in three languages!).
15/20
Tatjana Patitz
Less of a household name than her fellow '90s supermodels, Patitz joined Christy Turlington, Linda Evangelista, Cindy Crawford, and Naomi Campbell for that legendary British Vogue cover. She was also in the George Michael music video for "Freedom '90," and was considered an original member of "The Big Six." Patitz appeared on over 200 magazine covers during her career, including seven covers of American Vogue and 13 covers of British Vogue, and has modeled in campaigns from Chanel to Ralph Lauren. She now lives on a ranch with her son, is passionate about animals, and even still models from time to time.
16/20
Yasmeen Ghauri
This Pakistani-German model from Québec was discovered while working at a McDonald's. She rose to supermodel-fame quickly, becoming one of the top models of the '90s andwalking for designers liked Chanel, Dior and LaCroix, She ultimately retired from modeling in '97, but paved the way for many South Asian models to come.
17/20
Nadja Auermann
This German supermodel was discovered at a café in Berlin and went on to work with iconic photographers such as Helmut Newton and Peter Lindbergh and walk the runways for Chanel and Dior. This past September, she walked in the Balenciaga Spring 2020 show. The girl's still got it.
18/20
Beverly Peele
Peele was 5 foot 10 by the time she was 12 years old , so you can say that she was basically born to model. She's graced the covers of countless magazines and has walked for Comme des Garcons, John Galliano, and Prada. In 2017, her and her daughter, Cairo, were on the Lifetime show Growing Up Supermodel, which documented her daughter's journey into the world of modeling.
19/20
Angela Lindvall
Lindvall was discovered at age 14, but her career really took off when she was 18: In the fall of '97, she starred in campaigns for Jil Sander with David Sims and Gucci with Mario Testino. She's also walked the runways for the likes of Miu Miu and Prada. These days, she's a devoted mom and yogi.
20/20
Amber Valletta
Amber Valletta enrolled in modeling school at age 15 and once she was scouted at age 17, her career took off. She walked for designers like Dior, Hermes and Prada, and was even the model who wore Jlo's iconic Versace dress down the runway. She appeared on countless magazine covers but left modeling to pursue acting in 2000, soon starring in films such as Revenge and Hitch.
These days, she's back to her modeling roots and has even walked in the recent Alexander McQueen and Stella McCartney Fall 2020 shows.
...
For more stories like this, including celebrity news, beauty and fashion advice, savvy political commentary, and fascinating features, sign up for the Marie Claire newsletter (subscribe here).
Celebrity news, beauty, fashion advice, and fascinating features, delivered straight to your inbox!
Katie Attardo is the Accessories Editor at Marie Claire, covering all things fashion and jewelry-related.