27 Times the Royals Dressed Down and We Loved It
We almost didn't recognize them.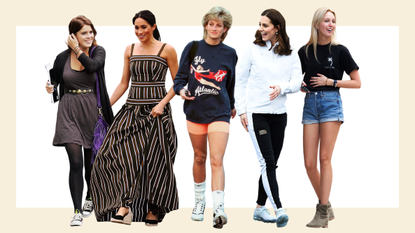 (Image credit: Design by Morgan McMullen)
No matter how glamorous life may be for princesses and queens, even royals need a fashion break from their Manolo Blahniks and Alexander McQueen coat dresses. Kate Middleton loves jeans and sneakers while Princess Charlene of Monaco makes a t-shirt and leather jacket look as good as a gown. The late Princess Diana even favored orange biker shorts, which had a come-back moment last season. Though royals are not often photographed in their laidback looks, when they are, we're just as fascinated with their easy-going outfit choices as we are with their tiaras and sashes. Curious to see which royal lady has dressed down on more than one occasion? Read ahead.
1/27
Queen Letizia
Queen Letizia of Spain arrived to Beira, Mozambique, in 2019 dressed in khaki pants, hiking boots, and a white button-down shirt. The royal, who usually favors jumpsuits and dresses from brands like Zara, kept it casual and comfortable. This was Letizia's fourth cooperation trip after visiting Honduras and El Salvador, Senegal, and Dominican Republic and Haiti.
2/27
Meghan Markle
The Duchess of Sussex stopped by New York City for a baby shower with close friends such as Amal Clooney, Abigail Spencer, Serena Williams, and Gayle King. Meghan wore a navy baseball cap and matching sweats set with sneakers. Though she tried to remain as anonymous as possible, her arrival did not escape the paparazzi's notice.
3/27
Princess Anne
In 1984, Princess Anne visited Gambia to work as a patron for Save the Children. She wore a simple yellow vest atop a pleated khaki skirt, plus boots and a hat. The outfit was intended to help the princess blend in, so that she didn't distract from the work of the organization.
4/27
Sarah, Duchess of York
Even royals partake in school pick-up duties. Sarah, Duchess of York, is seen here was picking up her daughter, Princess Beatrice, from school in 1992. The Duchess of York wore a pair of casual polka dot leggings to match her top, a cardigan, and sneakers.
5/27
Caroline, Princess of Hanover
For a casual hangout with friends in 1970, Caroline de Monaco covered up her swimsuit in a button-down denim shirt. She channeled the ultimate relaxed beach-babe vibes.
6/27
Kate Middleton
The Duchess of Cambridge loves playing sports with children. In 2019 during a visit to Belfast, Ireland, Kate took part in a soccer training session at the National Stadium in Belfast. Since she was running around, Kate rocked a pair of black jeans, blue sneakers, and a striped v-neck sweater.
7/27
Princess Charlene
Princess Charlene is a royal who can rock leather. She donned this laidback, edgy ensemble while attending the 24 Hours of Le Mans race in June 2019 in Le Mans, France. We'll take a good leather jacket over a pretty ball gown any day.
8/27
Princess Anne
Princess Anne sported a denim shirt, pants, and red bandana for an equestrian event in Luhmühlen near Hamburg on 19 July 1977. Her then-husband Mark Phillips wore a more formal ensemble, though we like Princess Anne's Rosie-the-Riveter look.
9/27
Meghan Markle
While visiting the Moroccan Royal Federation of Equestrian Sports in 2019, Harry and Meghan stopped to admire some horses. The Duchess of Sussex, who was pregnant at the time, wore a mens J.Crew jacket, black jeans, and black boots.
10/27
Princess Eugenie
The princess fit right in with her I-just-did-a-yoga-class look while out and about in New York City in 2014. Famous as she is, she was hardly recognizable in a blue t-shirt, striped top, and black leggings.
11/27
Princess Diana
Princess Diana couldn't have predicted biker shorts would become a trend in 2018 when she was photographed in this neon orange pair in 1995. The late princess paired hers with a Virgin Atlantic sweatshirt, long socks, and chunky sneakers for a "I just left my Zumba class" outfit. Unlike Meghan Markle or Kate Middleton, who we likely won't ever see in biker shorts, Princess Di rocked hers without a care in the world.
12/27
13/27
Meghan Markle
The Duchess of Sussex's version of dressing down consisted of a billowy Reformation striped dress and lace-up brown sandals from Sarah Flint. This flowy ensemble was one of the more comfortable pregnancy looks Meghan packed for her 16-day royal tour back in October 2018.
14/27
Princess Beatrice
Princess Beatrice blended right in with all the mall shoppers back in 2010. The then 22-year-old royal wore a graphic top with baggy blue jeans and a pair of beat up green Converse sneakers. If we didn't know better, we'd mistake her for one of our friends who loved to frequent Journeys.
15/27
Meghan Markle
For a walk through the Abel Tasman National Park in New Zealand, Meghan wore a Seasalt Cornwall jacket and her vegan Stella McCartney x Adidas sneakers. Though we would have opted for black leggings, Meghan, being a duchess, chose Outland Denim jeans as a comfier alternative to a skirt or dress.
16/27
Princess Maria-Olympia of Greece
Princess Maria-Olympia of Greece, who is 22 years old, is one of the few royals who can wear whatever she likes. For a trip to New York City in 2016, the princess explored the big apple in a black T-shirt, denim shorts, and gray booties. This is one of the most laidback outfits we've seen on a royal to date!
17/27
Kate Middleton
Before Kate became the Duchess of Cambridge, she was just another student waiting to graduate from the University of St. Andrews in Scotland. Taken in 2005, this photo shows Kate in a tiny white cami and low-rise blue jeans with that classic early 2000s wide belt as an accessory. Though the Duchess of Cambridge would never be caught in such a look now, we fully appreciate this good throwback outfit.
18/27
Princess Charlene of Monaco
While walking around Portofino, Italy in 2013, Princess Charlene of Monaco swapped her fancy ballgowns for a plain, body-hugging knit dress and silver sandals. The vacation look is effortless. We recommend everyone pack the same in their travel carry ons.
19/27
Meghan Markle
The first time we saw Meghan in sneakers was during the Invictus Games on the royal tour. She wore a pair from Veja, a French brand focused on fair trade and sustainability. Prince Harry matched his wife in an equally casual Invictus jacket and denim look, though he wore a pair of Adidas sneakers.
20/27
Queen Rania of Jordan
Queen Rania of Jordan went incognito at LAX with an all-black outfit in 2017. This was one of the rare instances where we saw the royal not dressed to impress in public. Though, this outfit was still slightly more dressy than the standard American sweatpants-and-leather-jacket airport look.
21/27
Meghan Markle
For a casual day at the beach, Meghan slipped into a striped maxi dress by Martin Grant and a pair of Castañer espadrilles, which she took off once her feet hit the sand. This was the royal-approved counterpart to a normal's bikini and denim shorts.
22/27
Princess Diana
For a visit to Luanda, Angola in 1997, Princess Diana stayed comfortable in the heat with a sleeveless denim top and olive-colored capris. She wore a pair of woven espadrille flats. The royal was ahead of her time, even in such a casual look, as her entire outfit is something we'd gladly still wear today.
23/27
Princess Eugenie
Like her sister Princess Beatrice, Princess Eugenie's casual footwear of choice is a pair of Converse. In 2009, she wore them with black tights, a belted dress, and a cardigan on her first day at Newcastle University. Did she master a laidback yet comfy college outfit? I vote yes.
24/27
Crown Princess Mette-Marit of Norway
Crown princess Mette-Marit of Norway participated in a waste clean up in 2016 and looked almost unrecognizable in a gray hoodie, top, jeans, and brown boots (with a neon yellow sanitation vest). For reference, this is what the princess looks like for most events—tiara, gown...the whole nine yards. I know.
25/27
Kate Middleton and Prince William
In 2011, Kate and Wills, newly married, embarked on their first royal tour together in Canada. The two donned matching red hoodies after being made honorary members of the Canadian Rangers. Both Kate and William more closely resembled college students on summer break in these looks than the stately royals they are now.
26/27
Queen Letizia
In 2010, Queen Letizia flew under the radar while Christmas shopping in Madrid, Spain. The royal blended in with shoppers by wearing sunglasses, a puffer coat, jeans, and buckled booties. Though I'm sure she was trailed by security detail, the royal looked like any other person you'd pass on the street.
27/27
Princess Diana
An iconic look if there ever was one: Diana looked casual and straight out of a magazine in this jeans and oversized blazer look.
•••
For more celebrity news, beauty and fashion advice, savvy political commentary, and fascinating features, sign up for the Marie Claire newsletter.
Marie Claire email subscribers get intel on fashion and beauty trends, hot-off-the-press celebrity news, and more. Sign up here.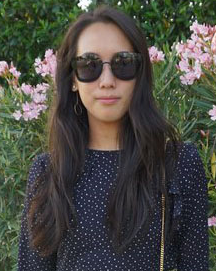 Marina Liao is the former fashion news editor at MarieClaire.com, where she covered celebrity style (from Meghan Markle to Katie Holmes), fashion trends, and shopping advice, plus conducted original interviews with industry insiders. She's also had many opportunities to write content in other areas such as beauty, food, tech, and even home. Her previous fashion stints include POPSUGAR and Cosmopolitan.