Queen Rania and Melania Trump Had a Twinning Moment in Pink
The royal and King Abdullah II visited the White House.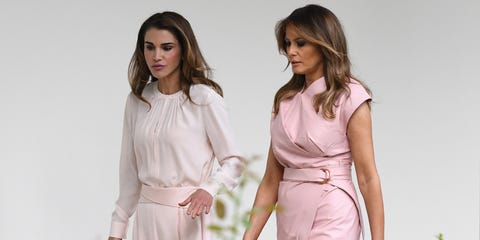 Kate Middleton and Meghan Markle have made their mark as some of the best-dressed royals in history. But there's another regal woman leaving a fashion legacy behind: Queen Rania of Jordan. A former marketer for Apple in Amman, Rania met then-Prince Abdullah II bin al-Hussein of Jordan in 1993 before marrying him later the same year. She became a queen at just 28 years old. Since receiving the title, the 47-year-old royal has accumulated one jaw-dropping wardrobe (as her 4.5 million fans on Instagram can attest to). Queen Rania has access to coveted designers such as Alexander McQueen and Valentino and her fashion choices might be more daring than either Kate or Meghan's. She's not afraid to wear bold colors or prints and on more than one occasion, has even bared her shoulders. Check out her most fashionable moments, ahead.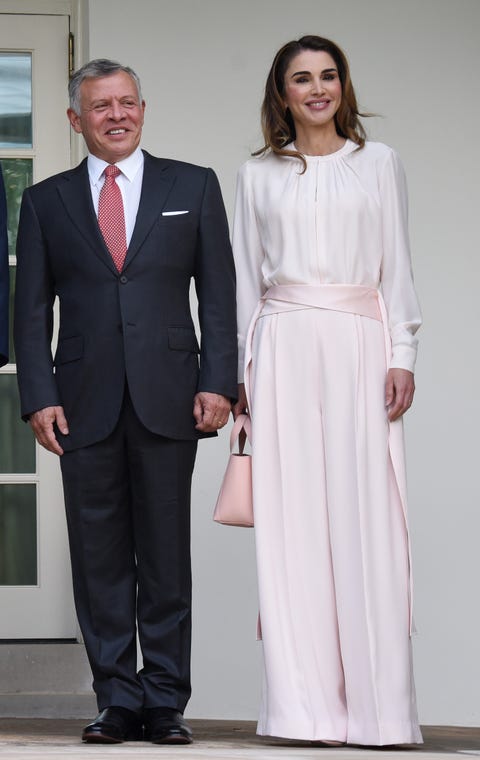 June 25, 2018
King Abdullah II of Jordan and Queen Rania of Jordan arrived to the White House for a meeting with President Donald Trump and Melania Trump. The royal wore a pastel pink jumpsuit by Adeam.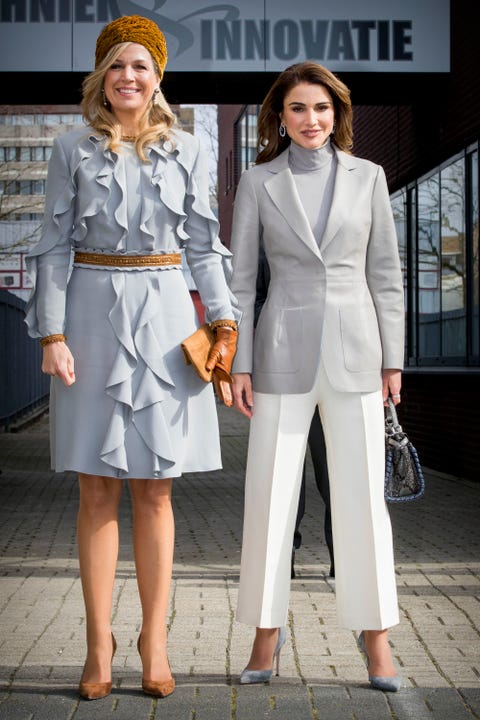 March 21, 2018
Queen Maxima of The Netherlands (left) and Queen Rania twinned in gray while visiting the ROC Mondriaan technical school.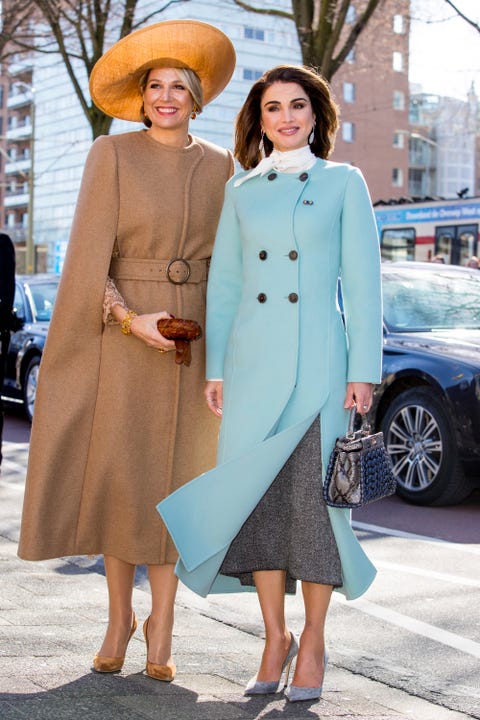 March 20, 2018
Queen Rania met up with Queen Maxima to visit the Gemeentemuseum in The Hague, Netherlands. Queen Maxima wore a taupe-colored cape coat while Queen Rania chose a pastel blue outerwear.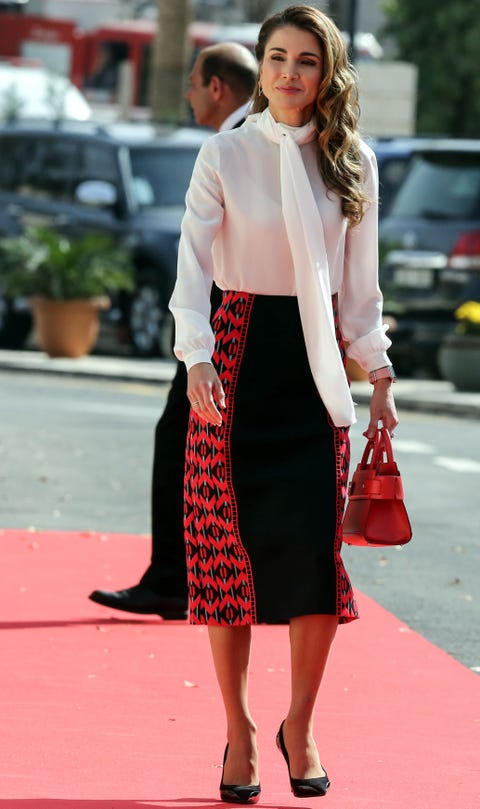 November 12, 2017
The royal arrived to the opening of the ordinary session of parliament in Amman, Jordan. She wore a tie-neck white blouse and printed midi skirt.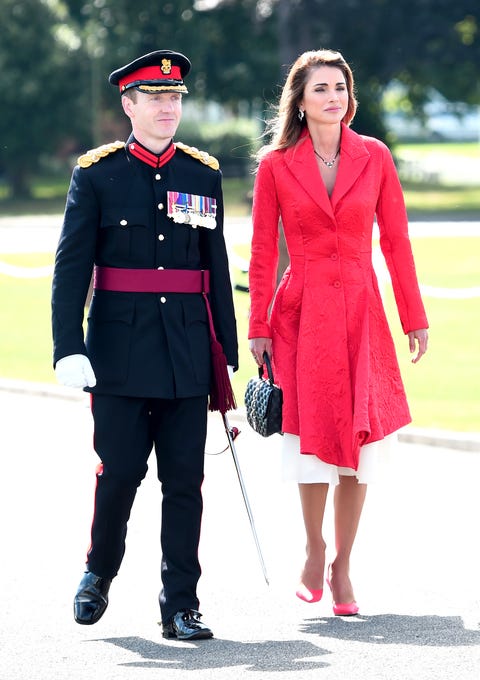 August 11, 2017
Queen Rania of Jordan stood out in a bright red coat and pink pumps while attending the Sovereign's Parade at the Royal Military Academy Sandhurst in Camberley, England.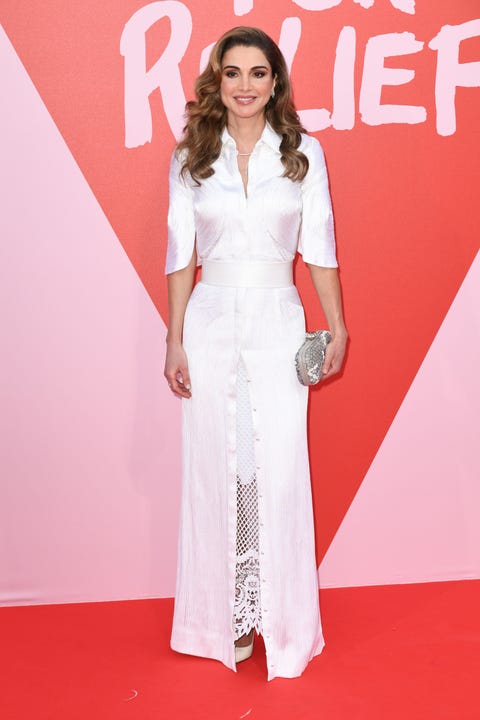 May 21, 2017
Queen Rania wore a crisp white Givenchy Haute Couture dress to the 70th Cannes Film Festival.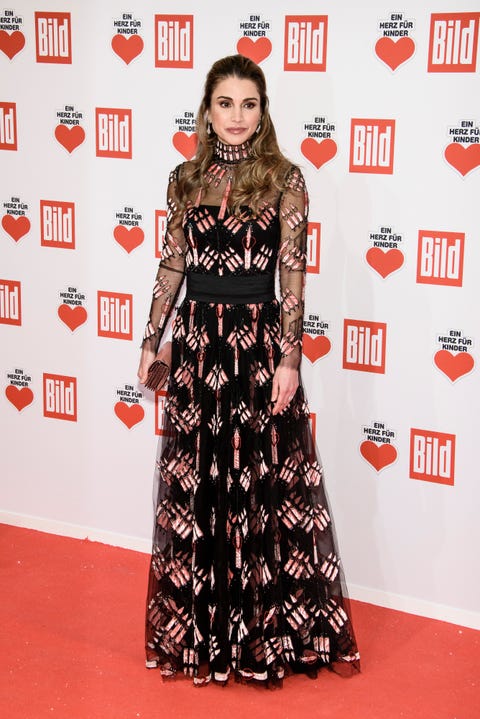 December 3, 2016
For the Ein Herz Fuer Kinder Gala, Queen Rania wore a long-sleeve embellished gown.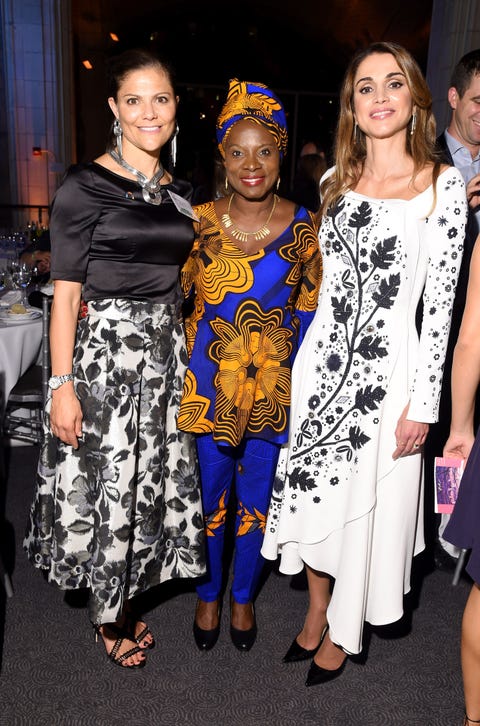 September 20, 2016
Queen Rania wore a black-and-white floral print dress to the Global Goals Awards Dinner at Gustavino's in New York City.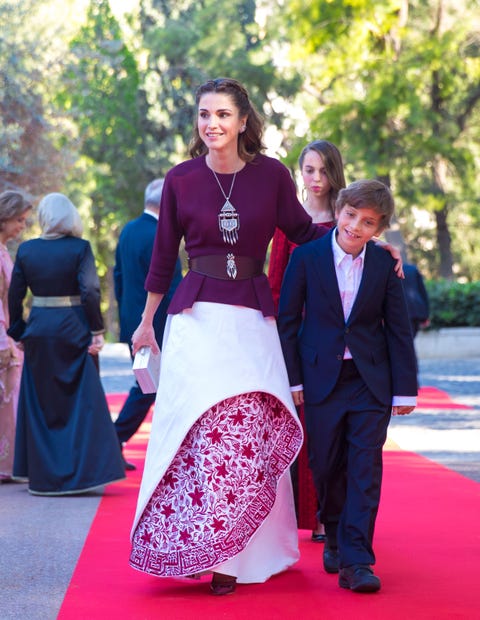 May 25, 2016
Queen Rania wore a gown by Jordanian-Palestinian label Hama Fashion to celebrate Jordan's 70th Independence Day with her family. While the top portion of her look was a solid plum color, the bottom portion featured a peek of a star print.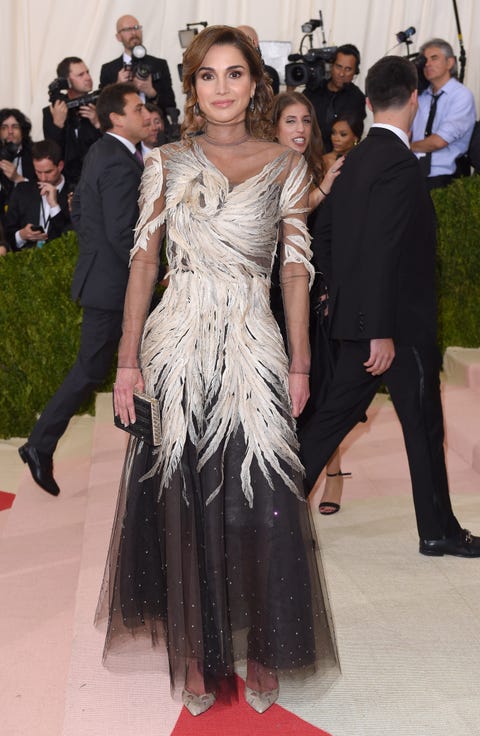 May 2, 2016
Queen Rania arrived to the Manus x Machina: Fashion in an Age of Technology Met Gala in a feather-and-sequin Valentino gown.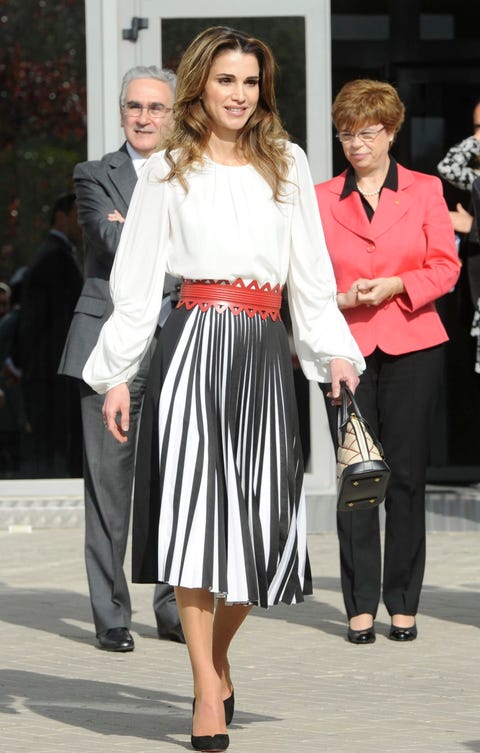 November 19, 2015
For a visit to the Prado Media Lab cultural center, Queen Rania wore a white billowy-sleeve top and a black-and-white skirt. A red belt tied together the look while also giving it a pop of color.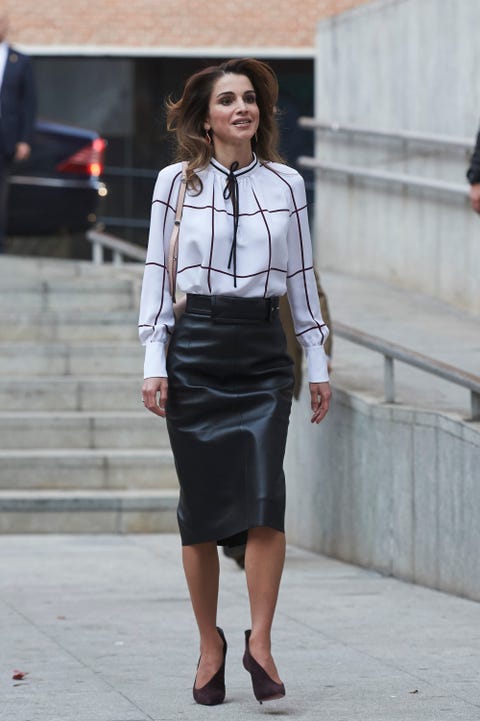 November 19, 2015
Queen Rania dressed up her belted leather skirt with a silky grid print blouse and asymmetrical pumps. She was visiting the Prado Media Lab cultural center in Madrid, Spain.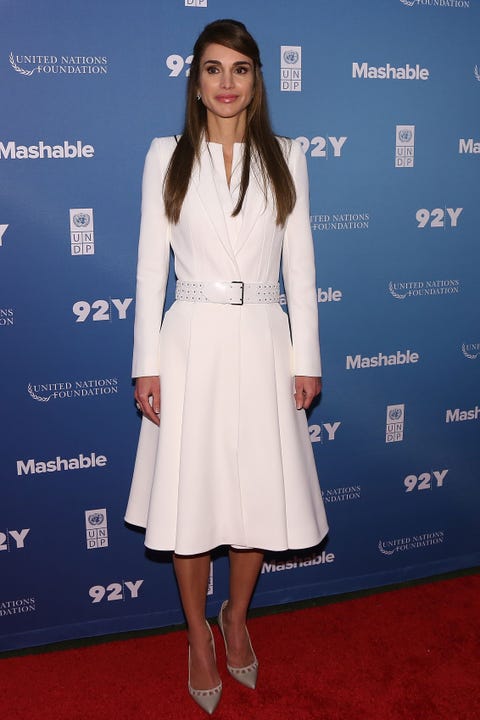 September 27, 2015
For the 2015 Social Good Summit, Queen Rania arrived in a white Alexander McQueen dress and Valentino pumps.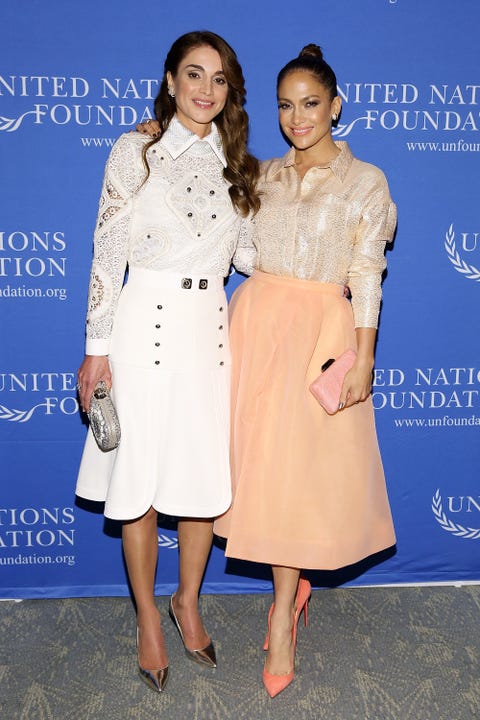 September 25, 2015
Queen Rania rubbed elbows with Jennifer Lopez at the UN Foundation's Gender Equality Discussion in New York City. While the royal wore an all-white look, Jennifer stunned in a peachy ensemble.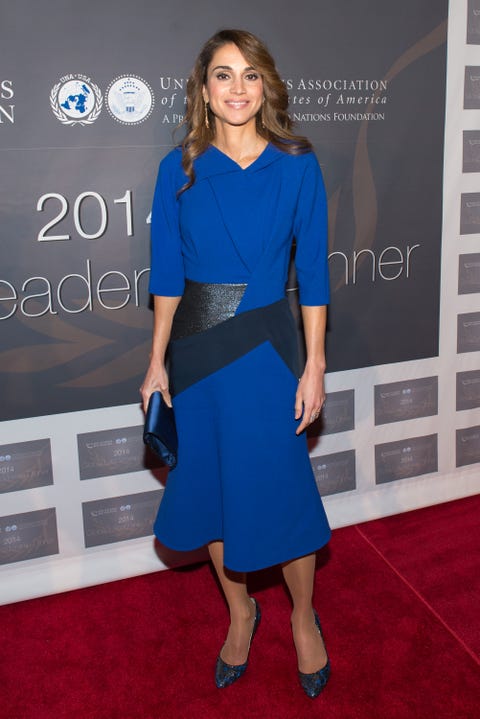 October 22, 2014
Queen Rania attended the 2014 Global Leadership Dinner in New York City. Her royal blue dress featured black geometric designs, and she color-coordinated her clutch and shoes.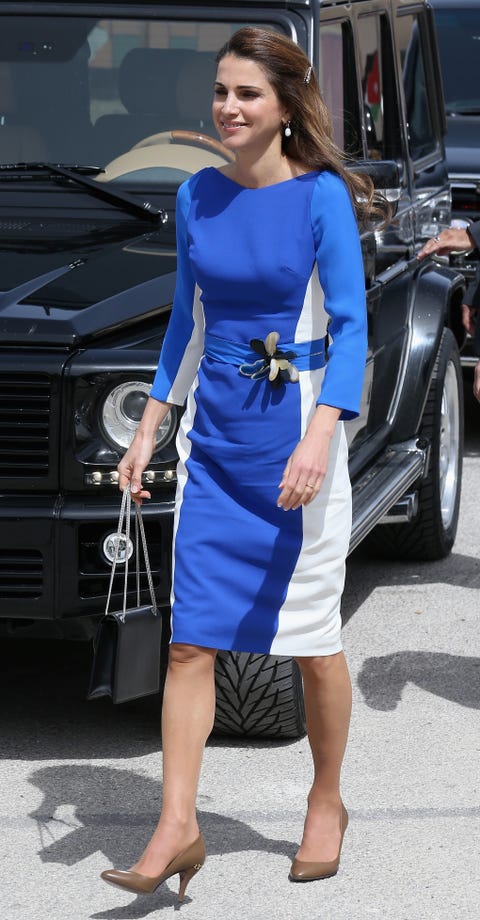 March 12, 2013
Queen Rania arrived to the Mahis School in Jordan and stepped out of the car while wearing a blue-and-white dress that featured a flower decal at the waist.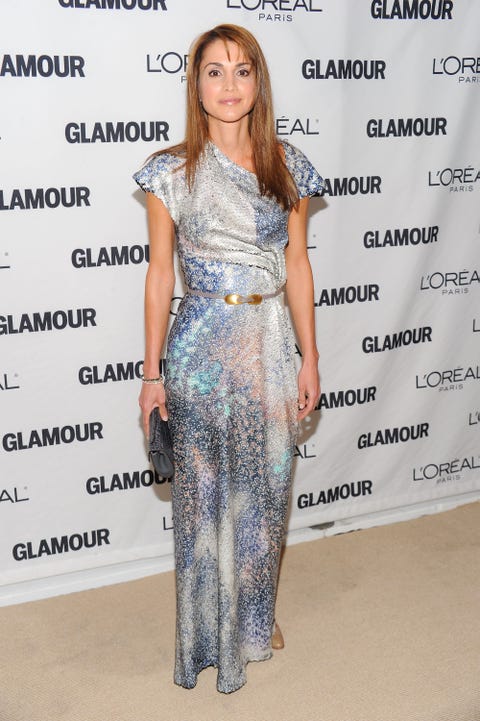 November 8, 2010
Queen Rania attended Glamour magazine's 2010 Women of the Year Gala in a printed dress from Halston.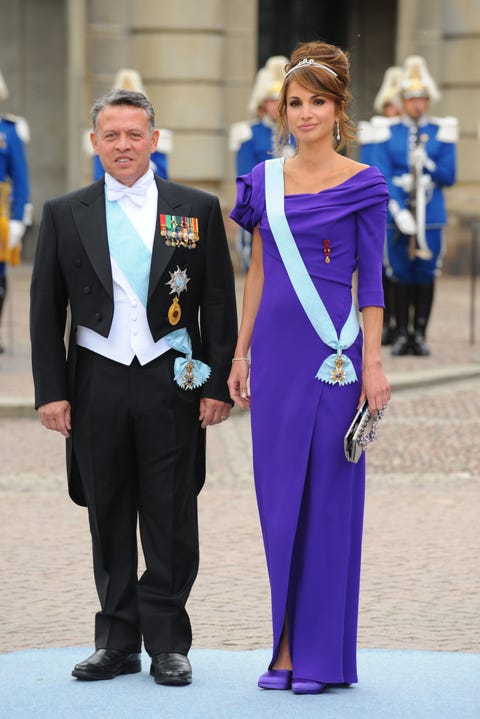 June 19, 2010
Queen Rania and her husband, King Abdullah of Jordan, attended the royal wedding of Crown Princess Victoria of Sweden and Daniel Westling. Queen Rania arrived in a jewel-tone purple dress with matching shoes. She wore a simple headband instead of an elaborate fascinator.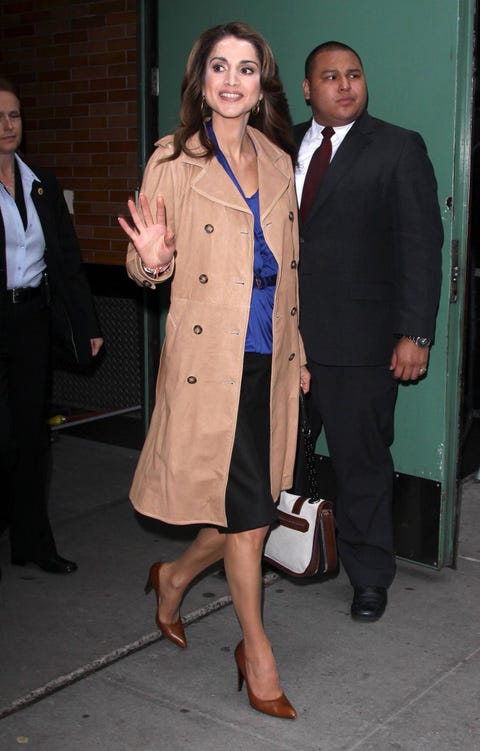 April 27, 2010
Queen Rania left Good Morning America in a polished beige trench coat that covered up her blue top and black skirt. She wore a pair of brown pumps.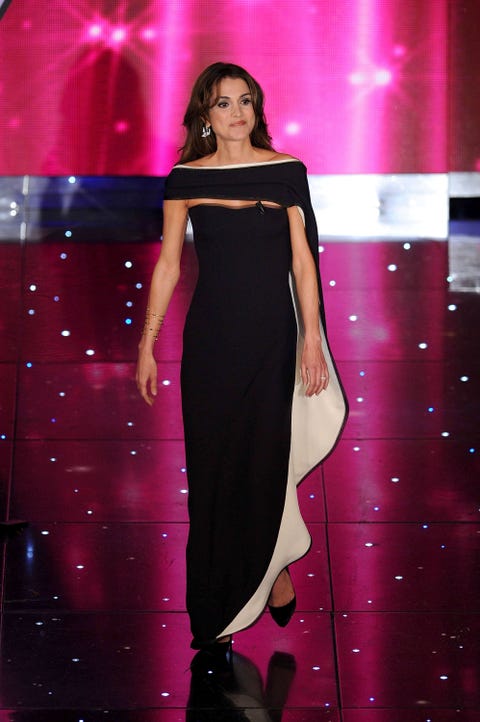 February 17, 2010
For the Sanremo Song Festival at the Ariston Theatre in San Remo, Italy, Queen Rania showed up in a ruffled black-and-white column dress.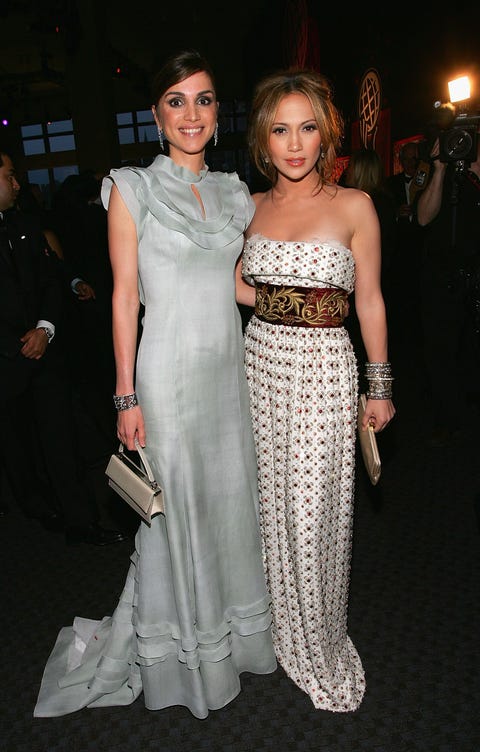 May 8, 2006
Jennifer Lopez and Queen Rania seem to run into each other quite often (are they secretly besties?). The pair posed for photos at a party celebrating Time Magazine's 100 Most Influential People issue. The royal wore a ruffled blue dress while Lopez chose a strapless printed gown with an embroidered belt.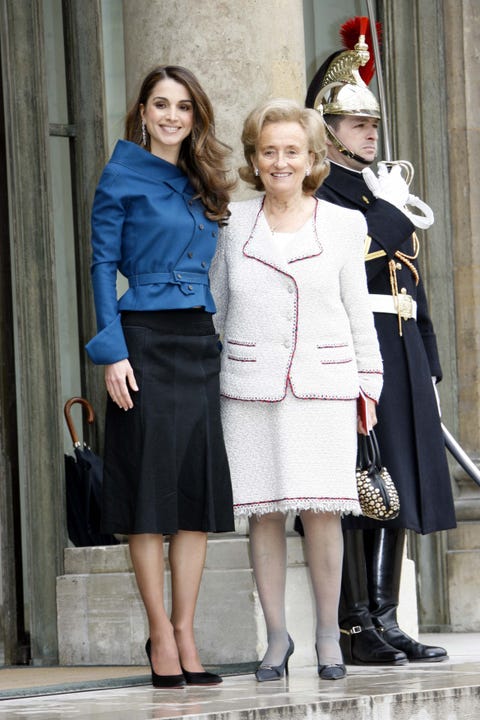 March 20, 2006
Queen Rania chose a structured blue top and black pleated skirt for her meeting with Bernadette Chirac, wife of former French President Jacques Chirac.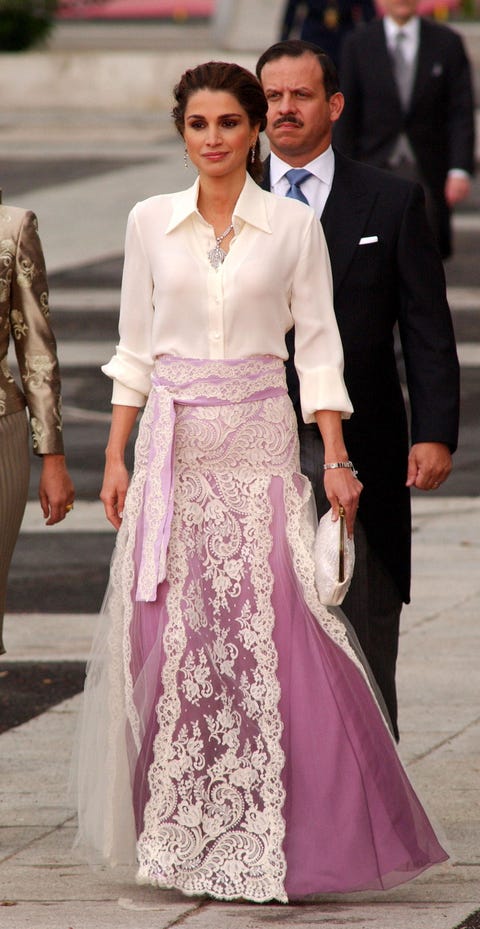 May 22, 2004
Queen Rania wore a lace purple skirt and white button-down shirt for the wedding of then-Spanish Crown Prince Felipe de Bourbon and former journalist Letizia Ortiz at the Almudena cathedral in Madrid.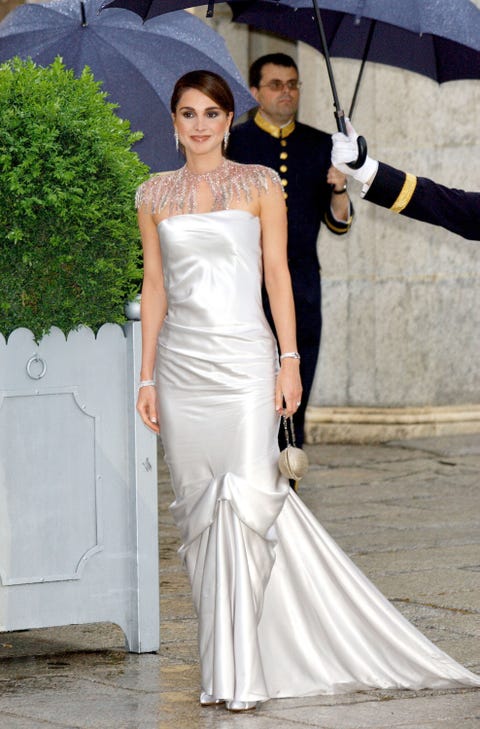 May 21, 2004
Queen Rania braved the rain in a silver gown for the pre-wedding royal dinner gala for then-Crown Prince Felipe of Spain.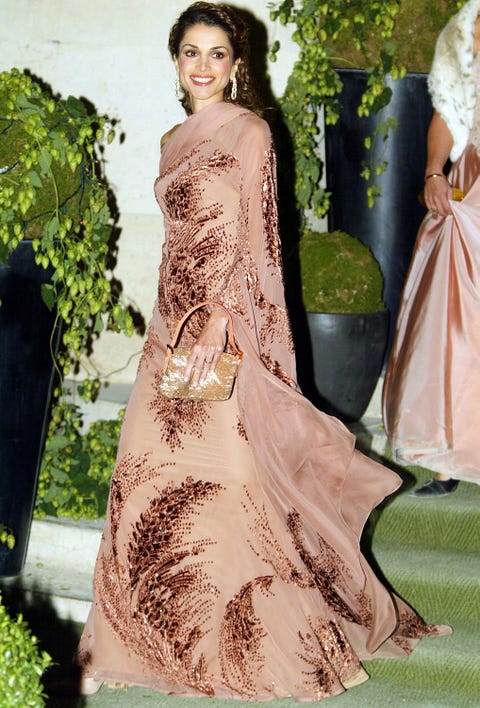 September 30, 2002
Queen Rania of Jordan arrived at a gala dinner for the Jordan River Children Program in Versailles, France. She wore a beautifully draped blush dress with beaded feather designs from Elie Saab and carried a sequin gold clutch.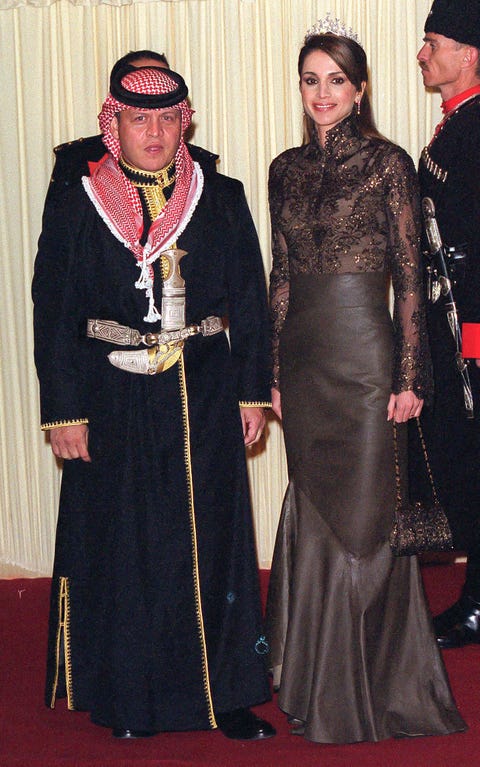 November 8, 2001
King Abdullah and Queen Rania dressed up for a banquet at the Spencer House during a state visit to London.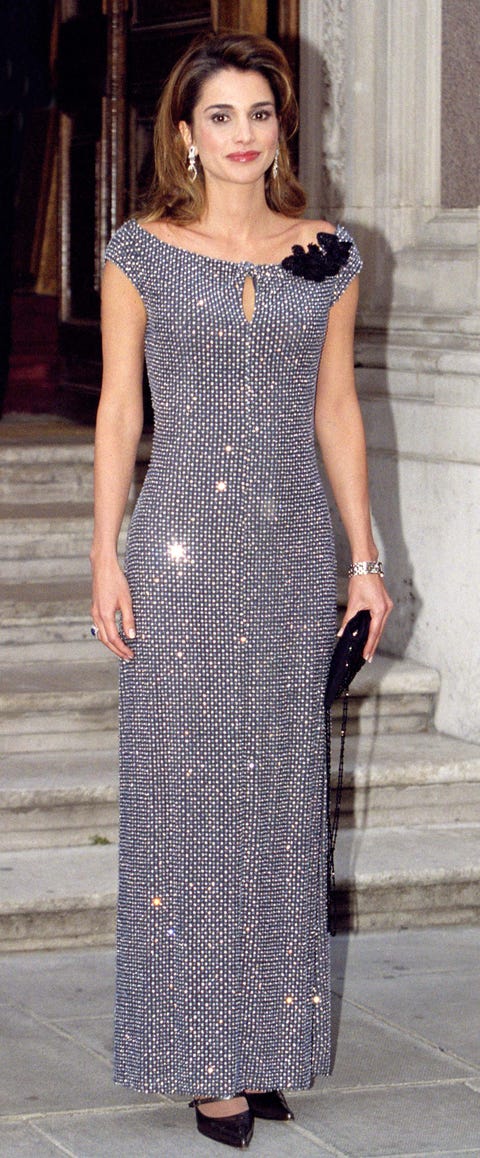 June 21, 2001
Queen Rania attended The Midsummer Night's Dream Gala Charity Ball in London in a glittery off-the-shoulder dress.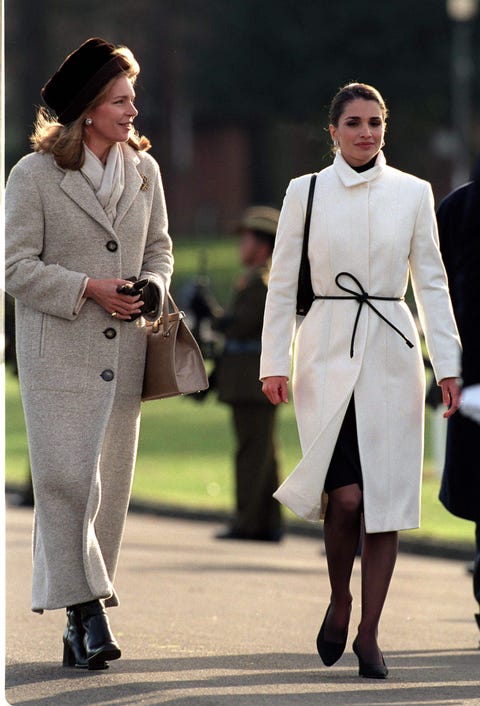 December 10, 1999
Queen Rania covered up in a cream-colored coat while attending the Sandhurst Military Academy Passing Out Parade.
This content is created and maintained by a third party, and imported onto this page to help users provide their email addresses. You may be able to find more information about this and similar content at piano.io