Feminist Gift Ideas for Your Patriarchy-Resisting Friends
Bond over your commitment to freedom, equality, and strength.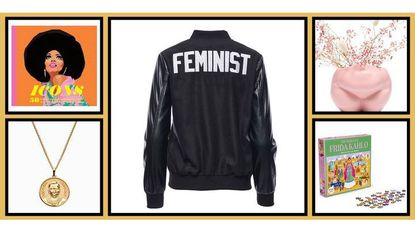 (Image credit: Future)
There are brands who talk about empowering women to feed into the timely narrative, and then there are brands who are actually doing it by providing inclusive sizing and a safe environment for their staff. Sometimes it's hard to discover the ones in the latter group, especially when the first item that pops up when googling "feminist gifts" is that "The Future Is Female" T-shirt everyone and their mother owns. If you want to avoid gifting clichés and are on the hunt for something truly special, we rounded up the perfect gifts for the badass women in your life that speak to everything intersectional feminism stands for—diversity, equality, inclusivity, empowerment, and freedom—from brands that are doing it right.
1/33
Chronicle Books 'Icons' By Micaela Heekin & Monica Ahanonu
Filled with stunning illustrations by artist Monica Ahanonu, this book celebrates 50 of the most iconic women in politics, pop culture, human rights, and more. From Diana Ross to Yayoi Kusama to Michelle Obama to Dolly Parton, this coffee table book will unequivocally inspire you to be the best version of yourself.
2/33
Phenomenal "I'm Speaking" Crewneck Sweater
Founded by Meena Harris (as in the niece of Vice President-Elect Kamala Harris!), Phenomenal is a clothing brand that brings awareness to various important social causes. This cozy crewneck is a reference to a moment during the VP debate that resonated with millions of women around the world.
The brand also has a host of collections focused on celebrating one's identity, such as this "Phenomenally Trans" T-shirt, "Phenomenally Indigenous" T-shirt, and "Phenomenally Latinx" T-shirt, to name a few.
3/33
Purpose Jewelry Handcrafted Spark Hoop Earrings
4/33
Hilary MacMillan 'Feminist' Jacket
Has a more badass vegan leather jacket ever existed?! This covetable statement piece is from Canadian designer Hilary MacMillan, who only uses high-quality, cruelty-free fabrics in all of her creations.
5/33
Kazi Beaded Soft Pink + Pearl Coasters
There's so much to be obsessed with when it comes to KAZI products. The brand creates substantial impact throughout Africa by creating fair wage live-changing jobs for thousands of previously impoverished women across rural areas. Here, a decorative vase that works with any decor style.
6/33
The World of Frida Kahlo Puzzle
7/33
Avre Energee Light Grey Sneakers
Avre is a new women-founded, eco-friendly sneaker brand any sneakerhead should have on their radar. Besides making chic, comfy shoes from recycled materials (I own a pair and can attest to how cushy and nice they feel), the brand gives back. Avre donates 10 percent of all proceeds to Oceana, an organization which protects the world's oceans, as well as Girls in Tech, a non-profit that aims to put an end to gender inequality in high-tech industries.
8/33
Awe Inspired Ruth Bader Ginsburg Necklace
9/33
Girlfriend Collective Canyon Classic Hoodie
In case your loved one has yet to try Girlfriend Collective, introduce them to their new favorite ethically-made activewear line with the brand's wildly comfy hoodie. Size inclusivity is at the core of Girlfriend Collective—each item on its site comes in sizes XXS through 6XL. (Don't forget to scoop up a Girlfriend Collective promo code before you hit checkout.)
10/33
LOLA Activewear The Shape High-Waisted Leggings
Designed by Alma Adrović, the former head of design at Lululemon and Women's Activewear at Nike, LOLA Activewear is a new athleisure brand making leggings for sizes 0 through 24. As if the flattering and comfy fit weren't enough to make us obsessed, the brand is currently running a BOGO promo, so you can treat your friend and get a pair for yourself too. What's more is that for each pair of leggings sold, LOLA has pledged $1 to the awareness and prevention of teen suicide and self-harm. The brand will be donating these proceeds to the Trevor Project and To Write Love on Her Arms.
11/33
Redoux Candle 529
Founded by 25-year-old Asia Grant, Redoux NYC is a beauty brand that's steadily building a cult following. Support small businesses and treat a powerful woman in your life who does it all to the brand's 529 candle. To give you a sense of how beloved the spicy and citrus-y candle is, it has already sold out on 10 separate occasions.
12/33
NEOCOCO Mother & Child Silk Scarf
Proceeds from this luxe scarf, made out of 100 percent silk, helps provide female refugees entering the United States with employment. The brand behind the scarf, Neococo, partners with resettlement agencies such as the IRC (International Rescue Committee), Program for Torture Victims, and L.A. Downtown Women's Center to train and support women to work in a safe environment where they can contribute to society and their families.
13/33
Anissa Kermiche Popotelée Moulded Pot
If the feminist you're shopping for has an eclectic decor taste, this vase celebrating the female form is certain to spark joy. The decorative object looks brilliant with or without flowers.
14/33
Oluna The Chiara Pant
A pair of comfy sweats is a must-have these days. For a splurge you can feel good about treating a friend to, meet social impact start-up Oluna. For every pair of pants sold, the brand aims to bring awareness to menstrual health inequality and donates a year's supply of period products to an American woman in need.
15/33
Tatcha Hydration Obento (Set of 4 Moisturizers)
This limited-edition set contains all four of beloved beauty brand Tatcha's face moisturizers. This self-care gift not only works for every skin type, but is a gift that gives back as well: A portion of every Tatcha purchase goes toward the brand's Beautiful Faces, Beautiful Futures program, which supports girls' education. As of September 2020, Tatcha has funded 4 million days of school for underprivileged girls around the world.
16/33
Michael Stars Feminism Is for Everybody T-Shirt
This T-shirt is more than just a perfectly boxy, everyday top. From now through January, Michael Stars will be donating 50 percent of the sales from this top to the ERA Coalition, who is fighting to make equality a constitutional reality for everyone.
17/33
Knix The Dream Short
18/33
MR Label Bentley Bag with Femme Embroidery
Founded by 22-year-old Maddy Ritholz, MR Label is a new vegan handbag line sustainably made in NYC. May we suggest the label's very-'90s embroidered "Femme" satin bag?
19/33
ThirdLove Gift Card to Buy A New Bra
A comfortable bra is the gift that keeps on giving. For the uninitiated, ThirdLove has been championing size inclusivity from the very beginning and offers half sizes. Notably, the women-founded DTC line is partnered with I Support the Girls, Soles4Souls, Good 360, and St. Anthony's, donating over $20 million worth of bras to women in need.
20/33
Tamara Mellon Soho Boot
Tamara Mellon's shoes are undoubtedly a splurge, but if you're after a luxe gift, shop a designer who's cared about empowering women since day one. The Jimmy Choo co-creator famously wasn't paid the same amount as male execs at the company she helped create in the '90s, and has been a vocal figure in the fight for equal pay since.
21/33
Golde Clean Greens Face Mask
Self-care is a privilege. Spoil your friend with a mask from GOLDE, a Black-owned, woman-founded brand. The brand's Clean Greens mask works to remove impurities, brighten the skin, and has been described as green juice for the skin.
22/33
Eriness "Resist" Necklace