Editors handpick every product that we feature. We may earn commission from the links on this page.
The Best Tweed Jackets to Buy for Spring
Textured and true to their society roots, these investment pieces never go out of style.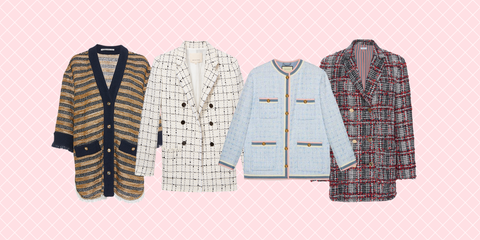 Ah, spring. Time to ditch the heavy overcoat, and walk to work in a light, sophisticated jacket that tells the world I have power and style. Here, Cameron Silver, founder and owner of Decades Inc. vintage boutique, tells us why tweed jackets are always worth investing in. (Keep scrolling for our favorites of the season.)
Marie Claire: What are people pairing with their tweed jackets?
Cameron Silver: Due to the meticulous process of weaving the fabric, tweed jackets were traditionally a symbol of status among the landed gentry. Now it's fun to pair them with the unexpected: leather miniskirts, knee-high boots, and turtlenecks.
MC: How have you seen the classic tweed jacket take on a contemporary spin?
CS: Traditional tweed jackets were hip length, buttoned, and collared. The original silhouette has been elongated into trench-length coats, shortened and cropped, fringed, and, overall, interpreted to accommodate modern trends.
MC: What makes tweed jackets such an integral part of women's wardrobes today?
CS: A tweed jacket is one of those pieces that will live in their closet season after season; they can wear it to the office or the grocery store, a dinner date, or brunch. It's enormously effective at amplifying simple outfits.
2
Button-Embellished Houndstooth Tweed Blazer
Balmain
net-a-porter.com
$4,095.00
$2,866.50 (30% off)
6
Thom Browne Tartan Tweed Sack Jacket
Thom Browne
farfetch.com
$1,080.00
•••
This story appeared in the March 2019 issue of Marie Claire.
This content is created and maintained by a third party, and imported onto this page to help users provide their email addresses. You may be able to find more information about this and similar content at piano.io