How to Style Skirts, According to Fashion Experts
I'll be twirling into spring.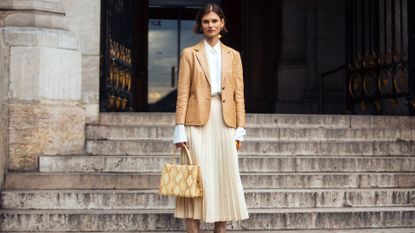 (Image credit: Melodie Jeng/Getty Images)
Marie Claire Newsletter
Celebrity news, beauty, fashion advice, and fascinating features, delivered straight to your inbox!
Thank you for signing up to Marie Claire. You will receive a verification email shortly.
There was a problem. Please refresh the page and try again.
From midi to maxi to micro, teeny-tiny, "that's more of a belt than a garment," let's talk skirts. While certain silhouettes result from viral fashion phenomena (looking at you, the Miu Miu mini), the garment itself is immune to the comings and goings of the trend cycle. It's perennial; like a good pair of jeans or a well-loved tee, the skirt is a forever favorite for all wardrobes. Ahead, two fashion stylists, Heather Newberger and Mickey Freeman, elaborate on why the item will always be pertinent and offer insight on how to style skirts of all lengths and materials—including, yes, the oft-debated mini skirt. You'll find a slew of skirt outfit ideas and an edit of options to shop for the upcoming spring and summer seasons.
What to Keep in Mind
Pay Attention to Proportions
"When styling skirts, always remember to opt for one that accentuates your unique silhouette," Freeman, a celebrity stylist who works with the likes of Keke Palmer and Sierra Capri, shares with Marie Claire over email. "It is, in most cases, a good idea to choose the garment that elongates, but you also want to consider that the overall look is relatively proportionate."
"More so than pants, I think skirts are a place where footwear can shine," Newberger expresses. "It's super easy to dress up or down any skirt with the perfect shoe; Pairing a skirt that may feel too elevated can easily become cheeky with the right sneakers or chic with a pair of cream ankle boots that have a pointed toe," the stylists illustrates.
Newberger urges you to, yes, consider a few styling guidelines but also that you throw the rulebook out the window on occasion. Experiment with a few skirt outfits featuring "two items you think would never go together [because they] might just go together—especially if one is a skirt," the stylist says. Her go-to unconventional combos are those that "become exaggerated versions of themselves: Pairing an oversized sweater with a micro mini; Finding a top that shows off your underboob and wearing it with a flowing maxi; Dressing down your midi with a pair of combat boots."
How to Style Maxi Skirts
"I feel like I'm always pushing a front tuck, but, for me, it's the chicest way to style a maxi," Newberger expresses. "Whether it's an oversized sweater, blouse, or tee, tucking the front into your maxi will highlight your curves and make sure you still read as sexy or adventurous, even if there isn't a lot of skin showing."
Freeman offers another approach to styling a long skirt: "An interesting way to style a maxi skirt is to go with a tastefully split one. The split will allow you to bring attention to a pair of intricately strapped sandals with a peek-a-boo effect, finished off with a top close to the body."
How to Style Midi Skirts
"Midi skirts can be difficult to style," admits Newberger. "They don't always end at the most flattering place and, if styled incorrectly, can quickly make you look much shorter and/or stouter than desired. Making the right choice in footwear can become extremely crucial at this juncture, and I urge anyone styling a midi not to wear shoes that feature ankle straps. Why? By creating a line of demarcation, they steal inches from your legs regardless of height," she explains.
Freeman, though, does have a fool-proof midi skirt outfit for you to try: "Wearing a cropped jacket, a softly tucked t-shirt, and a pair of statement trainers is a method that is easy to achieve while simultaneously playing up the skirt itself."
How to Style Mini Skirts
"When it comes to styling a mini skirt, you want to take into account how much of your body you're comfortable sharing," Newberger advises. "Mini is in the title—and, to me, many of the outfits that look best with one are often of the same variety. Crop tops and form-fitting shirts you can tuck into your skirt feel pervasive. However, I'm more inclined to suggest an oversized sweater as it's visually more interesting to pair pieces that work in opposition to one another," she admits.
"I also love to style a mini with an oversized blazer that brushes right at the bottom," Newberger adds. "The intentionality of the oversized blazer both elevates and desexualizes the mini with ease." Freeman echoes her, saying that "mini skirts tend to have a youthful vibe that, when juxtaposed with a finely tailored blazer, results in a sophisticated yet hip look."
How to Style a Denim Skirt
"When working with denim skirts, styling them with a delicate lace or silk top always creates the desired effect for me," Freeman says, adding that he enjoys the "rustic feel of denim seamlessly balanced out by the elegance and femininity of silks and/or lace."
As for Newberger, she recommends test-driving a denim maxi skirt this spring. "There are so many great versions of this skirt hitting stores that play with texture and tone by using different types of washes and distressing." As for styling a long jean number, she advises choosing "a top that's either oversized or cropped," as she's partial to "pieces that come prepared with their own points of view."
How to Style a Pleated Skirt
"I like to play on the already striking texture pleated skirts naturally possess," Freeman describes. "A chunky and luxurious cable-knit sweater, paired with reptile-embossed boots seems to always to do the trick. Adding an element of sexiness is easily accomplished by way of the highest-heel boot one could pull off," the stylist of the stars advises.
How to Style a Leather Skirt
"Leather skirts are usually easy to pair with other natural fabrics and textiles, for example, cotton and wool," details Freeman. Newberger echoes her fellow stylist on calling on contrasting textiles here: "There's nothing that screams 'cool girl' louder in 2023 than having a deft hand at mixing textures, especially within the same color families. For instance, pairing a camel sweater with a walnut-colored leather skirt and caramel-colored snakeskin boots is...chef's kiss."
Meet the Fashion Experts
Mitchell Freeman, also known as Mickey, is a fashion stylist born and raised in Philadelphia. Mickey currently works with the likes of Peyton List, McKenna Grace, Landry Bender, Aldis Hodge, Tobias Harris, Sinqua Walls, Dylan Sprouse, Azealia Banks, Keke Palmer, and Dascha Polanco. His work has been featured in publications such as GQ, Vogue, Marie Claire, Grazia, and L'Officiel.
Heather Newberger is a fashion stylist, author, and television commentator. Her mission is to help people find joy and self expression through clothing. An imaginative and discerning creative, Heather's inspired point of view uniquely reflects her commitment to championing all genders, shapes, and sizes. She is devoted to creating inclusivity within the fashion industry. Heather's first book "How to Date Your Wardrobe" is available for purchase wherever books are sold.
Celebrity news, beauty, fashion advice, and fascinating features, delivered straight to your inbox!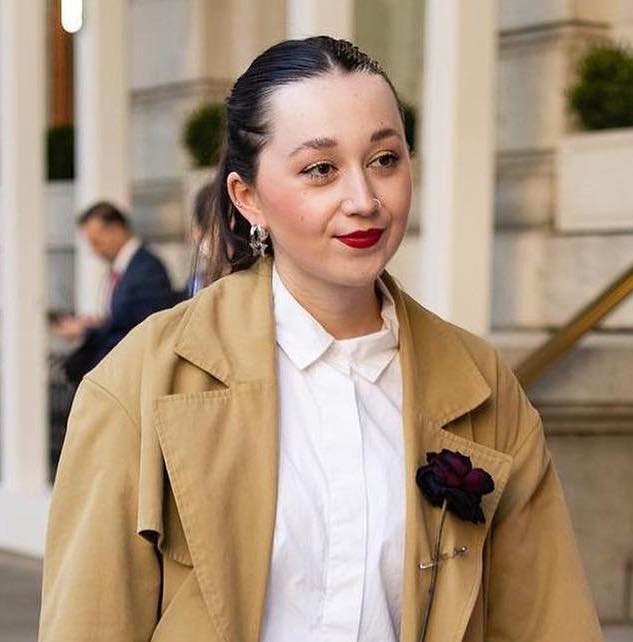 Emma Childs is the Style Editor at Marie Claire, where she researches up-and-coming trends, curates shopping guides, and gushes about the must-buy items she can't stop thinking about. She previously wrote for TZR, Editorialist, Elite Daily, and Mission Magazine and studied Fashion Studies and New Media at Fordham University. When she's not writing up fashion deep-dives or finding the season's best pieces, you'll find her fiddling around in Photoshop and perusing HBO Max for the next show to base her personality on (currently, it's "Succession").