Meet the Cotton Bride
A new spin on a classic.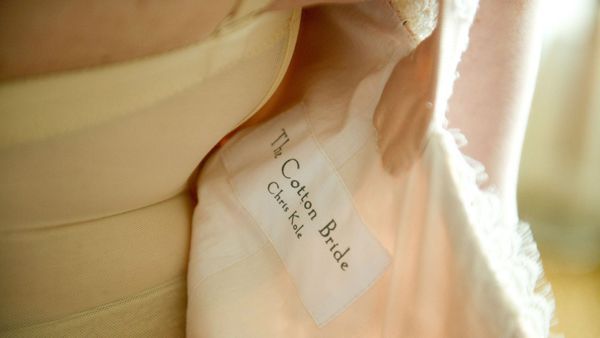 (Image credit: The Cotton Bride)
Walking into a bridal boutique, chances are you'll see heaps of silk, lace, and tulle, all in varying shades of white. Cotton, ubiquitous in our everyday lives, is a rarer sight when it comes to walking down the aisle. Two men are challenging that age-old tradition with a bridal twist on the everyday material.
[!]
Fikre Ayele, owner and Chris Kole, designer are the masterminds behind the Cotton Bride, an off-beat approach to bridal wear. They work with one bride at a time to create a custom gown made out of the classic go-to fabric, cotton. Don't think a cotton wedding dress will resemble your favorite worn-in t-shirt. These dresses embrace Kole's philosophy of elegance and simplicity in designing wedding gowns, and feature intricate detailing that makes the softest of fabrics look more like delicate lace. Cotton's supreme softness makes a dream to drape and sews well, making it easier for the designer to craft a masterpiece.
Kole says that when working with a bride, "I try to bring the best out of her" to design a gown that fits her figure as well as her sensibilities. Being a Cotton Bride means a bride will get a tremendous amount of focus on her and her dress. Because the duo only works with one bride at a time, it's ensured that she receives a gown fit to her fantasies. The design's inspiration coming from her own tastes. The custom gown still remains breathable and easy to move—a no brainer when the dress's base is pure cotton. For a bride, the benefits are obvious. The Cotton Bride gets a gown with a whole lot of comfort that doesn't have to sacrifice style. Not to mention the cost difference between hand sewn lace on silk and cotton that looks just like it. Elegant, comfortable, and one-of-a-kind. It's hard to argue with that formula for what will be a day to remember.
Photo via The Cotton Bride
Diana is a producer at ELLE.com. She previously wrote for MarieClaire.com. Diana is a Syracuse grad and a Chicago native, and therefore a pro at dealing with cold weather. She's also an Anglophile, which means she love all things British—especially Downton Abbey, London, and Will and Kate (and Prince George!)