Zac Posen Gives the Iconic Betty Boop a Totally New Spin
"She's not a blow-up doll; she's an independent woman."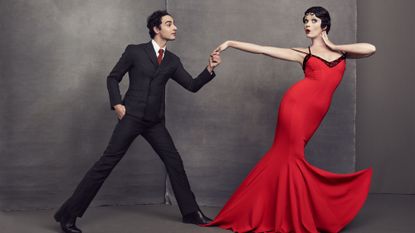 (Image credit: RUVEN AFANADOR)
Who among us can say that at 87 years old, they look better than ever? Two words: Betty Boop. Yes—the 1930s animated character whose flapper look and coquettish "Boop-Oop-a-Doop" tagline made her a household name is being revamped for a whole new generation. "You could say I was in the right seat at the right time," says Zac Posen, who was tapped by King Features Syndicate to reimagine the comic strip turned screen siren's iconic red dress. While on the set of Project Runway last summer, he says, fellow judge and Marie Claire Creative Director Nina Garcia "turned to me and said, 'I think you're the perfect person to do it.' I didn't hesitate!"
After meeting with cartoonists from Fleischer Studios (the original creators of Betty Boop) and graduate students at the School of Visual Arts (who, for their master's thesis, were asked by King Features Syndicate vice president of creative services and SVA alum Frank Caruso to give the character a fresh look), the designer spent the next few months crafting two dresses he felt captured both her femininity and spunk.
"I've always been a huge fan of Betty," says the 36-year-old, who grew up reading comic books and watching reruns of the original cartoons with his father, himself an artist, who based his paintings on early animated characters. "I'm all about a woman with ambition and drive," adds Posen.
His first dress, a flounce-hemmed mini, riffs on Betty's signature cocktail style, while the other, a mermaid-cut gown, channels more of a red-carpet moment. They found the perfect model in Crystal Renn, an industry barrier breaker whose 2010 book, Hungry, chronicles her battle with anorexia and preaches body positivity ("She studied all the animated moves to truly become Betty on set," marvels Posen). Each frock is trimmed at the top with lip-speckled mesh detailing and rendered in "Betty Boop Red," an exclusive new hue with blue undertones dreamed up by Pantone just for the occasion.
Betty Boop's creators are hoping new fans will take note of her pioneering attitude and proto-feminist message. The girl wasn't all hip shakes and batted eyelashes—in fact, she was a career woman who often had to stand up for herself and fight off male advances. A 1932 animated film tackled the issue of sexual harassment in the workplace, when, after a circus ringmaster demands Boop's affection in order for her to keep her job, she escapes and scoffs: "He couldn't take my Boop-Oop-a-Doop away!" Later that year, in the short Betty Boop for President, she enters the male-dominated world of politics.
"In many ways, I think Betty is more poignant than ever, because she's in sync with this idea of a femme fatale feminist—the idea that you can possess feminine attributes but not be defined by your sexuality," says Posen. "She's not a blow-up doll; she's an independent woman."
Top, on Posen: Suit, price upon request; Shirt, $92; Tie, $80, Brooks Brothers; brooksbrothers.com for stores. Shoes, Posen's own. On Renn: Dress, $750, ZAC Zac Posen; zacposen.com. Bottom, on Posen: Coat & pants, prices upon request, Brooks Brothers; brooksbrothers.com. On Renn: Dress, $495, ZAC Zac Posen; zacposen.com. Shoes, $1,395, Christian Louboutin; (212) 396-1884.
Hair: Italo Gregorio for Wella Professionals at Bryan Bantry Agency. Makeup: Kristofer Buckle for Chanel Rouge Coco Gloss at Crosby Carter Management. Manicure: Gina Viviano for Chanel Le Vernis. Grooming for Posen: Asami Matsuda for Clarins at Artlist. Model: Crystal Renn.
This article appears in the March issue of Marie Claire, on newsstands now.
Celebrity news, beauty, fashion advice, and fascinating features, delivered straight to your inbox!