Stella McCartney: Handbags & Horseplay
Our favorite eco-chic designer's got a soft spot for equines.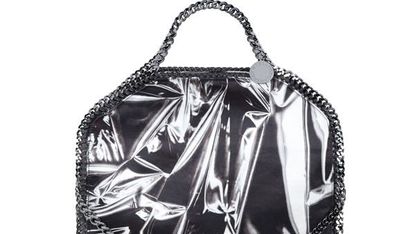 (Image credit: Courtesy of Stella McCartney)
Most accessory aficionados can instantly recognize Stella McCartney's gotta-have-it Falabella bag. Trimmed with glimmering chains and cast in a wide variety of textures and silhouettes, the carryalls—like all of Stella's accessories—are 100% vegan as well as refreshingly roomy. But leather- and fur-free as these designs may be, you might not know that this bag earned its very name from a member of the animal kingdom—the Falabella miniature horse. First bred in Argentina in the mid-1800s, the adorable breed typically measures only 30 inches tall at the shoulders! While you can't quite fit a teeny equine into Stella's signature totes, you can get your hands on one of these Fall 2011 iterations of the Falabella, which should be hitting stores within several weeks.
Meanwhile, West Coasters can admire a horse of an entirely different color at Stella's shop at Crystals Las Vegas, where an equine chandelier hangs just under the 14-foot-high ceiling. Dubbed Lucky Spot (after McCartney's mom's treasured Appaloosa), the larger-than-life artwork contains 7,000 Swarovski crystals and was formerly displayed in England's Belsay Castle. Says Stella of the pricey prancer, "I wanted to create something magical, romantic, and visually stunning." Mission accomplished, McCartney.