Sarah Jessica Parker Stuns in a Pair of Prabal Gurung Dresses!
Our September cover star and style icon doubled up on one of our favorite designers, but which dress do you like best?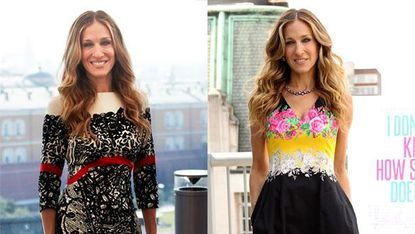 (Image credit: Getty Images)
This week, our September 2011 cover girl Sarah Jessica Parker is busy promoting her new flick I Don't Know How She Does It all over the world. SJP has already hit Russia and the UK for photo calls, and the trendsetting actress chose to wear not one, but two pieces by Prabal Gurung, the CFDA Swarovski Award for Womenswear winner and one of our favorite New York-based designers.
On Monday in Moscow, she chose a white dress with black lace print from Gurung's Miss Havisham-themed Fall 2011 collection. The midi-length piece fit her impeccably, and the vivid red ribbon detail provided the perfect, eye-catching pop of color. Today the style icon headed to London, where she opted for a colorful frock from Gurung's playful Resort 2012 collection. To promote his resort line, the designer made a dance-worthy music video with 20-year-old rapper Rye Rye, and the youthful collection's vibrant hues, polka dots, digital prints, and hiked hemlines left us with gigantic smiles on our faces. The dress on its own is pretty perfect, but SJP paired it with a glittering pair of Charlotte Olympia platforms, which took the look to the next level.
Sure, both of Prabal's creations are beautiful, but which of Sarah Jessica's dresses do you prefer?