Walk in Style: The Fashion Show for Shoes
To kick off Copenhagen Fashion Week, ECCO revealed standout leather footwear from its Fall 2013 collection.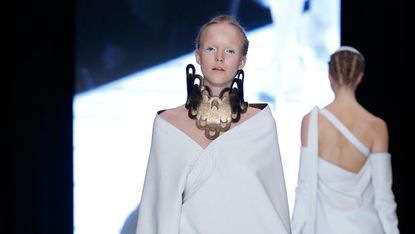 (Image credit: Archives)
New York, London, Milan, Paris, … Copenhagen? As Scandinavian style continues to make its mark on the rest of the world, Copenhagen could very well be the fifth city of fashion.
It held its Fall 2013 Fashion Week at the end of January during Denmark's coldest of months, and in addition to hitting up some shows, I also made sure to attend the week's unofficial kickoff party: the annual ECCO Walk in Style Awards (opens in new tab). The charity gala brought awareness not only to humanitarian issues facing women around the world, but —with a fashion-forward runway show — also to the more stylish side of ECCO, a shoe company founded in 1963 in the small rural town of Bredebro, Denmark.
"It's always difficult task to do a fashion show for shoes because people have a tendency to look at the clothing and not at the shoes," chief designer Niki Tæstensen told me before the show. "This year is more harmonic between the clothing and the shoes, which I made together with Zarah Voight."
He and Voight, a Danish designer internationally known for her one-of-a-kind avant-garde costumes, focused on a material integral to the Danish shoemaker: leather. The show followed the evolution of leather, beginning with raw white hides and ending with tailored black ensembles. The standout looks, featuring graphic silhouettes and shoes perfectly paired with leather costumes, reflected the prevailing trends that are to come in ECCO's Fall 2013 commercial collection.
"It's all based on the collection that's coming out now, so some of them are showpieces, some of them are one-to-one the same pieces that will go out to the shops, for instance the Sculptured 75," Tæstensen said. "And some of them are, of course, made with extra elements but they are still the same heel, the same shoe just with a little extra sparkle."
Below, a look at some of the highlights from the show.