Exclusive: Q&A with Upcoming "It" Model Devon Windsor
Our Fashion Features Editor, Jessica Minkoff, sat down with 19-year-old model and fashion star on-the-rise Devon Windsor to get the dish on the start of her career, her model highlights, and her sweet tooth.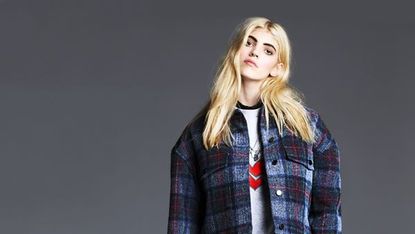 (Image credit: Marie Claire)
Photo: by Manolo Campion
Name: Devon Windsor
Age: 19
From: Saint Louis, Miss.
Where do you live now? I am based in New York. I live in Noho.
Is your family in Missouri? Yes, my whole family is still in Saint Louis. I visit them randomly. Sometimes it can be six months between visits.
Do you have any siblings? I have one sister — she's 20.
How were you discovered? It was in Saint Louis. I was in middle school at a bat mitzvah and a fashion photographer Suzy Gorman came up to me and asked me if I considered being a model. I did a shoot with her and than I signed with an agency in Saint Louis. I joined Vision Model Management when I was 15 and I went to Los Angeles that summer to do castings. While I was there I did a shoot for Roxy and then I signed with IMG in New York — they kind of took over from there. I was still in high school at the time, but I graduated last spring and have been modeling full time since then.
Do you live alone? I lived in a model apartment when I first moved here, in Murray Hill. It was one room with three bunk beds. There were a lot of foreign girls, so I had my fair share of living with other models. Now I have my own apartment, but I also spend a lot of time at my boyfriend's apartment.
Is your boyfriend also a model? No, he is a commodities trader. We met through mutual friends.
What was your first runway show? My first show was the summer when I arrived in New York. I did Douglas Hannant's resort show and it was on the Intrepid. This fall will be my first serious runway season.
What was your first editorial? It was for Elle Vietnam. It was a chilly shoot on Coney Island in November. I was wearing a bikini!
What is your most memorable modeling moment? In London this past winter, I was flown to Paris to meet Hedi Slimane. I met him and walked for him. I had just spent 10 days in the Saint Laurent showroom and he had called me back to Paris to meet me. At the time I had bleached eyebrows so I think I looked pretty edgy.
It seems like you look edgier now than when you started. Is that intentional? Yes, I transitioned this year. I was very commercial when I started. I was a Saint Louis girl and I was very tan. My agency wanted me to look more edgy, so now I can't really go in the sun. I wear like SPF 100 so that I stay paler. I also lost a bit of weight.
Who are some of your favorite designers? I have an obsession with black, so I love Alexander Wang and Alexander McQueen. I also really like Valentino. I just bought a pair of the Rockstud Noir sandals while I was in Milan. I don't own anything from McQueen yet but I will one day. I just need to work a few more jobs!
Who is your style icon? Kate Moss. Everything she wears is something that I could see myself in. I also like Rachel Zoe and Rosie Huntington-Whiteley, although she is a lot sexier than I am!
How would you describe your personal style? I used to wear cute sundresses, and now I like to wear a lot of black, leather, and cut-offs.
Who are some of your favorite models? I am a huge fan of the supermodels from the '80s and '90s, like Naomi Campbell and Cindy Crawford. My ultimate favorite is Daniela Pestova. She is the epitome of a strong, healthy, sexy woman. I like working out and being fit so I look up to women like her.
What was your last purchase? I just bought Fendi oxfords last week. There have been so many sales. I've been stocking up for Fashion Week.
If you could buy five items right now, what would they be? A vintage polaroid camera, another Valentino rockstud accessory, a Saint Laurent clutch or pair of boots (although I don't need any more shoes!), Miu Miu sparkly sunglasses (those are anti-edgy, but super fun), and a vacation!
What are you wearing today? Black Balenciaga boots, a Diesel Black Gold dress, a Givenchy bag, Chrome Hearts ring and a Rolex watch.
What is your favorite item in your closet? Probably my Givenchy bag and my Balenciaga boots. Also, the Valentino shoes I just bought.
What is your work out routine? I go to Equinox and I work with a trainer once a week. I do a lot of pilates-based stuff because I tend to build muscle easily. I used to run track when I was in high school.
What are the pros and cons of modeling? The pros are traveling and living in different cities. That definitely helped me grow up and mature as a person. I feel like I learned to live on my own. Also, you learn to take criticism from people. The cons are the pressure to lose weight and inches. I eat what I want in moderation, but it is definitely a struggle. Sometimes you can lose perspective.
What shows would you like to walk in? I met with a bunch of casting directors already — some at Gucci and Burberry. I did a cookbook for Versace and I have shot with Moschino, so it would be nice to walk for them! Calvin Klein, too. I have to dream big!
If you weren't a model, what would you like to do? That's easy. I would be a chef or a baker, because I love to cook! I cook all the time for my boyfriend and I like making snacks. I'm obsessed with quinoa, but I also have a big sweet tooth. I'm always trying to find healthy sweet recipes. I just made healthy chocolate!
If you could travel anywhere right now, where would it be? I have been following a conservation — the David Sheldrick Wildlife Trust in Kenya — and they work with elephants. I have always loved elephants, so it's my dream to go to Africa. I would die to do a photo shoot with safari animals or just to ride an elephant!
Tell me about shooting the tomboy How to Wear It story for Marie Claire. It was really fun. I loved all the clothing on set and I wanted to take it all home! It's funny because I had done another tomboy story before, and now I just booked another one. I feel like everyone thinks I work well as a tomboy now!
See Devon's full spread, "How to Wear It: Boy Meets Girl," in Marie Claire's September issue.
Celebrity news, beauty, fashion advice, and fascinating features, delivered straight to your inbox!